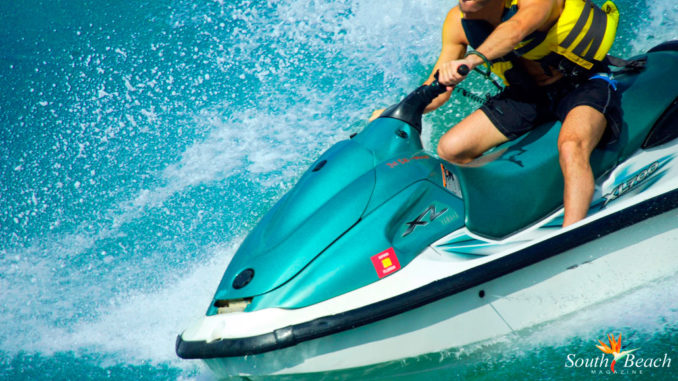 Miami Beach is an Island surrounded by warm blue water. We swim, we sail, we jet ski and we surf. We wade, dive, snorkel and splash. While your big family outing might be the county fair or the Macy*s Day Parade, ours is the Miami International Boat Show – an annual event of multi-million dollar watercraft and rubber dinghies that stops every Miami man in his tracks and fills every hotel room in two counties.
Our final venture into the Ten Things to do in South Florida is as simple as this – Get Wet.
While other tourists are following a guidebook and wandering through a museum, strap on a life vest and blast off on a jet ski tour. See the city with the wind in your face and the roar of the engine making a splash of salt water all around you. Feel free for just a while. That's the real difference a day in Florida makes; all the water makes you feel like anything is possible. The road ends, the sea swells and the horizon goes on forever. www.jetskitoursofmiami.com
Visitors of every age hop on the outsized coaches at Duck Tour Miami to cruise around the city. The drivers are well versed in local folklore and steer across our bridges and highways to a nearby boat ramp. Suddenly, the giant coach veers down into Biscayne Bay and the modified vehicle putts out into the water offering a seaside view of the celebrity mansions and landmarks around town. While passengers stay safely dry and don't necessarily have to know how to swim, seeing the city on the water offers a truly unique perspective. www.ducktoursmiami.com
At Bayside Marketplace, you can choose to tour Miami on a Pirate Ship, a Party Cruise, a classic Tall Ship or even the Bayside Blaster, a "Go Fast" speedboat right out of the movies.
If you have a degree of confidence about piloting your own craft, you can rent a speedboat at Club Nautico (www.clubnauticousa.com), a wet bike at the marina (www.jetskiz.com) or a sailboat in Coconut Grove (www.sailboat-charters.com, www.arcmiami.com). You can hang onto a banana boat and get towed behind a speedboat, learn how to parasail or wind surf or water ski or kayak (www.boucherbrothers.com). Even if the closest you have ever come to a coral reef is the Discovery Channel, you can register to get certified to SCUBA dive during a weekend in Miami.
A fish-eye view of the undersea world makes everything look like it's just out of the movie "Finding Nemo." Our artificial reef program creates undersea dive wrecks just off the shoreline. With little more than a snorkel and a mask, you can find yourself face-to-face with a giant grouper, a shiny barracuda and millions of tiny, brightly colored tropical fish. It might be fun to stand on the shoreline and toss bread crumbs out to the water birds, but imagine feeding schools of fish while they swirl all around you and grab lunch out of your hand. The folks at South Beach Divers will take you to their favorite dive spots and show you the reefs and wrecks that dot the coastline. Even if you have never worn a dive mask, certified instructors can have you safely out on the water in just a few hours. To explore charts of the most popular dive sites off the coast, check out www.divemiami.com
You'll find over 75 wrecks to explore in the Miami area. The artificial reef program secures tugboats, freighters, barges and yachts to sink offshore to create diving destinations. As the vessels settle on the sea bottom, fish congregate, hide and feed around the wreck's crumbling remains. Sport divers and local fisherman frequent the artificial reefs in the area to photograph and catch the abundant sea life. If you are a strong swimmer, make reservations to explore the "Wreckreational Dive Capitol of the World!" www.southbeachdivers.com
The Tarpoon Dive Center (300 Alton Road) hosts regularly scheduled snorkel trips off the coast of Miami Beach including all equipment and instruction. Check out the Jose Cuervo Margarita Bar, an artificial reef just off the coast of 2nd Street Beach or the wreck of the "Half Moon," a steel two-masted schooner that sank off Key Biscayne in the 1930s. SCUBA trips are also available on Miami Beach's coral reefs or over one of the 50 artificial wrecks along the coast. Reefs start at about 20 feet deep and wrecks at about 45 feet. www.tarpoondivecenter.com
South Beach Kayak Tours organizes a moonlit paddle out into Biscayne Bay to offer a unique perspective of the city lights. If you have the energy to row a boat, join a rowdy group of explorers as they glide along the edge of the city and onto an uninhabited island to barbeque on the sand. Spend a little time offshore and see Miami and the Beach from a whole new perspective. Monthly Full Moon Cruises and Starlight Saturday Night Trips include a guided tour of the city at sunset and a bonfire picnic on Monument Island with music and s'mores for dessert. www.southbeachkayak.com
If your days are busy and filled with people and traffic and the demands of your "TO DO" list, perhaps the most appealing thing about a trip to Florida is the opportunity to truly escape. Surrounded by water, bordered by sand, shaded by palm trees, and cooled by the sea breeze, the highlight of your vacation might be a day doing absolutely nothing. Find a hammock or a beach chair, a blanket or a sand dune and stretch right out. Close your eyes and relax and for just a little while, hear the rhythm of the tide and the splash of the waves.
Sometimes the best thing about a trip to South Florida is the chance to be still…
Thanks for following along on our Quest for the Best Things to do in the Sunshine State. If we've missed anything or if you want to let us know your favorites, don't hesitate to leave us a comment or a great tip for next time.
Happy Travels!
Part A
Part B
Part C
Part D
Part E
Part F
Part G
Part H
Part I