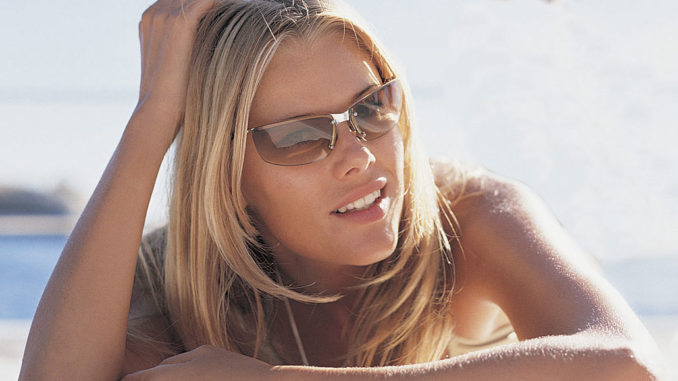 A Walk on the Wild Side
When you get back to Kansas, or whatever end of the rainbow you call home, you're going to want to have a story to keep you warm all winter long. Second on our list of top 10 ideas includes a few offbeat pointers to help you relax and unwind. Vacations can be once-in-a-lifetime experiences if you decide to try something new. While we never advocate anything illegal or immoral, South Florida does offer folks a whole lot of "Wiggle Room." So the next time you visit, why not Wiggle a little?
In Miami Beach, topless sunbathing is legal. And just a few minutes to the north on Haulover Beach, the law allows totally nude sunbathing.
There are many European-style attractions in Miami and the tres-European Haulover Beach Park's Designated Naturist Beach is definitely a great way to get in touch with your inner child – the one who came into this world all pink and naked.
At the northeastern side of the state park, visitors can park at the marina, cross to the shoreline, and disrobe on the sand. Newcomers can remain clothed or opt to join local families frolicking in the surf au natural.
Once you embrace public nudity, wander over to the volleyball courts and check out the competition. Imagine dazzling the guys back home with tales of naked volleyball! For more information – www.sffb.com. The rest of Miami Beach requires at least a thong to conceal your most important parts.
No matter where you live, no matter how you think you look in a swimsuit, once you spend a little time on the warm sand feeling the relaxing tingle of the sun and sea, you're going to want to show some skin in South Florida. Enjoy the experience and remember to wear sunscreen. There is nothing more painful than burning the places that rarely see daylight. If you are concerned about making a good first impression, stop by the hotel salon when you arrive to schedule a quickie day of beauty; a manicure, a waxing or perhaps a spray-on suntan to create that healthy glow.
The pursuit of wildness is also an indoor sport in South Florida. Express yourself at a Skin Party, a monthly gathering for couples interested in meeting other couples and single, adventurous women for erotic adventures. Established in South Beach in 2001, the monthly events encompass sexy fashions, hot music, live performances and an atmosphere that is definitely adults only. Currently hosting parties in Chicago, New York and Los Angeles, the private club format allows a degree of exclusivity and safety for folks interested in the titillating atmosphere of a South Beach nightclub. Before you jump to any conclusions, know that these are sexy theme parties, not public orgies. Anything adults consent to do after the party is a private matter. www.skinparty.com
South Beach has a variety of bars and clubs for gay visitors as well. While all nightclubs provide a public forum for dance and romance, bars like Twist, Score , Mova and the brand new Lord's South Beach Hotel are our most fun, gay-friendly nightspots. Twist is a casual 2-level Cheers-style bar where locals feel "Everyone Knows Your Name." Lord's Hotel features the terrific Cha Cha Rooster restaurant and lounge where happy hours and pool parties are a fun high-camp version of "Gays Gone Wild!" Score on Lincoln Mall is a popular dance club indoors and a Main Street meeting place with sidewalk cafe tables outside. The tables outside Score are busy day and night with a mosaic "dog bar" drinking area designed for man's (other) best friend. There are so many sidewalk-dining areas on Lincoln Road, it is nearly impossible to tell where one begins and another ends. This is a great indication of our complete diversity; it matters very little if you are local or tourist, gay or straight. Just grab a chair, buy a drink and meet some new friends!
Around the corner from Score on Michigan Avenue, a swank lounge called Mova is gaining a special cache as it welcomes both gay and straight visitors with it's chill vibe. The upscale, adult atmosphere provides a much-needed respite from the rowdier South Beach options. Mova is definitely a quiet little slice of heaven.
Gay cabaret clubs have always been popular in South Florida and the best of the bunch is Magnum, a North Beach destination just west of the 79th Street Causeway. Serving dinner in a romantic, clubby atmosphere, the party really gets going in the piano bar where professionals and motivated regulars join in on the microphone. If you love to sing or enjoy hearing standards from Bobby Darrin to Frank Sinatra, Magnum offers a relaxed and friendly atmosphere every night of the week. Just across the street, the action gets going late night at Sandal Club where Adora, Mistress of the Night hosts drag performances Thursdays through Sundays.
In late Fall and early Spring, South Florida hosts two international fundraising circuit parties – White Party at Villa Vizcaya and the Winter Party Festival. Both events are open to all visitors and provide much needed funding for HIV/AIDS research and the LGBT community.
White Party began 23 years ago as a one-night fundraiser largely attended by gay men. This year, related events take place every night of Thanksgiving week and include South Beach club parties, cultural gatherings, celebrity performances and superstar DJs. The Women's White Party "Cirque Blanc" is an annual dance event at Nikki Beach Club attracting over 1,000 glamorous women to South Beach. During the combined White and Winter Party Events, the City welcomes over 10,000 gay travelers to the streets of Miami and Miami Beach.
South Beach is a sexy place. The gentle ocean breezes, the warm soothing sand, and all the beautiful people create an atmosphere that's uniquely liberating. To gather a greater understanding of the nature of erotic pleasure, visit the World Erotic Art Museum (WEAM) to explore the history of our unique capacity to excite one another. Naomi Wilzig started collecting erotic art and antiquities about 20 years ago. What began as a curiosity has evolved into an award winning comprehensive collection of the symbols and icons of carnal creativity. Visitors to South Beach are often amazed to learn there is an alternative approach to traditional museum visits when viewing this thoughtfully cultivated collection. From classical nudes to fertility symbols, man has long sought to immortalize erotic images to capture the essence of what it means to be human. WEAM celebrates our curious sensual nature throughout the ages.
No vacation is complete without a souvenir to help you remember your adventures. To find the perfect exotic token to bring back home, stop by the second level of Ricky's at 536 Lincoln Road to browse their adults-only selection of one of a kind gifts. If you want to purchase skimpy outfits or tantalizing loungewear, Hustler Magazine has a shop that's guaranteed to tickle your fancy at 1234 Washington Avenue.
If you're determined to discover all the wildness South Florida has to offer, our next chapter offers a closer look at Miami's natural wonders! Keep an open mind and a camera at the ready…
We're going out!
Part A
Part B
Part C
Part D
Part E
Part F
Part G
Part H
Part I