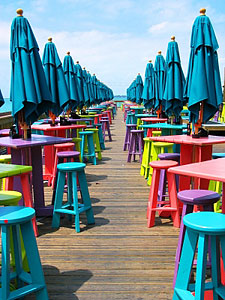 Since the days of the explorers who discovered this country, the idea of a road trip is uniquely American. We love to hop into our cars and venture the highways. From Lewis and Clark to Bob Hope and Bing Crosby, the Road is a Powerful Force in any Great Getaway. Living in South Florida, we grow weary of the endless turnpikes and interstates running through miles of empty woodlands. It can take eight hours to get to our state line and to be perfectly honest, crossing Florida can be a Detour to Dullsville. That's why our number nine "must-see" for a vacation in South Florida is a drive through the islands of the Florida Keys.
Much like the breathtaking ride along California's coastline, a journey through the Keys is a wonderful way to spend a day. The trip south can be made by car, by bus, by plane or by boat as the first popular destination, Key Largo, is located just 58 miles from Miami.
If you check out a Florida map, you'll see a tiny trail of islands stretching down and toward the west at the tip of the peninsula. The Florida Keys offer the perfect escape from any landlocked vacation and can be accessed in just over an hour's drive from the airport. While many visitors seek the quaint vistas of Margaritaville in Key West, the road leading to Jimmy Buffet's favorite city is lined with great restaurants and bars, sandy beaches and quiet mangroves. At times, the road is surrounded by the sea on both sides. The views are often spectacular.
Visiting the Keys is all about the drive. Once you leave the congestion of the city, check out a few landmarks as you wend your way south. Our favorite stop at the southern edge of the state is the Knauss Berry Farm, a small family-owned property just off the Turnpike at SW 248th Street. Take a quick detour to the west and discover the hot-from-the-oven sticky cinnamon buns, freshly blended strawberry shakes and a chance to pick your own berries out back. Opened mid-November through April, the farm is staffed by a group of German Baptists called Dunkers who most resemble the American Amish in their conservative dress. Locals and visitors line up from sunrise to dusk to get a taste of the fresh baked goodies and creamy fruit drinks. Be certain to buy some home made jam and local honey too!
Back on the road south, you'll reach the intersection of US- 1 and SW 344th Street at the southern edge of the Florida Mainland. There is an older restaurant on the east side of the street with an enclosed fish pond out back usually filled with tiny ducklings, honking geese and a variety of turtles and other hungry critters. It doesn't look like much from the road, but a bag of crackers from the near by convenience store makes this little oasis a great way to entertain the kids during a brief rest stop. The Mutineer Restaurant parking lot at 11 SE 1st Ave in Homestead is one of our favorite roadside discoveries. www.mutineer.biz/kid-frame.html
As you make your way along the Overseas Highway to the Upper Keys, find a detour to the east at Card Sound Road. While some folks like to stop here at the shell shops to stock up on treasures from tropical beaches, we suggest you save the souvenir hunt for the road home and turn off to check out this undeveloped scenic route (SR905). Surrounded on both sides by thick cover, narrow waterways and tons of wildlife, the road itself has recently been restored and is often "The Road Less Traveled," so you'll make better time. As you find yourself tempted to speed up, try to keep an eye out for scavenging birds of prey and the lush landscape that existed long before developers paved the islands. At the end of the drive, you'll reach a small 1-man tollbooth which adjoins a roadside bar called Alabama Jacks. This waterfront dive is a favorite watering hole for Miami drivers, motorcyclists and anyone needing a cold beer and a salty snack. With live music weekends, Jacks is a favorite escape after a day on the water or a few hours in the car. www.alabamajacks.com
A mile south of Florida City, you'll notice the distinctive numbered mile marker signs at the side of the road starting with 126 and counting down the drive to Key West and Mile Marker Zero. Key Largo is located at Mile Marker 188, Islamorada at Mile Marker 90, Marathon at Mile Marker 63 and Big Pine Key at Mile Marker 47. The road through the Keys, US-1 becomes the Overseas Highway south of Florida City. The best way to navigate the Keys is to make note of the Mile Marker number so you can gauge the distance from Mile Marker 127 (the mainland) to Mile Marker 0 in Key West. Once you've hit Key West, you are only 90 miles away from Cuba!
For visitors who don't have time to "Go All the Way," a day trip to the Upper Keys offers a glimpse of the southernmost parts of our great state. If your family loves National Parks and the chance to get lost in the deep woods, consider a day trip to John Pennekamp Coral Reef State Park which lies mostly underwater. Just off the coast of Key Largo, the undersea coral reef is home to creatures of every stripe from shiny to spiny. If you're a strong swimmer with a taste for adventure, let the friendly guides take you out to the reefs just off shore and show you how to snorkel through the schools of brilliant tropical fish.
If you haven't got the energy to swim around for a few hours, the 65-foot Spirit of Pennekamp glass bottom boat glides over all the best spots three times each day. The park offers 47 full facility campsites and quiet beaches to explore on your own, plus nature trails and guided tours if you want to learn more about native wildlife. You can fish all day or dive an early Spanish shipwreck just 100 feet offshore at Canon Beach. There are barbeque grills and picnic pavilions, plus canoes and kayaks for hire. Log on to the park website to learn more and get rewarded with discount coupons for your great adventure. www.pennekamppark.com
If you're traveling with kids who like the "Are We There Yet?" method of driving you crazy, a game of Spot the Mile Marker always helps to pass the time. Check out the wonderful local diner Bob's Bunz (MM81.5), a tiny hole in the wall serving breakfast at sunrise and a variety of sugary sweets to keep you going all day. Bob's and nearby Mrs. Mac's Kitchen (MM 99.4) are the go-to spots for breakfast or lunch for Keys residents and the millions of drivers zooming up and down the highway. At lunchtime, find the quiet side street called Garden Cove Drive (MM106.5) where the Buzzard's Roost Inn offers fresh seafood and BBQ in the shade of a working marina. www.buzzroost.com
The Upper Keys are an easy day trip or a great destination for an overnight stay or a long weekend breakaway from Miami. Hotels, motels and rental cottages line the Overseas Highway from modest to magnificent. Visitors seeking a break from the ordinary can camp out on a sandy beach, drift to sleep aboard a houseboat or spend the night at Jules Verne's Undersea Lodge 21-feet under the surface of the sea.
An ideal destination for a romantic night in the Upper Keys, Casa Morada is a tiny inn that's been refurbished to the exacting standards of owner Terry Ford and her two NY partners – all veterans of the Schrager Hotel Group. With just 16 secluded waterfront rooms and a gourmet restaurant on site, it's possible to feel you've ventured to a distant tropical paradise in just over an hour's drive from the city. Enjoy a cocktail on the beach at sunset and a quiet beachfront dinner for two and then awake refreshed and relaxed at this cozy oasis. While there are plenty of resorts that cater to families, Casa Morada is best reserved for adults seeking a quiet break and a pampering holiday. Children over 16 are welcome. www.casamorada.com 305-664-0044
For longer stays, the Moorings Village at Islamorada offers suites and cottages by the sea in a private community setting that's tropical and luxurious. An 18-acre coconut plantation was transformed into a vacation paradise with 18 private cottages ranging from one to three bedrooms. Guests can enjoy a game of tennis, a 25-meter lap pool and 1,100 feet of sandy beach lining the sport fishing capital of the world. Local guides offer trips to the backcountry for a quiet day of bone fishing and deep-sea charter boats provide the excitement of catching sailfish, marlin or mahi-mahi. What appeals most to weekly visitors at the Moorings is the chance to find peace and quiet, privacy and simplicity. www.themooringsvillage.com 305-664-4708
If you know how to scuba dive or can pass the three-hour resort dive course, you are welcome to visit the Jules Undersea Lodge at Key Largo Undersea Park. Located 21-feet beneath a mangrove setting, the lodge is surrounded by grouper and nurse sharks, snapper and parrotfish. Entering the pod-like cottage moored just a few feet above the sea bottom, guests experience life in "inner space" which includes hot showers, a fully stocked kitchen, books, music and videos. The lodge is filled with compressed air and includes a central wet room entrance and two adjoining private bedrooms. An eight by twenty-foot common room features a 42 inch round window overlooking the lagoon. Guests can dive around the lodge and explore the marine life beneath the mangrove. On an average night, two separate couples can inhabit the lodge or a family or six friends can book the entire property. Undersea weddings are available by special arrangement. Learn more at www.jul.com
Groups of six to ten people can charter a houseboat in Islamorada to spend a long weekend exploring the coast. With a three-day minimum, guests can pilot their own craft or bring along kayaks and canoes for fishing trips and shore excursions. Catamaran-style houseboats include topside sun decks with lounge chairs for tanning, gas BBQ grills, TV-DVD-CD players and fully equipped living facilities with private bedrooms and futons for extra guests. www.floridakeys.com/houseboats 305-664-4009
If you and up to 7 close friends dream of getting away from it all, why not rent your own private island for a week's getaway? Seabird Key off the coast of Marathon is accessible only by boat and can host your dream vacation all year round. Families, friends and honeymooners seek out this classic Florida beach house for a week of rest and relaxation on a 10-acre private sanctuary. Built in the old Florida style, the main house features expansive decks, a widow's walk and cathedral ceilings. With two double bedrooms and a breezy sleeping loft upstairs, the house features private bathrooms plus two outdoor showers. Guests enjoy the use of a 19-foot runabout boat to make the 5-minute trip to Marathon for shore excursions or dinner at a local restaurant. The house includes a Sunfish sailboat, masks, fins, and fishing gear too. From beach towels to board games, a VCR and a music library are at your disposal. Go barefoot, get naked or explore the jungle trails to bird watch. The island belongs to you for the duration of your stay. www.seabirdkey.com
Transfloridian shuttle service runs daily shuttle buses to Key West from Miami International Airport six times a day. www.tforlando.com 877-246-4786 Greyhound bus service is also available through the Keys www.greyhound.com – 800-231-2222.
There are flights from Miami International Airport (MIA) and Fort Lauderdale-Hollywood International Airport (FLL) to Marathon Airport (MTH) and Key West International Airport (EYW) every day as well. Contact American Airlines, Delta Connection, Continental or US Airways to check prices and schedules.
Day-to-day life on mainland Florida is filled with surprises. But living in a resort destination makes it hard to appreciate just how many fun things there are to do on a given day. Locals tend to get caught up in work day stress just like everyone else. The opportunity to hop in the car on a particularly clear morning and drive to a tropical island in under an hour can be balm for the busy soul. That's why our proximity to the Florida Keys is such a unique gift. Once you've passed the last exit on the turnpike and the horizon gives way to the sea, your mood lifts and your outlook improves.
Whether this is your first time visiting Miami or you come back to us year after year, add on a few days visit to our favorite island destination and you will see how much better the journey can be! Be sure to send us your favorite stories about visiting the Keys. We love to hear from you.
Our final installment is coming up… be sure to pack a towel and flip-flops!
Part A
Part B
Part C
Part D
Part E
Part F
Part G
Part H
Part I