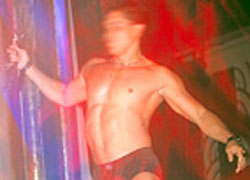 One of South Beach's legendarily decadent nightclubs was laid to rest in a blaze of glory on Friday, May 25th, when the Warsaw Ballroom pulled the velvet ropes for one final fling.  Gerry Kelly, Maxwell Blandford and the boys from Level's Federation 1235 gave the club a proper send-off with a torrid one-night stand of dance, drink and debauchery.
The building housing Warsaw was erected in 1939 as Hoffman's Cafeteria by Henry Hohauser, one of South Beach's most talented and prolific architects.
Passing through various iterations including Club Ovo, China Club and the Rhythm Club, all of which had the same basic business plan of music+alcohol+sex=money, Warsaw finally transformed itself, with the help of George and Leo Nunez, into the center of the buff-boy universe in 1989.
The interior was twice re-designed by the brilliant and much-loved designer George Tamsitt—originally in 1986 for Club Ovo, and again in 1991 for Warsaw's second anniversary.
The list of legendary South Beach nightclub personalities associated with this location reads like a rap-sheet of nightlife superstars; Gary James, Michael Capponi, Suzanne Bartsch, Louis Canales—at one point, even Gianni Versace hosted parties at Warsaw, albeit for fun, not profit.
The Warsaw's theatrical legacy includes a somewhat, less-than-stellar list of decadence that will go unmatched for many years to come—everything from live, artistic pseudo-S&M performances that degenerated into the real thing being performed on-stage, requiring the owners to kill the lights and separate the performers, to strippers whose act consisted primarily of allowing patrons to extricate 30 foot ribbons from various orifices—all generating an unending list of warnings, citations and fines from the city. As George Tamsitt once put it, a floorshow of "fat ladies, midgets, and pigs."
Nightlife stars in attendance for Warsaw's swan song included, Bolero's Lily Zanardi, the Albion's Jennifer Rubell, theatrical maven Maxwell Blandford, Elaine Lancaster (who got her start at Warsaw), Tony Miros, the two most photographed men in South Beach, Gerry Kelly and Ernesto Arambatzis, and the man who was here when it all began, Louis Canales.
Highlights of the night included a series of leather-clad, male go-go dancers, one of which didn't want to be photographed, but who would have been an excellent choice for the starring roll in a homoerotic horror film titled "The Package from the Black Lagoon," and another gorgeous blonde female patron dancing up on the narrow stage along with the go-go boys, who, after making a misstep, did a half-gainer off the stage, crashing onto a table full of champagne surrounded by other patrons. In true South Beach style the patrons helped the girl up after, of course, attending to the champagne.
The Warsaw will soon be transformed into a European-style deli as South Beach continues its march back-to-the-future of its glamorous post-war heyday as a tropical vacation paradise. But for those who can recall the days when South Beach was a bohemian village on the cutting edge of style—sexual and otherwise—the Warsaw Ballroom will forever define the bounds of a decadent night on the town.