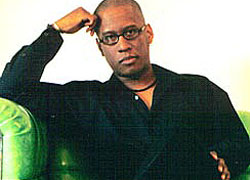 Where are you from?
Kingston, Jamaica.
Residencies:
Nocturnal.
Number of years spinning:
Twenty (ouch).
How did you get started spinning?
I started off as a classical pianist, but after moving to the States, through my cousin in New York and two of my Uncles here in South Florida, I discovered DJing. I loved the idea of mixing two different songs together.
Who are your musical influences?
Beethoven, Chopin, Depeche Mode, Bruce Lee, Paulo Coelho. The last two aren't musicians, but they influence me musically, nonetheless.
Describe your current sound.
I'm a House and Techno guy. But don't let those two genres fool you, that encompasses a lot of different things.
What equipment do you use?
I use Final Scratch 2 on an Alienware Area-51 Notebook. Also, several different f/x units and samplers.
What's the worst job you've ever had (as a DJ or otherwise)?
I've never really had a bad job. However, if I had to pick one, it would be trying to hold a residency in Miami. I'm forever dealing with the politics of this industry here at home. It's quite depressing and heartbreaking, dealing with so much ethical and moral corruption. People forget the music and the fun of it, and everyone becomes a backstabber and money grabber. Granted, I know that it's an industry and revenue needs to be generated, however people lose site of the goal quite often. But, I still have faith and hope. This is Miami…this is my home.
What's your most memorable night in a Miami club?
Actually, some of my favorite Miami club nights involve me watching my friends play. Guys like Oscar G at Space or Ralph Falcon at Crobar. Even some of the newer guys like Michael Louis. I enjoy watching them work a crowd.
What would be the theme song to your life?
Right now, I'd have to say my song "Espero" from my Shadows of Blue EP on Guidance from a few years back.
What makes your DJ style unique?
I think my way of using f/x and sampling… I try to stay very active while playing… I basically remix live.
What have you done recently to make the world a better place?
I try to treat others the way I would like to be treated. And I do a bit too much "turning the other cheek," but I think it's something we need to do more of. Oh, and I recycle.
Describe who you are in three words.
Purpose-driven soul.
Where can we learn more about you?
At my web site, stryke.net.