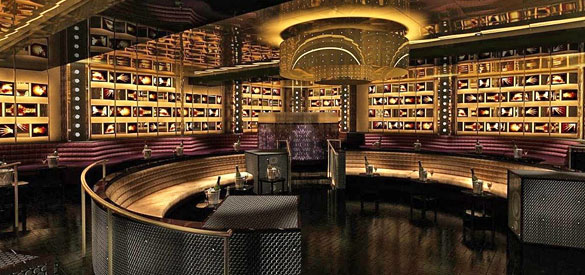 As South Beach puts on it's dancing shoes and gets ready to kick off the New Year, the newly refurbished James/Royal Palm Hotel launches SL Miami, a sister nightclub to the EMM Group's haute nightspot in New York's trendy Meatpacking District. Boasting over 2000 sq.ft. of party space, SL Miami will welcome an international roster of top DJs
to the state-of-the-art club.
EMM Group's Mark Birnbaum, Eugene Remm and Michael Hirtenstein have expanded their successful New York operations to Miami with the debut of SL Miami which adjoins a second door of their NY seafood restaurant Catch (featuring triumphant TV "Top Chef" Hung Huynh). Starting out in 2006 with Manhattan's celebrity haunt Tenjune, the partners quickly expanded their brand with Hoboken's The Chandelier Room, the restaurant Abe & Arthur's, the first SL on West 14 Street as well as the original Catch Restaurant and Midtown's Lexington Brass.
New York's "SL," (short for Simyone Lounge) opened in 2009 under Abe & Arthur's Restaurant and continues to attract a great-looking crowd. A seasonal branch of the popular club – SL East – "pops up" for just a few sizzling months in the Hamptons each Memorial Day and serves as a hip party destination for vacationing New Yorkers. Miami's newest edition of the club incorporates some of the industrial edge of the original Meatpacking District space but streamlines the interiors with classic Art Deco elements. Featuring the backlit x-rays that are a signature design element in NYC, the new SL Miami's sound system synchronizes changing color gels to the beat of the music to create a dynamic audio/visual experience.
SL Miami at the James / Royal Palm is located at 1545 Collins Avenue, South Beach.