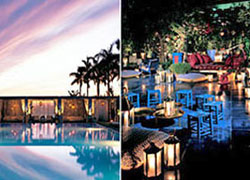 The L.A. version is an absolute legend among loungers and now the Miami Beach version of Skybar, located at the Shore Club hotel, is well on its way to reaching this same celebrated status.
Set in the Shore Club's pool area directly between the hotel and the beach, Skybar has a whole host of lounging areas that satisfy even those desiring the most intimate of surroundings.
Saturday nights are big at Skybar, and definitely be on the lookout for their specialty cocktails—our favorite is the Passionata served in a flute with a strawberry garnish.
SkyBar Miami Beach
1901 Collins Avenue
Miami Beach, FL 33139
(786) 276-6772