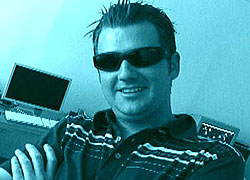 Where are you from?
Beautiful South Florida, born and raised.
Residencies:
Lucky Strike and The Clevelander.
Number of years spinning:
Ten years.
How did you get started spinning?
I was a bar back at a club called Club Boca sometime from '94 to '96, and there was a killer party on Sunday nights called "Purgatory." It was the best place to be in West Palm Beach on Sundays for music and DJ lineups. One of the bars was next to the DJ booth, and I always worked that bar. I would watch them all throw down for hours, and I thought to myself, "I can do that." Sometime after working there, I went out to Mars [Music], applied for a credit card and got $1,500—just enough for a set of tables and a mixer, and, man, I was stoked.
Who are your musical influences?
There are so many to name, but first to mind is definitely Run-D.M.C. and Jam Master Jay, alongside the Beastie Boys. That was the first concert I ever went to. Next would be Bob Marley ? any Reggae at all influences me. I was born on Jamaican Independence Day and really feel that there is a connection made to the world around you on the day of your birth. Saving the best for last, bringing it all back to Dance music (House, Electronica, whatever it's called these days), it's why I started DJing in the first place. [Then there's] Sasha and John Digweed triple-CD album called Renaissance, the mix collection (the first one), holy shit! I can still listen to all three CDs today, and it still goes off. I listened to those CDs religiously, took them for long walks and romantic dinners. I couldn't get enough. If you listen to the way the CD was programmed and mixed, its just as it should be. It takes you on a journey, and that's how I learned to mix.
Describe your current sound.
My current sound is eclectic and is based on wherever I'm at. I really am a House DJ, but all of my residencies right now I'm playing a mix of everything: Rock, Hip-hop, Latin, '80s, '90's, House and whatever else you can think of.
What equipment do you use?
Turntables always. Technics, Pioneer CD, anything over the years has always preformed well, and Mackie for sound. I have used and abused my equipment over the years. It's been rained on, sun-baked, stored, dropped and fumbled around and still works like new. I stand by them 200 percent.
What's the worst job you've ever had (as a DJ or otherwise)?
Never had one.
What's your most memorable night in a Miami club (working or not working)?
Most memorable night? Hmm, for some reason, I can't remember.
What would be the theme song to your life?
"Perfect Motion" by Sunscreem.
What makes your DJ style unique?
When we're talking about House music, if you listen to me mix, you will hear that Renaissance influence I was talking about. Growing up as house bedroom DJ, I thought that DJing was all about how good your mixes were from track to track. I did nothing but work on mixing different ways, so I really feel, along with my programming, my mixing is what sets me out of the box. When we are talking about mixing everything else, Rock, Hip-hop, '80s, I pay attention to the environment around me and make adjustments musically to make the night as fun as possible for everyone.
What have you done recently to make the world a better place?
Since I moved to the Beach, I have been in a constant state of creating, and when you are in a constant state of creating, that helps the world out in more ways than people really understand.
Describe yourself in three words.
Infinite source energy.
Where can we learn more about you?
At forthepeople.cc, as well as Lucky Strike on Wednesday, Thursday, Friday and Sunday nights and the Clevelander on the weekends, as well as the many exclusive yacht and mansion parties around South Beach.