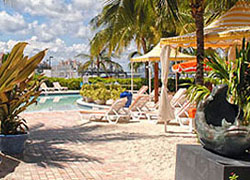 A beach club in the Saint Tropez vein, La Piaggia is a stunning place to sit back and catch a glimpse of beautifully tanned bodies parading in the sun.
Located across from Murano Condominiums and attracting Miami Beach's jet set crowd, this beach haven is a most sought-after destination to enjoy an afternoon bite of French-Italian cuisine or a weekend of unwinding with a tropical drink in hand.
Relax near the water's edge as you take in the bold colors and saltwater swimming pool. And with a moniker like "the South of France at South of Fifth," this high-end venue is the perfect place to kick your evening off with a touch of class.