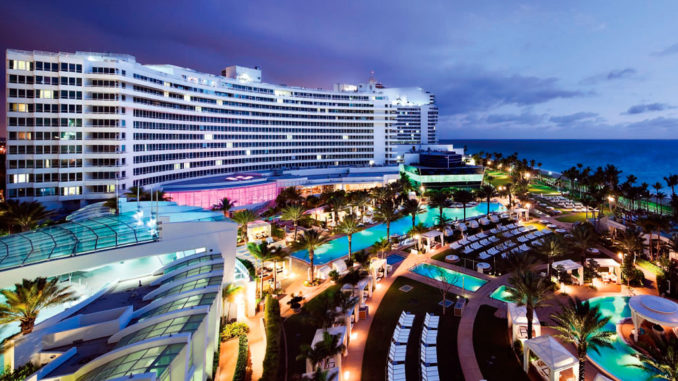 The billion dollar renovation of the Fontainebleau hotel in Miami Beach that's scheduled for completion later this year calls for a new nightclub named "LIV" to occupy the hotel's former Tropigala space. The name "LIV" is supposed to represent (stay with me, now) the Roman numeral "54," which is a reference to "1954" which is the year the Fontainebleau first opened, but it's pronounced "live" as in "live and let live."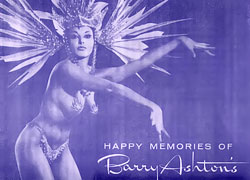 With that rather large leap of logic out of the way, the question at hand is, will the Fontainebleau and its new club LIV, which are located about twenty blocks north of South Beach, have a material effect on South Beach clubland when they open. My personal opinion is a definite…maybe. Here's why…
When the Fontainebleau opened in 1954 there were many independent clubs in and around South Beach — the Latin Quarter, the Beachcomber, Bill Miller's Riviera Club, Ciro's, Copa City — clubs that made South Beach then, as it is today, a nightlife Mecca.
But, once the Fontainebleau opened, things changed. The in-crowd nightspots gradually moved up to the ocean-front hotels along Collins Avenue from about 30th Street up thru 65th Street, and from 1954 thru 1960 there was a major shift northward for the Miami Beach nightlife scene.
The Pagoda Room at the Saxony, the Blue Sails Room at the Sans Souci, Aladdin at the Algiers and even further north to the Eden Roc, Carillon and Deauville hotels — this is where much of the Miami Beach scene relocated to within the span of a few winter seasons. In 1959 the Carillon was voted "hotel of the year" and that was just about the time the mighty Latin Quarter on Palm Island closed its doors for good.
Lou Walters (father of Barbara Walters) who owned the Latin Quarter, closed his club and transformed his troupe of world-famous can-can girls into a nightclub "revue" that landed at the Carillon hotel and ran successfully for several years.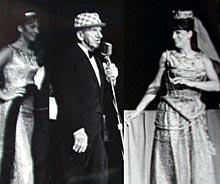 Barry Ashton's "Playmates in Paris" revue did two shows a night at the Deauville hotel along side performers such as Sammy Davis, Jr. and Jimmy Durante, while the Tonight Show with its original host, Steve Allen, was broadcast live from the Fontainebleau's La Ronde supper club. This was an era in Miami Beach nightlife when nightclub entertainment meant big productions with live bands and dazzling floor shows.
While it's true that nightlife still existed in South Beach, the true glamour and its entourage of big money had moved north leaving the clubs in South Beach to gradually shift towards smaller, rowdier strip joint / burlesque show type venues such as Place Pigalle and Martha Raye's Five O'Clock Club around 22nd Street.
The oceanfront hotels became the new "place to be" and it was the Fontainebleau hotel with its Boom-Boom Room and massive La Ronde Supper Club that were the catalyst for this locational shift in Miami Beach nightlife.
But, does that mean the new Fontainebleau will once again lead us into a resurgence in mid-beach glamour? Well, if they keep coming up with cryptic club names like "LIV" it won't. As Talknightlife's Dan Vidal comments, "The name of a nightclub should not force you to think too much." But, if the Fontainebleau's new club produces a hit, it's reasonable to assume that the Eden Roc won't be far behind with its own nightlife offering and a shift in Miami Beach nightlife could easily begin again.
Nightclubs fall out of favor because people get bored with the status quo, and this effect is especially accentuated in South Beach where the glitter-hungry masses with their too much isn't enough ethos are always on the lookout for the next new thing.
In a town where it's quite common to see nightly bottle service tabs roughly equal to the cost of a new car, maybe the Fontainebleau's new club will be just what the glamour-obsessed citizens of South Beach are looking for.
It has happened before.