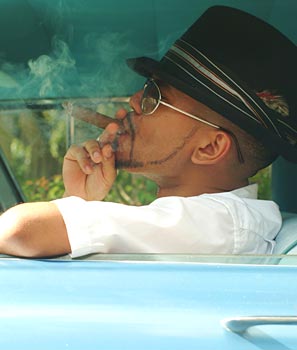 Where are you from?
Nicaragua.
Residencies:
Nocturnal.
Number of years spinning:
Twelve years.
How did you get started spinning?
I started spinning with my brother doing block parties.
Who are your musical influences?
… too many to name, but anybody who takes music to another level inspires me.
Describe your current sound.
My sound is whatever I'm into at the moment. Right now it's all about '80s, Funk, Miami Bass and scratching.
What equipment do you use?
I use a Pioneer 909 Mixer, two Technics 1200 turntables and Final Scratch 2.
What's the worst job you've ever had (as a DJ or otherwise)?
Working at an acrylic factory with my dad. It made me appreciate and respect him more than ever.
What's your most memorable night in a Miami club (working or not
working)?
The first DJ battle I entered in at a club called The Zoo in Coconut Grove. I was 15 years old and it was one of the first times I'd ever been in a club. I fell in love with the rush I got from being on stage and having people going crazy just because I was scratching.
What would be the theme song to your life?
"My Way."
What makes your DJ style unique?
I'm not your average DJ. I try to incorporate my skills into my mixing. I let my fingers do the talking.
What have you done recently to make the world a better place?
I think every time I spin and make the people smile I make the world a better place. The world is so fucked up right now, anytime I can get people's minds off their problems, I've done my job.
Describe who you are in three words.
Bad-ass-motherfucker.