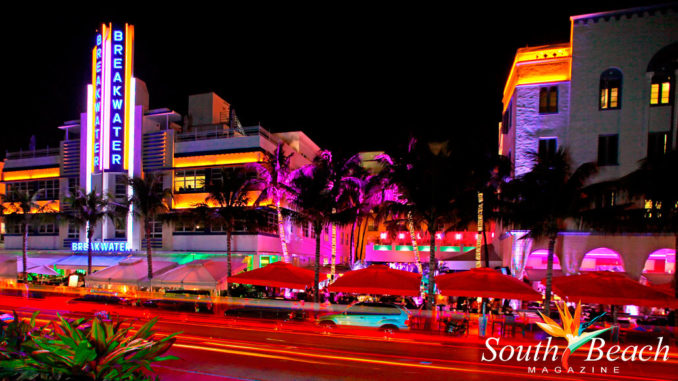 The best restaurants on Ocean Drive Miami offer quality dining, a view of the action and plenty of options in price and cuisine. We have gathered a Top Ten List of our favorite Art Deco destinations for brunch, dinner and happy hour so you can avoid the tourist traps (mostly) and enjoy the scene. Start the morning at Cafe Nikki, Front Porch Cafe or the Local House or wander into the 24-hour News Cafe day or night. Some of the most popular dinner spots include LT Steak and Seafood, Gianni's at the Villa and Prime 112 where you're bound to run into a running back, a supermodel or a famous politician.
Let's get started…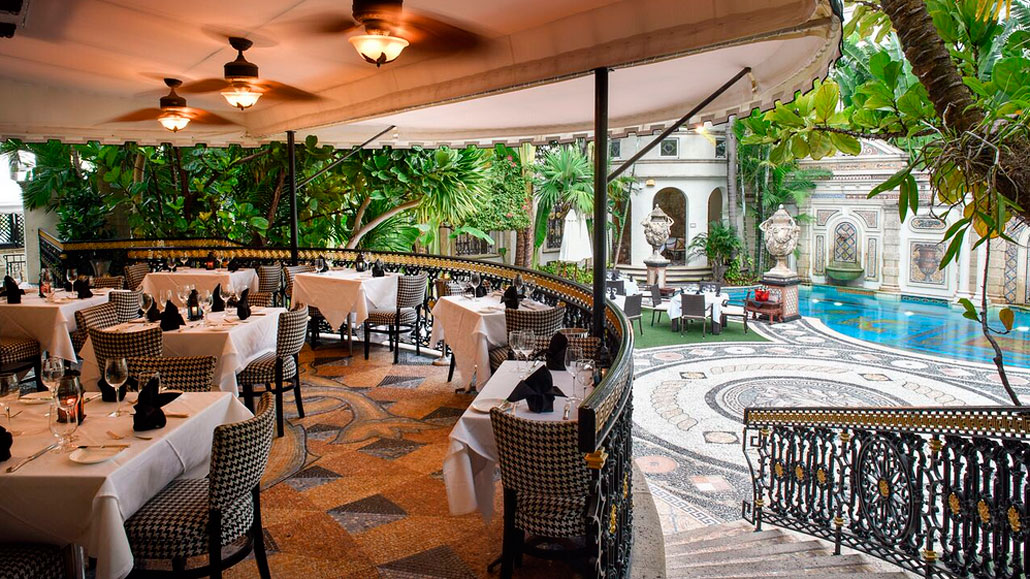 Gianni's at The Villa, Casa Casuarina
1116 Ocean Drive, Miami Beach
Vibe: Versace Mod
An elegant oasis in the heart of the Ocean Drive scene, Gianni's at The Villa, Casa Casuarina offers a unique glimpse at the design legacy of Gianni Versace who purchased and renovated every inch of this landmark property during his happiest days on Miami Beach. Under the watchful eye of Chef Thomas Stewart, the restaurant remains an icon of opulent style with millions of tiny, hand-set mosaics adorning the walls and reflecting pools. Enjoy a romantic dinner under the stars at this magic Miami mansion.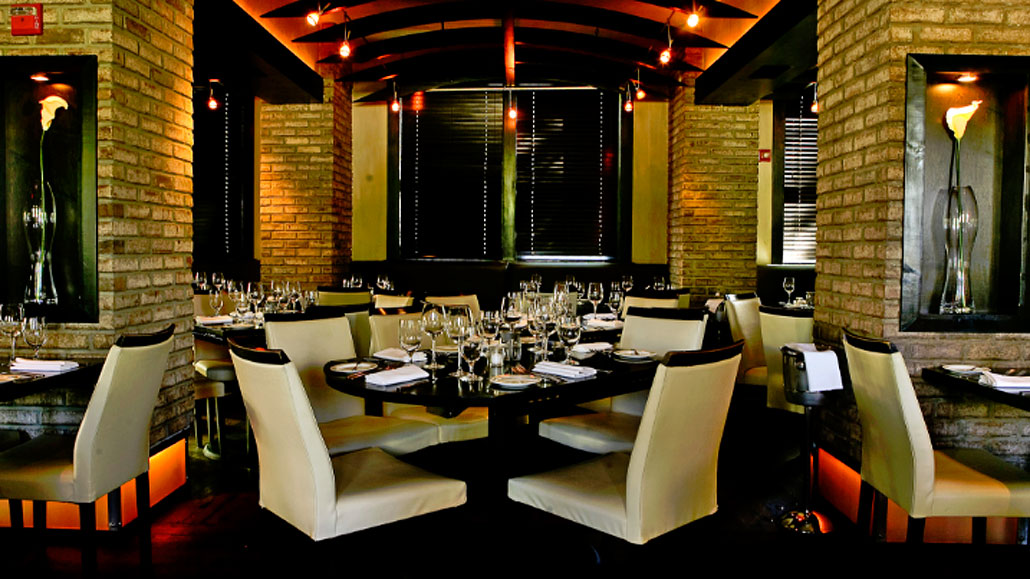 Prime 112
112 Ocean Drive, Miami Beach
Vibe: See and Be Seen
Home to such decadent delights as the infamous Kobe Beef Hot Dog (recently featured on Real Housewives of New York), Prime 112 steakhouse has hosted some significant A-Listers in politics, sports and cinema. Popular for lunch and dinner, the action centers on the main floor dining room where guests angle their chairs to keep one eye on the front door at all times. Expect loud, lavish parties, plenty of pricey prime beef and delicious sides served with prompt professionalism.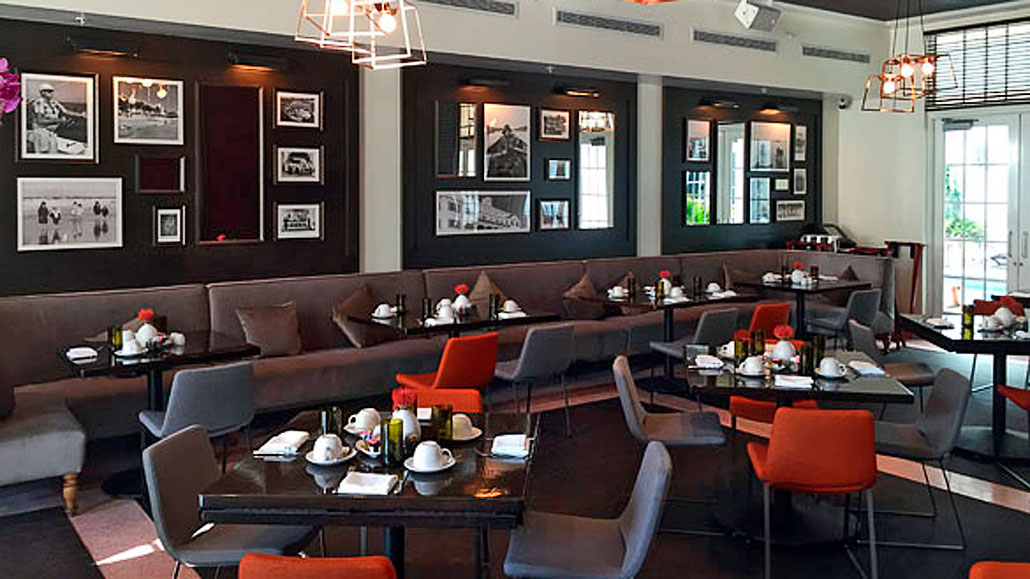 LT Steak & Seafood
1440 Ocean Drive, Miami Beach
Vibe: Casual Sophistication
A hidden gem tucked inside the stately Betsy Hotel, LT Steak & Seafood offers breakfast, brunch, lunch and dinner to lucky travelers and savvy locals who enjoy Chef Laurent Tourondel's clasic French techniques and straightforward American ingredients. While the hotel and dining room are tastefully appointed and perfect for a quiet conversation or a family gathering, the tables along the busy sidewalk are a prime spot for Ocean Drive people watching. Open 7 days.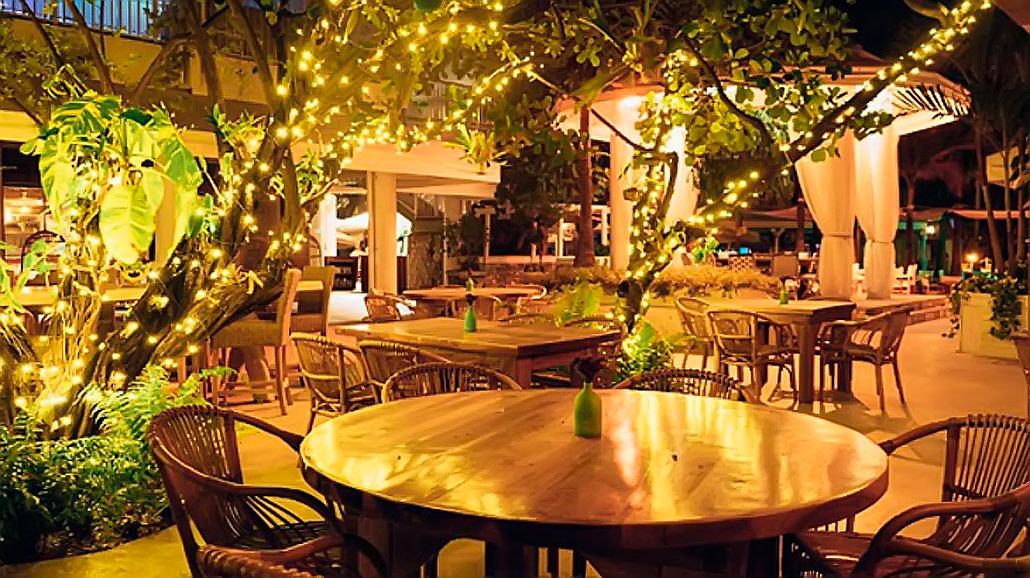 Cafe Nikki
1 Ocean Drive, Miami Beach
Vibe: Laid Back for Bicycle Riders
Providing the perfect morning escape for visitors and locals (who frequently arrive on wheels), Cafe Nikki serves up straightforward brunchy bites like fresh juice, strong coffee, still-warm pastries and a delicious quiche. Unlike the adjacent nightclub which has a dressier atmosphere and a fully laden brunch buffet on weekends, the alfresco cafe is perfect for a chat with friends, a romantic rendezvous or a grab-and-go snack. Serving Monday through Saturday 9am-4pm.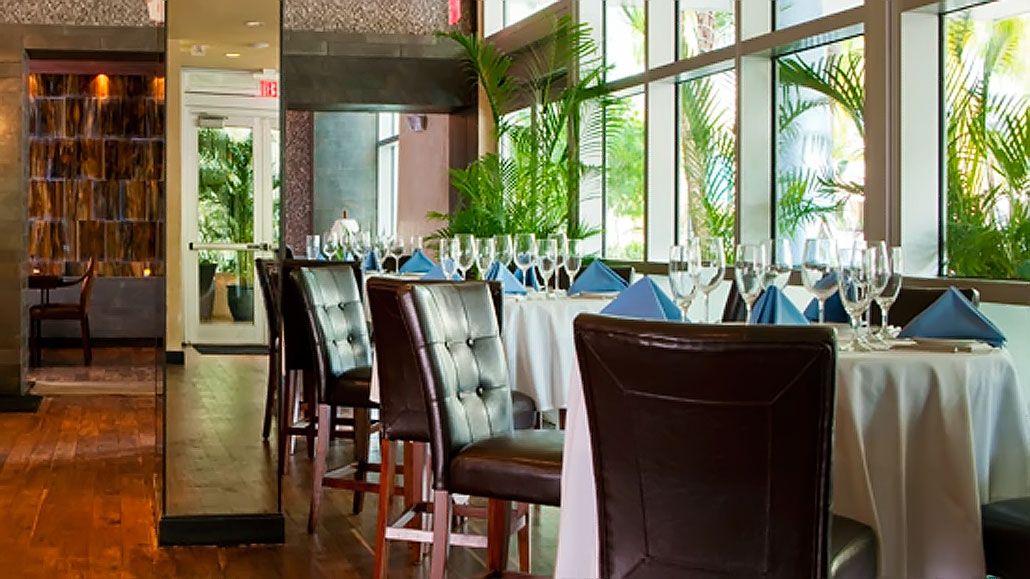 Front Porch Cafe
1458 Ocean Drive, Miami Beach
Vibe: Busy Bistro
The one spot on the strip where you'll likely encounter locals, Front Porch Cafe is an upscale diner with a semi-healthy menu, ample all-day dining options and a fairly-priced happy hour from 4pm – 7pm. Located within the Z Ocean Hotel at the northernmost point of Ocean Drive, the restaurant has satisfied hungry South Beachers for more than 25 years. We like the breakfast tacos, the granola pancakes (particularly when hungover), and the Porch Burger served with a choice of tasty craft beers.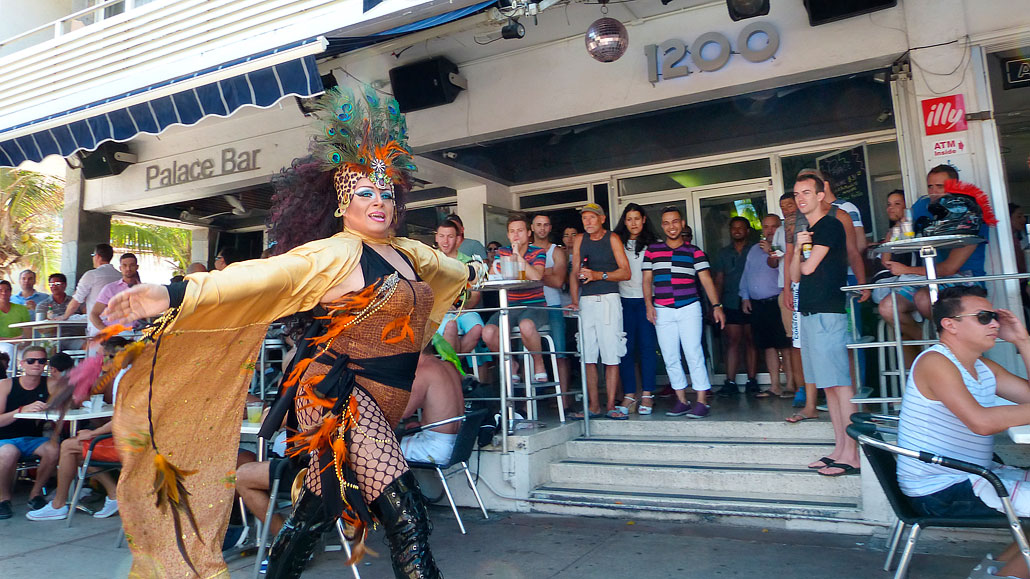 Palace Food Bar
1052 Ocean Drive, Miami Beach
Vibe: Drag Queen Scene
Bawdy and bouncy, bold and bodacious! The Palace Food Bar is part of South Beach legend because it hosts the naughtiest drag show in town. Miami's most daring performers may wander into traffic, straddle a taxi or dance on the hood of a parked car because a great song is blasting from the speakers. This alfresco terrace overlooks Lummus Park and a stretch of sand popular with muscular men in tiny swimsuits. We like the #SundayFunday tea dance party that elevates our mood most weekends.
Local House
400 Ocean Drive, Miami Beach
Vibe: Breezy Beach House
Looking for a hidden gem? An easy breezy cafe in the mellow SoFi District (South of Fifth Street), The Local House provides a perfect escape for brunch, dinner, coffee or cocktails. Located just inside the Sense Hotel, this petite beach club feels like a trip to the Hamptons (without all the drama of actually navigating that NY attitude). Enjoy mimosas by the pitcher, crab cake eggs benedict or a selection of appetizers and a few cocktails as the sun sets. You're welcome!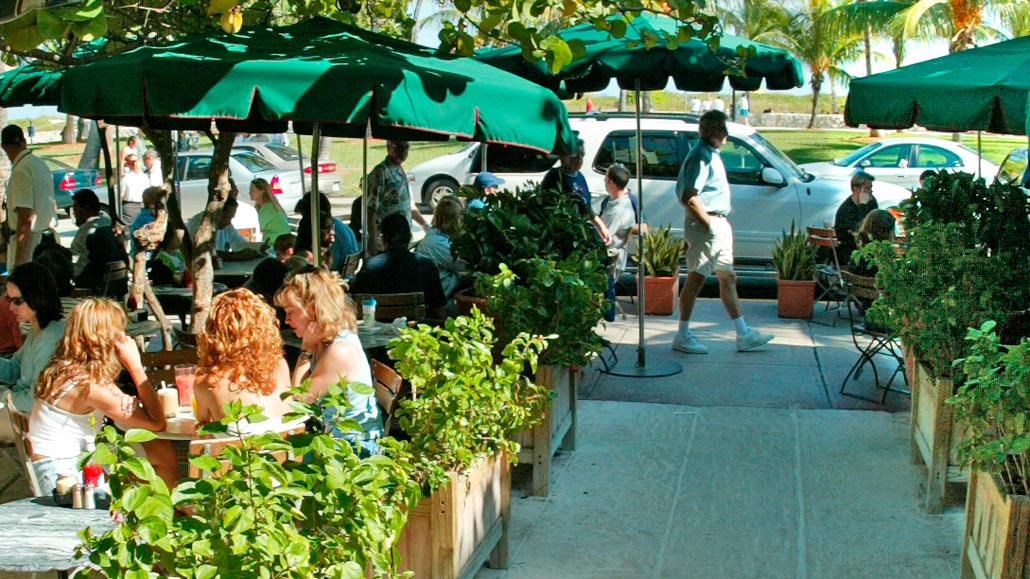 News Cafe
800 Ocean Drive, Miami Beach
Vibe: Classic South Beach
One of the original hangouts on Ocean Drive, the News Cafe (circa 1988) remains an icon of all things South Beach because it never closes! Whether you're entertaining out of town guests, wide awake from jet lag or simply seeking a prime sidewalk location to watch the world stroll by, "the News" is the place to take your friends for a strong cup of coffee, a juicy burger or a satisfying brunch. You'll find us there at happy hour when drinks are 2 for 1 weeknights from 4pm – 7pm.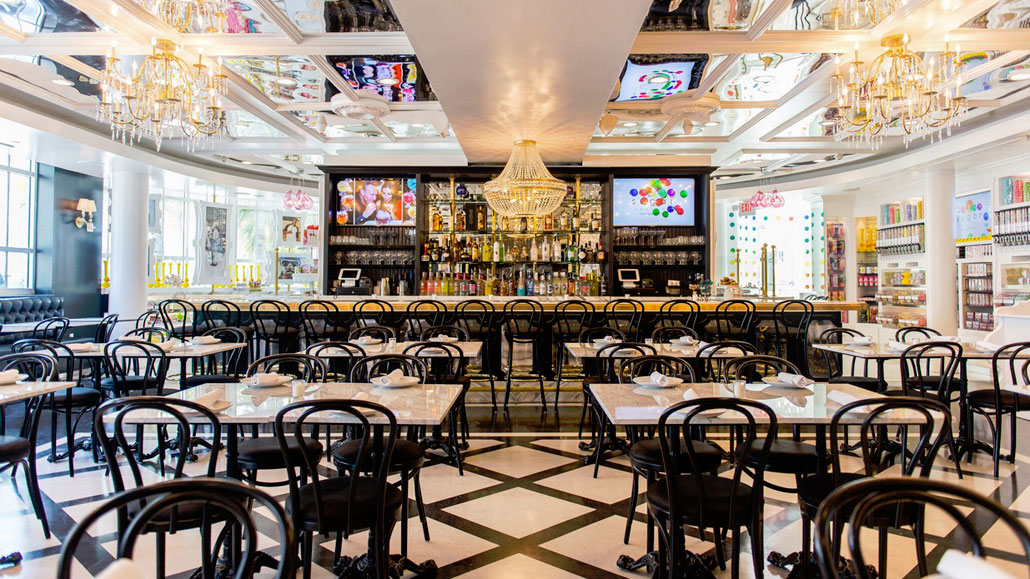 Sugar Factory American Brasserie
1144 Ocean Drive, Miami Beach
Vibe: Candy-licious
A newly popular destination within the Art Deco elegance that is the Hotel Victor, Sugar Factory American Brasserie stimulates our obsession with all things sweet and shiny, decadent and delicious! Check out the colorful collection of candy, the over-sized shakes topped with everything from cheesecake to bacon and the chillaxing choice of sundaes and snowcones perfect for a South Beach summertime escape. Grown-ups can enjoy massive tropical cocktails while the kids feast on sweets.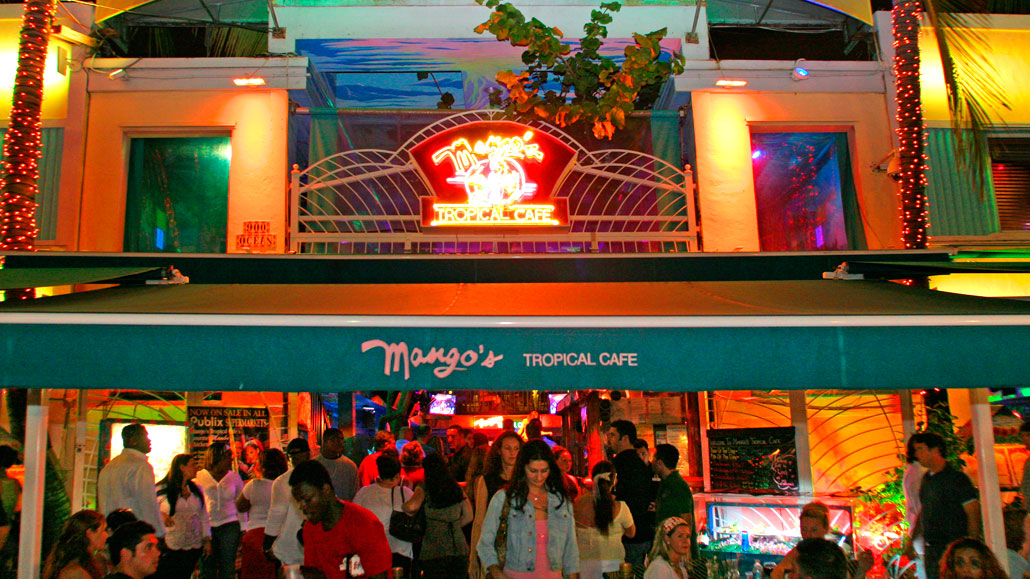 Mango's Tropical Cafe
900 Ocean Drive, Miami Beach
Vibe: Latin, Loud & Proud
While not technically a restaurant, this popular Latin nightclub serves food and cocktails to a giddy crowd who stand transfixed by the thundering soundtrack, the live bands and lithe dancers who mingle on the dancefloor and gyrate atop the bars. We include Mango's Tropical Cafe in our Ocean Drive line-up because it represents that "only in Miami" experience many people seek out during their brief visits to the Art Deco District. Open 7 days a week until the wee hours. Don't miss it!