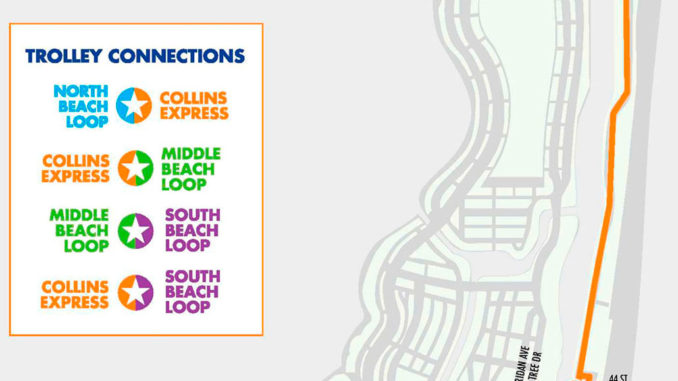 Exciting news for budget-conscious visitors starting November 2017 – The City of Miami Beach is launching a comprehensive network of free trolley routes to serve residents and tourists by connecting popular attractions in both the North and South Beach areas. Enjoy effortless transfers on the Collins Express line which runs every 20 minutes and makes limited stops as it travels between the Mimo District at 88th Street and Collins Avenue all the way down to Lincoln Road Mall. Each trolley has 2 bicycle racks for guests wishing to bring along their own wheels.
With parking costs escalating and increased concerns about commuter traffic, free trolleys provide a welcome relief for local commuters. Travelers to Miami Beach now enjoy a broader range of hotel choices from budget to luxurious with easy access to all the excitement of South Beach from the more quiet and family-friendly hotels in the northern part of the city. Some of the perks of the new trolley service include free Wi-Fi on board the vehicles plus real-time tracking and next bus information through the city's mobile application available on Google and Apple stores.
Hours of Operation
Monday to Saturday 6am to midnight
Sunday 8am to midnight
Approximate Running Times
Every 10 – 15 MINUTES (Middle Beach Loop and North Beach Loop)
Every 20 MINUTES (Collins Express)
Collins Express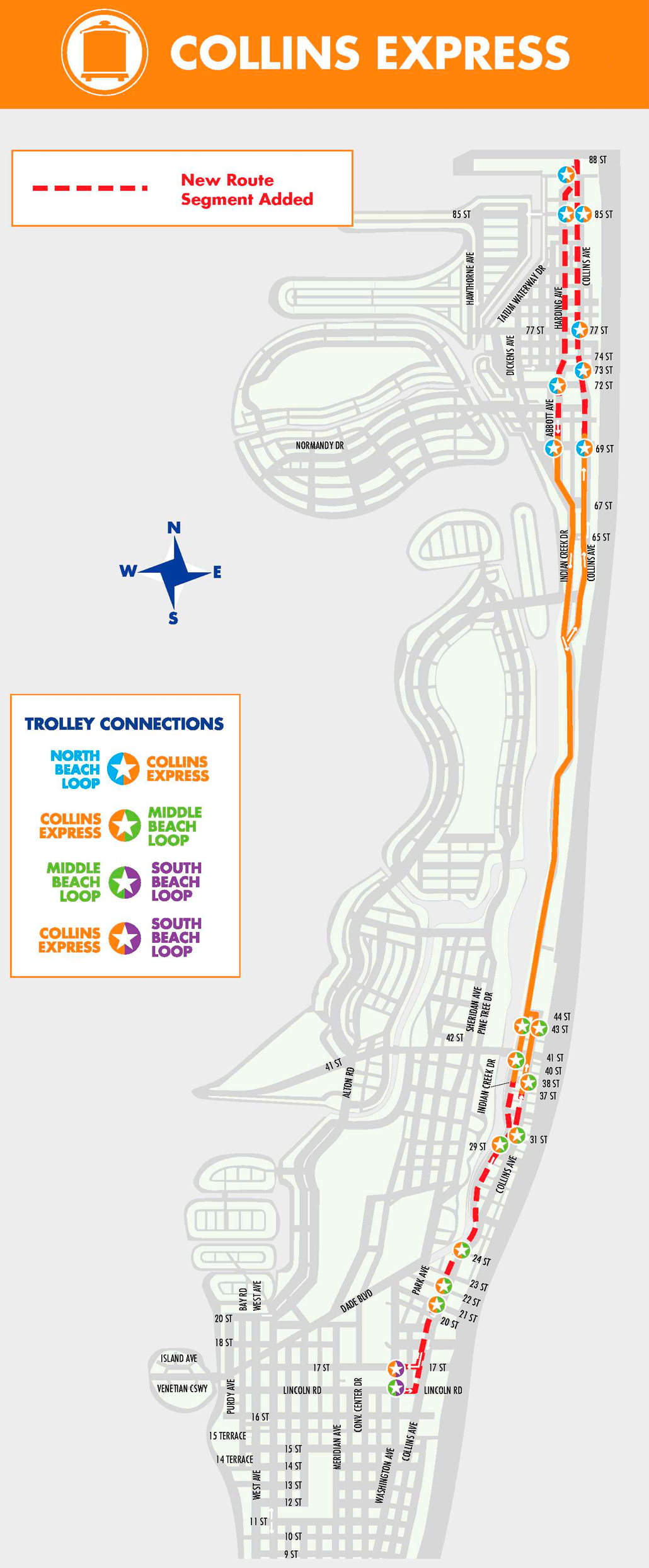 Board the Collins Express Trolley in South Beach and make stops at
Washington Avenue/17 Street
Lincoln Road/Washington Avenue
Collins Avenue/21 Street
Collins Avenue/22 Street
Collins Avenue/24 Street
Indian Creek Drive/29 Street
Collins Avenue/31 Street
Collins Avenue/38 Street
Collins Avenue/43 Street
Indian Creek Drive/40 Street
Indian Creek Drive/43 Street
Board the Collins Express Trolley in North Beach and make stops at
Collins Avenue/69 Street
Collins Avenue/73 Street
Collins Avenue/77 Street
Collins Avenue/85 Street
Harding Avenue/87 Street
Harding Avenue/85 Street
Harding Avenue/81 Street
Harding Avenue/77 Street
Harding Avenue/75 Street
Abbott Avenue/72 Street
Abbott Avenue/69 Street
Additionally, Collins Express serves all bus stops along Collins Avenue between 44 Street and 63 Street.
South Beach Loops (Blue and Green)
Starting November 19, 2017, the City of Miami Beach will launch the South Beach Loop, a series of ten new low-floor trolley vehicles that will circle South Beach in both directions from 20th Street in the Sunset Harbour District to South Pointe Park. These city circulators will navigate Washington Avenue, circle to Alton Road and bisect the city along 17th Street, 11th Street and South Pointe Drive. This service will run 365 days a year with runs starting daily at 6am and ending every night at midnight (Sunday service ends at 8pm). Access to popular shops and supermarkets, exciting restaurants and the hot new entertainment district along the western edge of the city is easier than ever before.
South Beach Blue Loop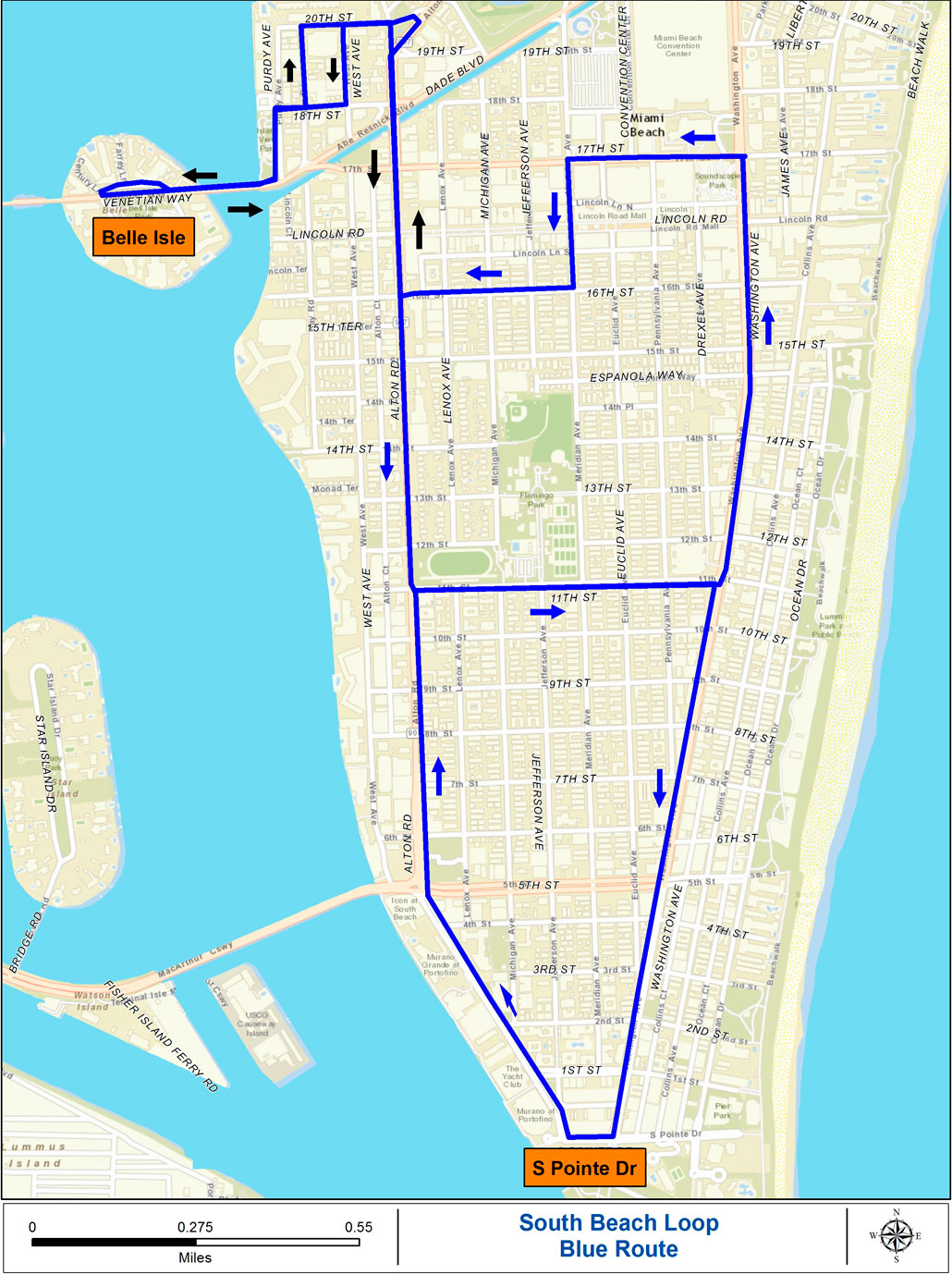 South Beach Green Loop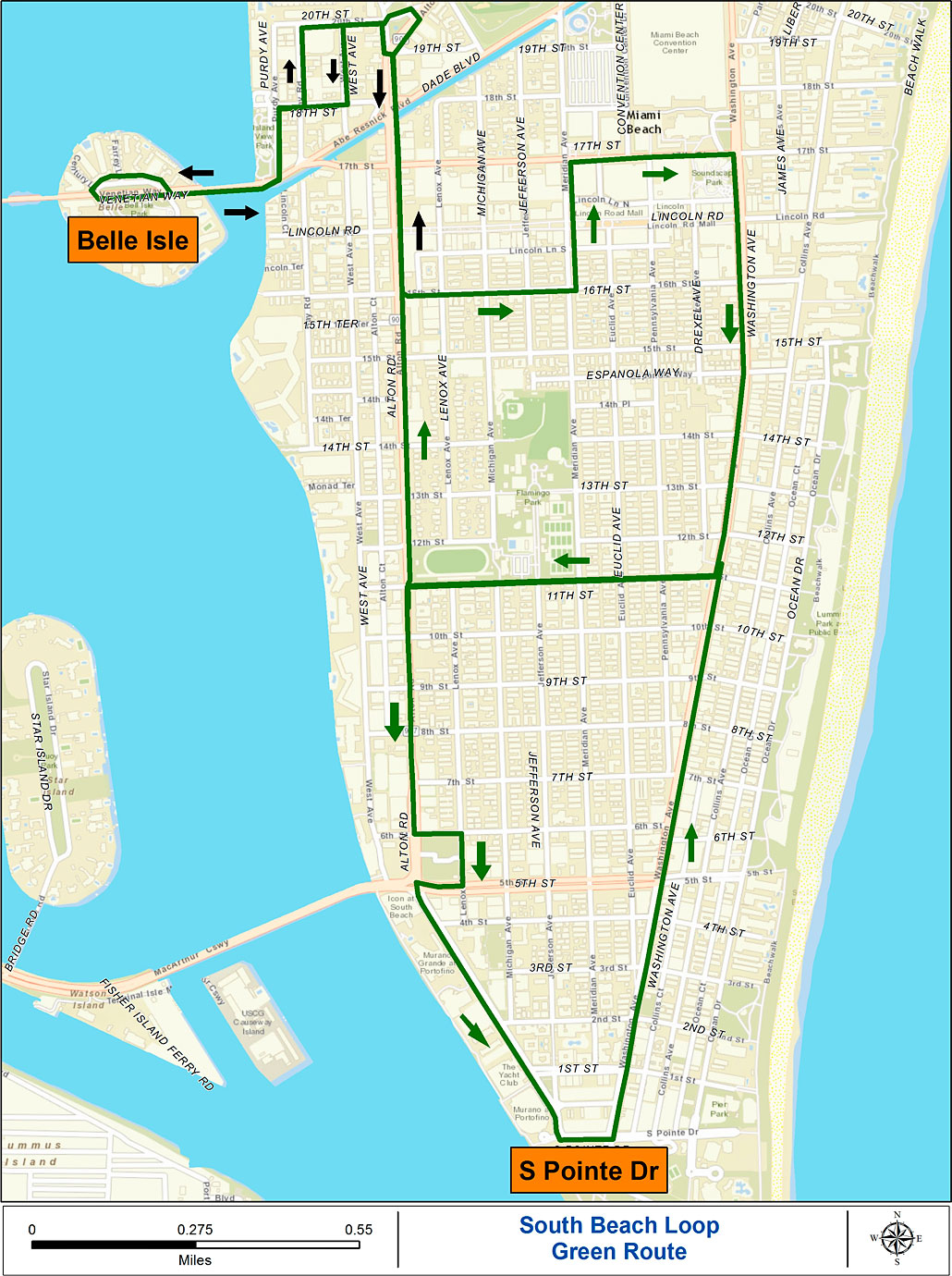 Middle Beach Loop
The new Middle Beach Trolley Service connects the residential shopping district along 41 Street to Collins Avenue and Lincoln Road Mall. An added perk for residents and visitors who wish to take advantage of lower priced hotels and private rentals in the Mid-Beach area, the route travels between Mount Sinai Hospital, the 41 Street Commercial Corridor, 42 Street Garage, 36 Street Park, The Bass Contemporary Art Museum in Collins Park, the Miami Beach Convention Center and Botanical Gardens and Lincoln Road Mall.
With a rising number of savvy travelers utilizing the Airport Flyer shuttle service that connects Miami International Airport and Miami Beach, the addition of Mid Beach and North Beach Loops adds a vital free connection for guests staying at Mid-Beach Resorts, as well as North Beach locations including Surfside. Travelers who wish to access the popular kosher markets and restaurants along 41 Street can utilize the Middle Beach Loop to shop and dine.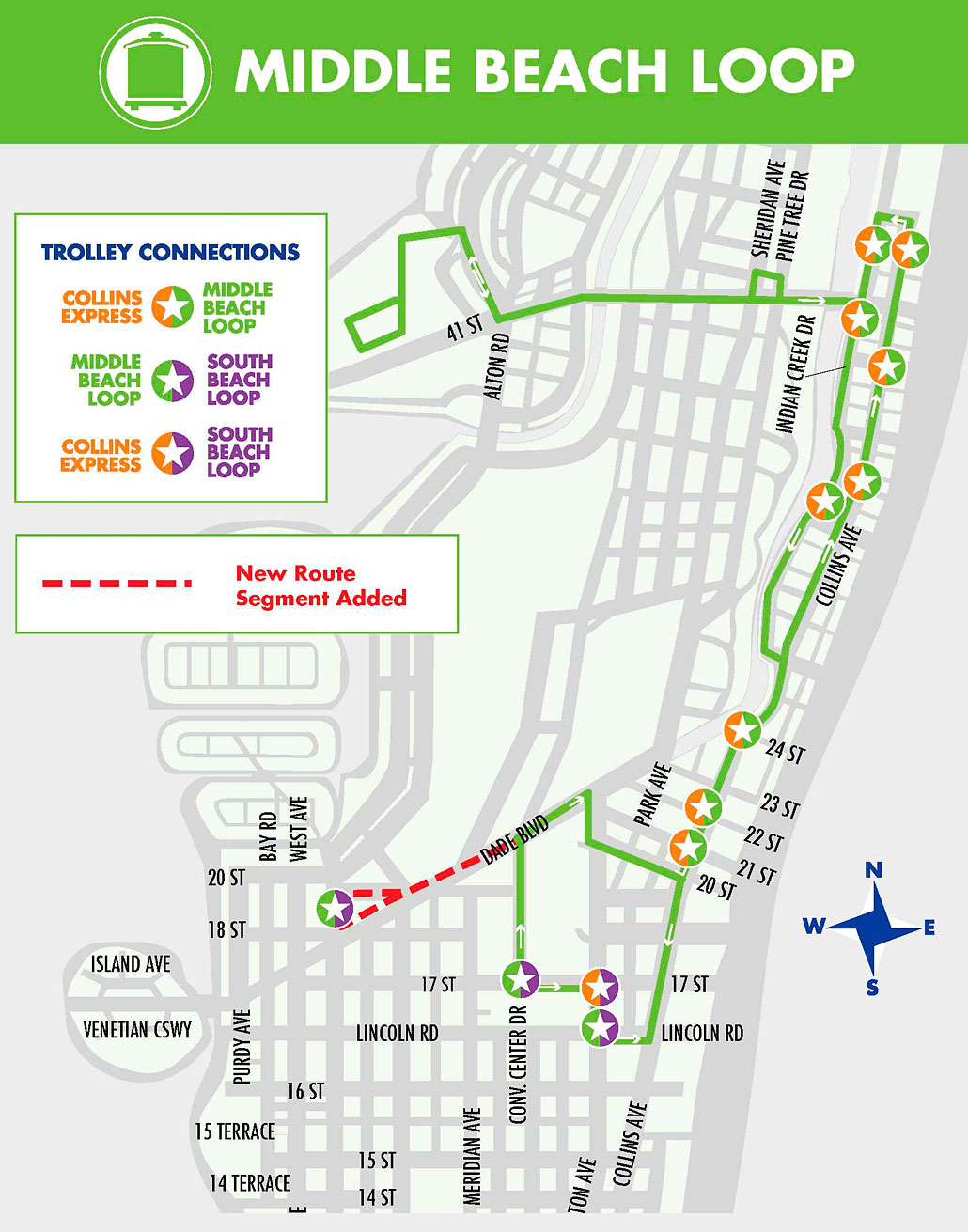 North Beach Loop
With the launch of luxury resorts along the northern reaches of Miami Beach, guests may access the serene residential areas of Miami Beach, North Beach and Surfside utilizing the North Beach Trolley Loop. The new system provides easy access to Allison Park, Publix on 69 Street, North Shore Open Space Park, O Cinema, North Beach Bandshell, Normandy Isle Park and Pool and other destinations.

Get the App
Using Miami Beach's new mobile application from TSO MOBILE,
commuters will be able to view all trolley routes, check on timetables,
see detailed stop information and plan their daily trips.