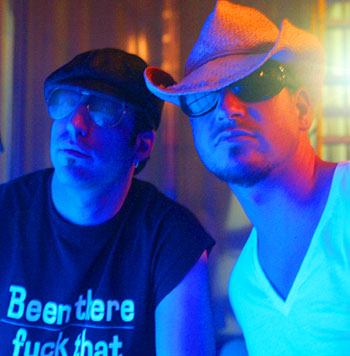 In the world that exists after midnight in South Beach clubland—a world where alliances and relationships rarely survive past the city's 5 a.m. curfew—Mykel Stevens and Carmel Ophir have remained South Beach's most enduringly successful nightclub promotion team, achieving the elusive quality of longevity in a business where careers often fail during the first week.
Now, after four years of working and partying together, Stevens and Ophir are embarking on a new frontier of nightlife entertainment with a national tour of eight cities across America with their flagship seven-year-old music/drag extravaganza which holds the undisputed title as Miami Beach's longest-running nightclub event.
Philadelphia rock-n-roll scenester Mykel Stevens didn't put a lot of thought into his decision to move to South Beach. After coming here on vacation in 1995 he asked himself the simple, yet life-altering question "Why would I live in Philly when I can live in a place like South Beach?"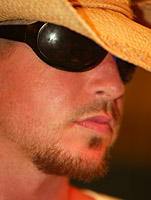 Carmel Ophir came to Miami from New York to attend Florida International University and along the way, he too discovered the still nascent neighborhood of South Beach, which was just starting to attract famous photographers, supermodels and a hip, artsy international crowd. While working his way through school as a waiter at the Waldorf Towers Hotel on Ocean Drive, Ophir once made a room-service delivery to room 201 of the hotel. On the receiving-end of the delivery was supermodel Claudia Schiffer, who was in town to shoot her ground-breaking GUESS? ad campaign. Ophir knew at that moment South Beach was the place to be.
Stevens and Ophir entered the South Beach nightlife arena along different paths, yet both quickly mastered the delicate art of attracting the hip crowd to first-class events. Ophir also worked as a barback at the beloved underground club Sempers, underneath the Waldorf Towers Hotel with South Beach living-legend Louis Canales—the genius behind in the infamous Avenue A parties. In the early 90s, Ophir landed a job at Greg and Nicole Bilu-Brier's Groove Jet, working in marketing and DJ-ing, where he stayed until February 2000.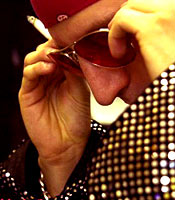 Meanwhile, Stevens began hosting parties with a friend from Philly named Nicholas Pioli, who had previously moved to Miami. Mioli had been a promoter in Philly, throwing a traveling weekly party called "Vagabond." "I brought all my friends to these parties," Stevens says. "They were very artsy, mixed, underground parties. When I got here I looked around and saw that on the Beach, at the time, good nightlife was lacking, so, I decided to put something together." While putting his concept together, Mykel worked as a pool bartender at the newly-opened Delano Hotel Rose Bar.
Soon, Ophir and Stevens, as fledgling promoters and South Beach party fixtures, would cross paths—from the long-running "The Church" party at Groove Jet, co-created by Ophir, with Stevens working the door, to "Propaganda" at Prince's Glam Slam. And all the while, Stevens was perfecting his concept for a party designed to bring out the coolest, hippest, most creative and self-expressive locals, week in and week out. The party's name? "Back Door Bamby."
With their local phenomenon going national with an eight-city tour sponsored by Heineken and MAXIM Magazine, we recently spoke to Mykel Stevens and Carmel Ophir at Crobar nightclub in South Beach.
The Tour
So now you're taking Bamby—the "Bitch," as you like to call her—on the road, for an eight-city national tour sponsored by Heineken and MAXIM Magazine. How did that happen?
Carmel: A friend of mine who used to work for Little Louie Vega brokers deals designed to bring different corporate brands together where there is a mutually benefiting result. He matches up companies with ideas based on similar interests. He's very friendly with the Publisher of MAXIM. They were negotiating an advertising deal with Heineken, which is outside their normal advertising parameters. So, MAXIM approached us as a value-added promotional idea for Heineken, and asked us if we'd be interested in doing a national tour, eight major cities.
When was that?
Carmel: The second half of last year. I went to NY and sat in a conference room with reps from Heineken and Maxim and we put the basic concept together. Then we started on the real work, the details.
What was the concept that sold them?
Carmel: Great DJs, great party, great venues. Bamby, the naughtiest girl in Miami, is taking her dysfunctional family on the road. Be a part of it. The DJs are Little Louie Vega, Josh Wink, Erick Morillo, Dave Morales. Heineken picked the cities, for branding in key markets.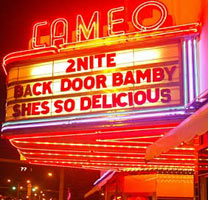 What are the eight cities?
Carmel: Miami, New York, Chicago, Boston, Washington, DC, San Francisco, Los Angeles, Detroit. We've already done Miami and New York. Next, in July, are San Francisco and Los Angeles. Then in the fall, we do the remaining cities.
What other cities were considered?
Carmel: I was pushing for Las Vegas, Philadelphia and Cleveland. Texas, too. But they had only budgeted for eight cities and they wanted their most important markets.
What is the basic idea of the tour?
Carmel: We decided to take Bamby on the "Adventure to Stardom Tour" —on behalf of Heineken. Green bottle, red star…she's going to be a star! There's white in the label, so we use a lot of the color elements in the décor and installation process…White fabric treatments and balloons, huge red Stars, etc.. We also had our artist Attila draw a Bamby Girl, dressed as a Dutch Heineken Girl. It becomes a branding exercise for Heineken in the venues.
From the first meeting in New York until you put on the event, how much time passed?
Mykel: Five months.
What took so long?
Carmel: We wanted to wait and launch it at Winter Music Conference, which wasn't until this March ? which was also our seventh anniversary. So, it was a great catapult for the tour. Then, we did the New York event, May 15, at a club called Discotheque. It was a fantastic night ? South Beach does the Big Apple.
How many people?
Mykel: Well it's a small venue. We did about 900 for the night in a room that averages 400 to 500 a week. People were in and out, all night.
What dates are next?
Carmel: In July, we're doing San Francisco, on July 11 at Ruby Sky. Then, on July 24, we're doing L.A.. at I-Bar. In San Francisco, the DJ is Josh Wink. In L.A., the DJ is David Morales.
Give us a rundown of a typical night?
Mykel: It's a standard show, but we try to localize it to each city and each venue. Like, in L.A. we're doing the whole red carpet, movie star thing. But the core of the night is good rockin' house music. Then we have these "interruptuses." One is a tribute to 30s-40s-swing…the Lindy… that whole thing. One is a tribute to the drag/androgyny scene back to David Bowie, and the third is a tribute to provocative—really provocative—fetish.
Who are the stars of the show?
Mykel: From Miami, the drag artist and opera singer Adora. From New York, the drag legend, former South Beach pioneer, Kitty Meow. We have other performers and dancers, too.
How big is your staff and crew?
Mykel: About eighteen people… dancers, performance artists, production people, the visual arts crew, the DJs, myself and Carmel, and a manager…in a real suit, no less.
Let's talk about the early days—how did you guys first meet?
Carmel: Crossing Lincoln Road. I admired his (Mykel's) fashion style. Somehow, some way, we just connected and starting vibing on each other.
Did you know who he was?
Carmel: No, I didn't, I just dug his style, man…(laughing)…he was wearing polyester pants and this slick Mod jacket and Jamiroqui hat, big sunglasses. I was doing my 70s thing—bellbottoms, suede jacket, scarf. So, we took notice of each other, then later, another South Beach pioneer, Gilbert Stafford, gave us our official introduction.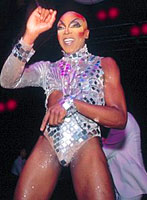 What was your first impression of Mykel when you saw him?
Carmel: …(laughing)…Cool motherfucker—thank God we have something like this walking around.
Mykel what was your first impression of Carmel?
Mykel: Same thing, we just locked-in right away.
Carmel: I think also what was happening around that 95-96 era was that you had the transition going into Liquid, which was the mega-club, superstar-celebrity driven, VIP everything. That was a major step at that time. What also started happening was the polarization of the crowds—hip-hop party, straight party, VIP party, gay party—there wasn't anything criss-crossing any more. So, Mykel had a vision and a desire to develop this small, intimate party that just ended up being fuckin' cool.
How much time passed between meeting and getting together as partners?
Mykel: About a year after I started it [Back Door Bamby] at Lua, over on Espanola Way.
Carmel: I was getting ready to leave my gig at Groove Jet. We were kind of just hanging out, and I guess boredom just took over the conversation…
Mykel: …so we went for a beer at Blue and…
Carmel: …then we thought, "yeah this would be a really cool place to do Bamby," …back to basics…on a Monday… cool friends… not driven by money, just get the locals out. So, in 1999, we moved the party to Blue. Then, in January 2000, we moved to Crobar.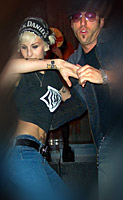 What was it that made you want to have a partner, Carmel, rather than doing your own thing solo?
Carmel: At the time, I was still doing The Church, which was, on its own, a long-running thematic night that had its own niche crowd. So, with Mykel, I shared the notion of doing something long-term and right—so, we got together. A good reason to have a partner is that when you do a project solo, it gets difficult and overbearing, because let's say you get sick one day or have to go out of town unexpectedly—nobody's there to help you.
Mykel, what about Carmel most appealed to you?
Mykel: He's very creative, very professional, and he knows how to have a good time.
That's a pretty unusual combination on the South Beach party scene, isn't it?
Mykel: Yeah, definitely.
Carmel: There's also too many of what I call ?hit and runs,? people doing something for the sake of doing it and, boom, they're out. People who are fly-by-night, if you will. Our intention was to do something long-term—we had no idea it would go as far as it's gone.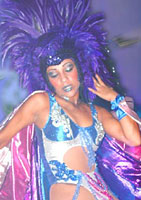 Where did the name "Back Door Bamby" come from?
Mykel: My friend Nicholas Pioli, the person I came to visit after he moved down here.
In a sentence, what was the original idea for Bamby?
Mykel: Creating something that was fun. For me personally, going out was lacking on the Beach. What I wanted to do was bring all kinds of people together, at the same party.
With all the models and the hip scene that was already here by 1996, what made you think the Beach needed a more over the top party?
Mykel: It was just about bringing different kinds of people together. I'd go to different events, like a night at Groove Jet or a gay party, and each one would have a different vibe. So, I wanted to do something that was industry-oriented and brought together all those different kinds of vibes.
Carmel: An important factor also, on a personal level for me, is that back then, the events, the parties, everything there was to do socially, was driven on a nightly level. It was one event a night that the community really went to, together. It didn't really matter what your affiliation was, or what you liked. Having grown up in New York and being reared on the birth of house music… and witnessing the end of the "Studio 54 era", when the hype went underground and was driven by the music and the gay scene…but you always had the hip street crowd and the place where girls could go and feel safe…and the mix of people drove that energy. Theatrics were a big part of it, too.
In terms of the climate you came into on South Beach and the opportunity you saw, what was your first impression when you got here?
Carmel: Freedom… total freedom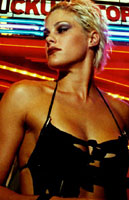 From what?
Carmel: From the expectations of what you are supposed to be doing at a certain age. After you go to college, you go into corporate America. You climb the ladder. What I found here in South Beach was the ability to do that, but on your own terms. There was a freedom here in the late '80s, early '90s, that you can either invent yourself…or… re-invent yourself…
Mykel: …or destroy yourself…(laughing)
Carmel: …yeah, or expose yourself…without any of the nonsense you have to put up with in New York or other big cities. This was the diamond in the rough. You wrote your own rules, you set your own trends. And if you brought the element of cool, people respected and followed that. There was a lot more appreciation of the arts, and being an individual, in those days.
The stuff that's prevalent today is "clonitis." Where the black sheep used to be the most accepted, as something different, now it's not accepted at all. That's bad for a creative, hip scene. It's a shame.
Mykel: An alternative scene is important in anything—alternative lifestyle, music, arts—whatever it might be.
Mykel, what was your first impression of South Beach when you got here?
Mykel: Oh, my God—I was coming from Philly, so I was taken by the beauty of the beach and the outdoors, the Ocean. I grew up an hour from the Jersey shore, so that's what made me want to make South Beach my home.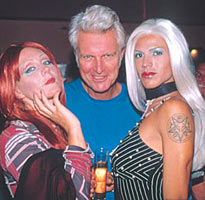 What have been the major influences on your creative sense of clubbing?
Carmel: Rudolph Piper, who now owns Nerve here on the Beach, had a place in New York called Danceteria. I went there when I was 16 years old. That was the first club I snuck into. In retrospect, I can say that club was the foundation for what I'm doing today in terms of the feeling—rockers, models, rastas, heroin chic'ers, Goths, drags, suits… all together. There was an element of theatre when you walked in, and that's something we hold near and dear now—what happens when the lights go down and it's showtime.
What have been your other influences in that sense?
Carmel: My brother Doron and I had an event called Groove Girl Thursdays at Groove Jet, in which we created a character called Gigi—and we developed a story line around her. At about the same time, separately, Mykel was developing the concept for Back Door Bamby, which was also based on a character. Then, two years later, we ended up merging into a single party that became this whole big thing.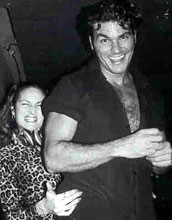 How long was the party at Blue?
Mykel: About eight months.
How many people were at your very first Bamby party opening night in the spring of 1996?
Mykel: Small but super-cool… about a hundred.
That's an excellent crowd for Lua. So you were a success from the first night?
Mykel: Yes. It built from there, week in, week out, until we got to the point where we'd get several hundred people and have to turn some away at the door because of the fire code capacity.
What caused you to move it to Crobar?
Carmel: Believe it or not, I was a bit skeptical about moving it, because we were so driven by the thought, 'man, this is it, it's intimate, it's cool.?
Mykel: But I was of the opinion that a moment of growth was needed to really make it worth the while for the time and energy we had to put into it every week. The other big reason was so we could have a larger space to work with, that would allow more production.
What kinds of moments have made Back Door Bamby special over the last several years?
Carmel: Superstar DJ's like Sasha or Dave Ralph, who will just pop in, unannounced, and do a set. Then they just hang out. The most satisfying thing, really, is to see some other club owners and promoters feel the pinch from such an incredibly small place as Blue driving so much energy and passion. They couldn't figure out why they couldn't do it in their places.
How did you cut the deal with Crobar? Did you approach them or did they approach you?
Carmel: Crobar is very, very politically correct, you might say. So, they didn't blatantly ask. They were the new kids on the block, literally, and they would never have done that. But the owners and managing partner were all three hanging out with us every Monday night. It was their little escape, because they loved the party. So, it was only a matter of time until something happened.
So you moved to Crobar on Monday, January 31, 2000?
Mykel: Yeah.
And how did it go?
Mykel: Remember, we host the party in the upstairs room at Crobar… We were packed. We did about nine hundred people.
Three times the maximum capacity of Blue?
Carmel: More than three times, yes.
And that translates to dollars in your pockets?
Mykel: Yeah, pretty much—but we do have much higher costs, especially production.
Carmel:  It also translates to the word and the chatter on the street.
How did you grow the concept when you moved to Crobar and what were the first things you did to increase the production values?
Carmel: Prior to Blue, when the party was at Lua, then Groove Jet, KGB and Liquid, it had its foundation and flexibility built in. We just adapted to a bigger space.
Mykel: We started using more nationally known DJs and performers. The first was Joey Arias and Sherry Vine, from New York.
Carmel: Then, very quickly, March 2000 came along and it was our fourth anniversary and we had to fill the whole club, which is huge. It was the first time we did the main room. So, we brought in Little Louie Vega, who is also a friend and who had done the two-year anniversary in 1998 at Groove Jet. It was a phenomenal night. That was the real marriage to Crobar, I'd say. That's when the relationship came to be with Kenney and Cal, the owners of Crobar, and us. A shared vision.
If you have the vision, what kind of obstacles do you have to get over to increase the size of the venue and the increased costs of doing the party?
Carmel: Legitimizing the way the business is operated, from top to bottom ? staffing, payroll, taxes, you name it. Make it a real business. The Bamby party is just the umbrella of a properly-run, legitimate business that is very solid and very well run. Everything is accounted for, down to the penny. Quite frankly, who else does that stuff?
Mykel: And quite frankly, it's the stuff we hate the most.
Carmel: But you have to be good at that part of it, too—or you won't be around to demonstrate your creativity. Efficiency is every bit as important, and it's the efficiency that is what really pays off.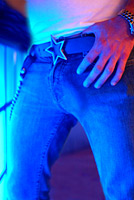 In terms of your long-running success, what is the most important lesson that you've learned?
Carmel: We sort of go against the grain of the business, which says make money, pay yourself first, then worry about everything else. That's not what we do. We put production and the party first…blow them away…make sure the people have a great time…blow their minds. Think Kiss at Madison Square Garden, but in a tiny little room. The people know that no matter what, they're getting something for their money. At the end of the day, it's not about the guy on the guest list or the VIPs who want to be treated like gold. It's about the person who actually pays the ten or twenty dollars to get in and then pays for his drinks. That's the guy who should be respected the most. That pays the club, the rent, the DJs, the staff—everything. In general, though, that doesn't get taken into account ? at all. So, we always go the extra step, for the paying customer who just wants to have a good time and get true entertainment value for his money. So, our biggest obstacle is how to avoid being second-rate at anything we do, but also maximizing the financial return from what we do.
What's the biggest crowd you've had so far?
Mykel: Close to two thousand people.
What really catapulted you to large-scale events and big crowds like that?
Carmel: In July of 2000, we did a big fashion event with designer Patricia Field for the launch of her magazine. We produced the entire event, for Patricia's partner, Mary Crispin. She's Israeli and I am, too. We created the whole party together in 24 hours.
What was the other most important factor in your success?
Carmel: Major DJs like Little Louie Vega, Danny Tenaglia, Erik Morillo and the whole Subliminal camp, Dmitri from D-Lite. DJs from Paris. Now we have a sound that is affiliated with Bamby. It's house music with a rock and roll attitude. The flow of the music over the course of the night is very important, and we mix in some rock and roll and other stuff with the comedy and the drag shows. We even go disco and play hair bands. Now, a lot of clubs are doing it.
How do the DJs feel about Bamby?
Mykel: They love it, because it's all about the music. Sasha told us it reminds him of his early days at the Hacienda in Manchester, England because Bamby is all about the music and a great theatrical production.
What are some other neat things you've done lately?
Carmel: We brought in a comedian from Philadelphia to work what we call one of the "Interruptuses," when the music goes down and there's entertainment. The drag show is one Interruptus. There are three Interruptuses a night where the lights go down, and it's ?Ladies and gentlemen, direct from Philadelphia—Rocco!? He did stand-up comedy for three minutes. He was hilarious. He killed 'em. Nobody would expect that at Crobar—or anywhere else on South Beach these days.
Mykel: (laughing)…Good stuff.
Let's talk about Bamby, the character. Who is she?
Carmel: She's our alter ego.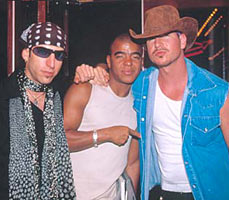 Some people seem to think the name Back Door Bamby is a veiled reference to anal sex, is it?
Carmel: Man, it's anything your imagination allows it be…(laughing)…And, there's also a back-door entrance to the party, but that's just a coincidence… (laughing)…… It's like the old blues song, "Back Door Man", A story of a man who has an affair with a married woman, so when the husband came home, he'd sneak out the back door… At least that's one way to look at it….(laughing)…
So, what you're actually saying is that Bamby, your alter ego, is a transvestite.
Mykel: Exactly. …(laughing)…
How did transvestitism become all the rage for the middle-class?
Carmel: We did a wedding for Bamby. It was huge, fantastic. The bride was in drag. It was like a game show. It turned out the groom was in drag, too? it was a woman…her tits falling out. Perrier Jouet executives were there. They sponsored part of the event. Afterward they said, "you guys have to come to Paris." …(laughing)…
Mykel: It's been a matter of people seeking us out instead of us seeking them out because Bamby is so unique. Movie studios call us to do movie release parties, and artists, celebrities and media people call us up because friends told them we're the cool party in Miami when you're in town.
What's next for Bamby?
Carmel: We have plans to do more events, more nights. We want to have a presence in New York and L.A. We'll also be bringing her to New York once a week, every Monday night, just like in Miami, when Crobar opens in New York this fall. We're also going to get into merchandising—T-shirts, other fashion things, other types of products. All cool stuff. But our ultimate goal is an animated TV series, like Beavis & Butthead or South Park—provocative stuff. We have the new character that could become a pop culture icon. We have 20 episodes already written. We want to become an entertainment-media company. We're also planning a major comedy event, beginning here in Miami.
Let's talk about that. People who think about becoming a promoter on SB think it's easy and that you make a lot of money and get laid a lot. What are the nuts and bolts that made you successful?
Mykel: Having drive…that's the bottom line.
It's that simple?
Carmel: Sustained drive. It's that simple. And there's another factor—people who don't take the business of fun seriously end up just going toward the fun and fading very, very quickly. Getting caught up in free liquor and all the other perks and goodies that come with it—if you're driven by that, it's a formula for disaster.
But, if you're driven by, which we are, the creative outlet, the luxury, the privilege and the opportunity of having fun in this entertainment genre—the money and all the perks, the girls, the limelight, the interviews, the photo sessions, the TV—that comes second. It's still important, but that can't be your motivation.
Of all the people you've seen come here and try to become promoters, what percentage would you say failed because they fell into the group set for disaster?
Carmel: Most… I really couldn't assign a percentage, but the kinds of people who've been here for as long as we have and do it as well as we do, you can count on one hand.
From whom did you learn the ropes for success?
Carmel: The early guys, the true pioneers—Gary James, Michael Capponi, Tara Solomon, who wrote the ?Queen of the Night? nightlife column in the Miami Herald during the glory years of South Beach. They were all brilliant at what they did.
But it's never easy, correct?
Mykel: I'd love to say it's always been a bowl of cherries, but that's not the case. It's hard work.
That explains your popularity among the drag set. That brings us to polarization on the Beach and how the scene has changed?
Carmel: In that sense, Bamby is a tribute to the old beach, in the sense that all crowds, all types, all affiliations, are welcome…that's what makes the party the party.
But no one group can claim ownership. Isn't that also important?
Mykel: Absolutely. That's the whole idea. Even the celebrities who come in here realize it's different and they can cut loose and act normal. Carmen Electra and Christina Aguilera have been up right there, dancing their asses off. (…points to the upper-deck VIP area of Crobar…)
What do mean by polarization of the scene and what do you mean by it?
Mykel: It started happening in the mid-90s, with the whole celebrity-VIP-guest thing. The VIP cliché was unfortunately misunderstood. The guy who drives up in a very hot car, with a hot girl on his side—he's got money. But there's no reason he should be whisked in and treated specially, except you know that he's going to spend money. But the guy who's walking in with a woman in a boa, a fierce outfit, fashionistas who spent a lot of time getting ready to go out and be cool—whisk them in. They're the ones who deserve the special attention. They're the ones who make the party happen.
Was that a mistake South Beach made or is it inevitable anywhere?
Mykel: It's inevitable—it happens everywhere.
Carmel: The other aspect of polarization is that you used to have a scene, a community of people. Now you have hip-hop night at Crobar, VIP at Opium, and a gay party over there. You're not going to a party any more, you're stepping into a genre event. It's even worse than that. If you want to get into Mynt or The Shore Club, you have to dress a certain way. If you walk into Bamby, you can be in jeans…a cut-off T-shirt…in full rubber…in drag… you can be whatever you want to be and it's totally cool. Even if you're an out-of-town doctor in an Izod shirt.
What's happening with the scene now? What do you predict for this coming season?
Mykel: I think it's going to become more of a hip-hop scene.
Do you agree, Carmel?
Carmel: In the big venues, yes. And I think to the city as a whole, it's financially beneficial.
What else do you think will happen?
Carmel: I believe that in greater Miami, as a whole, people will seek alternative areas to explore and entertain themselves. I think there's a major stagnation in club culture, now.
Here, or everywhere?
Carmel: In the United States.
What has been the price of polarization on South Beach?
Carmel: South Beach is not getting the hip New Yorkers any more. We're not getting the artists or the fashionistas, especially after the demise of the local modeling scene. We lost the bohemian factor and the international fashion crowd. Then celebrities replaced that, but now they're gone, too. It's always changing. That's okay. What I don't like, though, is that you can't be yourself and be mischievous and rambunctious like you used to. Quite frankly, that's why I think the downtown Miami Design District scene is gaining such popularity. It's more laid back.
Do you think it's a threat to the Beach?
Mykel: I don't think it's so much of a threat as a change. I mean you don't see the cool, hip, creative locals hanging out on the Beach any more. They're downtown, at places like SoHo Lounge. Now, on the Beach, you're seeing Middle America.
What are your favorite places downtown?
Carmel: I don't really have a favorite place, but my favorite party is called Revolver. It's at SoHo Lounge. There's also a cute little place called IO… avant garde parties…not so polished a scene…more of a pioneering spirit.
Any other parties in the works?
Carmel: Yes, we're working on a new one called Cherry Bomb. We don't officially have a venue yet, but we're working on it. It will be at a major club.
What's the concept?
Carmel: Dice, cherries, flames—a whole rockabilly kind of vibe. Very sexy. Rock-n-roll, danceable, 1980s, Sunset Strip, Los Angeles, sleaze, leopard skin. A relative spin-off of Bamby, still that core vibe.
After all of this success, what would you say has been your secret?
Carmel: We're like a family. All of the people who work for us—we all stay together in the same hotel. There's no hierarchy or ?A? list. We do it together. And Mykel and I, as the owners of the property are no better and no more important than they are. We're like a family…we put this show on together.
For more information, visit:
www.backdoorbamby.com
www.maximonline.com
www.heineken.com