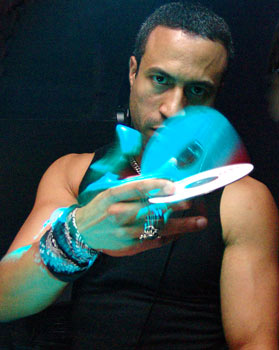 Where are you from?
Born in New York, raised in New Jersey and moved to Miami in March 2002.
Residencies:
Monday: Back Door Bamby at Crobar. Tuesday: Wasabi at Sushi Samba. Friday: Amika Loft. Saturday: Crobar's Main Room.
Number of years spinning:
Twenty-plus years.
How did you get started spinning?
I followed the footsteps of my older brother who was a popular DJ in New Jersey during the '80s and '90's. But for as long as I can remember, I was always drawn to all genres of music and was an avid collector of music.
Who are your musical influences?
Led Zeppelin, The Rolling Stones and The Doors. Nothing compares to the music made during the Classic Rock era. I also like U2, The Police and Depeche Mode from the Punk era—I was a punk rocker growing up. Then there's Disco: Giorgio Moroder, Patrick Crowley and Bobby Orlando defined my musical tastes during my late teens. Finally, having been around during the genesis of Hip-hop and House music, Run-D.M.C. and Todd Terry.
Describe your current sound.
My current sound is very eclectic. I may be doing an Urban set at Amika, a House music set at Crobar or a Rock ?n' Roll set at Wasabi, but the underlying factor in all my appearances is the energy level that I maintain throughout the course of the evening. The listener takes a musical journey that has an intriguing start point, an exhilarating middle and a sexy ending.
What equipment do you use?
I use two to three Pioneer CDJ-1000s, Rane Mixer and EQ expander and two Technics 1200s every now and then just to show my love and support for vinyl.
What's the worst job you've ever had (as a DJ or otherwise)?
As long as you're making an honest living, there is no such thing as "bad" or "worst" job in my opinion. Sure, I've had jobs that I didn't enjoy, but to put them down and mention it would be offending other people that currently hold those positions.
What's your most memorable night in a Miami club (working or not working)?
March 24, 2003; I was spinning at Back Door Bamby at Crobar and after the night had ended, I, along with a few others—stayed at the club until about 8 a.m. We were feeling so "nice," if you know what I mean (wink-wink). I was playing the coolest Zeppelin and Classic Rock tunes. We were simply chillin, no worries in the world, nothing but love and great music in the air. Those three hours after the club closed were so pure, it will forever be crystallized in my consciousness.
What would be the theme song to your life?
"I Still Haven't Found What I'm Looking For" by U2.
What makes your DJ style unique?
The energy and hotness that my sets and performances exude. Along with the unique way in which I program my music, that ultimately makes the club-goer's evening complete.
What have you done recently to make the world a better place?
I do little things here and there which I don't like to brag about. I'm not looking for or don't need anybody patting me on the head for the good that I've done. That day will come when I stand in judgment, in front of my maker.
Describe who you are in three words.
Yo Soy Malo.
Where can we learn more about you?
For more information on me or my record label, Phearce Musica, you can go to phearcemusica.com, where you'll find pics, bios, live DJ mixes and more.