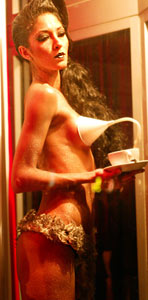 The esoteric lure of South Beach nightlife. Sensually inviting, conceptually intriguing. A thin veil of merriment that drapes across the landscape masking a torrential maelstrom of cheap hustles and lustful desires of the flesh churning just below the surface. Erotically-gifted participants living out vivid fantasies at the expense of reality, walking that fine line between dreams and nightmares in their eternal quest for trash and glamour. The violent mood-swings of a collective conscience caught somewhere between a city of chic and a playhouse of fools. The Agony and the Xctacy—this little shooting-gallery of fun called South Beach.
Having previously avowed to never again submit ourselves to the ritual humiliation of South Beach nightlife, we find that for some utterly hellish reason we actually miss all the mephistophelean drama one experiences in the sexually charged atmosphere of South Beach clubland. You see, here in South Beach there's really no good-vs-evil metric that's monitored. There's only fun-vs-boring. And boredom breeding whoredom as it will, once again we swallow our pride, along with a few other items, and return full-swing to life among the glitter-hungry masses in the incestuous little fame academy that is South Beach nightlife. Yea, tho I walk among the truly hideous…
Our first foray back into clubland is immediately rewarded with a classic psycho-sexual moment as we approach a huge crowd of people waiting to get passed the velvet ropes at Michael Capponi's Wednesday night party at BED. In a scene that rivals Moses parting the Red Sea, one of the most gorgeous girls we've ever seen walks briskly toward the entrance of BED, her large, natural breasts bouncing around madly underneath her blouse like two psychotic squirrels fighting over the last acorn in America. In an ecumenical display of homage to her supreme sexuality, the mass of mostly male humanity opens up a clear pathway for her to breeze right into the club. And after exchanging triple cheek-kisses with Fabrizio the doorman she disappears into the pleasure dome of BED, leaving the boys on the street wet with desire and ready to submit to any amount of further degradation to attain the forbidden fruit inside. Clubs are built on the grand illusion that people on the inside are having far more fun than people on the outside—which is basically true. And it is this very illusion that has elevated sexual submission to a most cherished local art-form.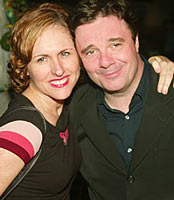 Next stop, the Delano hotel for a party marking both the unveiling of the hotel's sexy new pool-side cabanas, and Beefeater's new WET Vodka—we found both items to be of the highest quality, by the way. A great crowd encompassing top tier members of the South Beach glam militia sprinkled with a touch of Hollywood in the form of Nathan Lane of "The Birdcage" fame; SNL's Molly Shannon; Elizabeth Berkley of "Showgirls" with artist Greg Lauren. Also actress Kathleen Robertson down from her home in Canada for the event. And of course, lots of gorgeous models scattered about, all basting in their own natural juices. Music was fashioned by DJ Snezana who arrived dressed in the tightest and skimpiest pair of short-shorts we've ever seen on a human, looking more like they were air-brushed on.
Twenty-four hours later, we opt for a more relaxing scene with a stop into the Shore Club's Nobu Lounge. Walking past the pool area, we spend a few moments watching New York photographer Roxanne Lowit hard at work with a group of eight models shooting for some new ad campaign soon to be launched.
Once inside Nobu we order a round of Beluga caviar only to be confronted moments later by a very apologetic waiter bearing the bad news that there was absolutely no Beluga in our immediate future as they had just run out. We proceed with the task of soothing our epicurean sorrows in a Hokusetsu Sake martini, when the waiter soon returns to inform us that our beloved Beluga was being fetched from the Delano hotel's Blue Sea Sushi bar two blocks away, and would arrive momentarily. You gotta love that Schrager guy.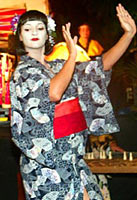 On to the Bass Museum's re-opening, the museum celebrating the completion of a major facility expansion. Lot's of visual entertainment for a gathering of the museum's financial supporters provided courtesy of Level Nightclub and Pamela Canellas' Hot Jam Dancers. The production done-up on a make-shift stage erected outside on the museum's front lawn. Kabuki dancers, oriental drummers, the whole show rolling along underneath the stars. The grand finale coming with all the museum's guests and supporters dancing wildly in front of the stage. Drag star Elaine Lancaster and nightlife impresario Gerry Kelly, whose Level nightclub is a supporter of the museum, both staring blank-faced in muted horror at the spectacle of middle-aged white guys in tuxes dancing the shing-a-ling with their voluptuous-beyond-reason dates. Elaine, unable to stand it any longer, finally jumps in and fires-up the crowd with her six-foot six, missing-link-of-love persona.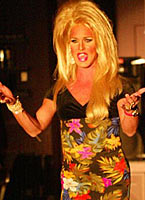 Cabaret night at Bolero, Lily Zanardi's sexy Cuban restaurant on lower Washington Avenue—sort of a pre-war-Berlin with a Latin flair thing going on in the dimly lit room. The late-night crowd huddled closely together in small groups, their faces illuminated only by the red glow of their cigarettes. The one-spotlight-one-performer show kicking off with drag star Sexcilia doing, of all things, Sharon Stone's police interrogation scene from the movie Basic Instinct—the whole scene, crotch-shot and all, with the crowd gasping at the sight of Sexcilia's anatomical incorrectness as her legs spread open wide. Moments later Sexcilia launches into another routine, something having to do with a mock-cocaine attack as she feverishly grabs white powder out of a baggy and pats it all over her face. We can't quite remember how this routine ended, having been shocked beyond redemption at the previous package sighting.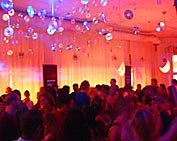 Lately, there seems to be an inordinate number of people who want to use us as some sort of emotional handi-wipe, baring their soul's inner-most secrets to us for no apparent reason. Like, for example at Massimo Rizzo's La Dolce Vita party at Luna, another great gathering of people turning out to be true to its theme. Late in the evening a female acquaintance of ours pulls us aside and makes the rather large mistake of assuming we were too drunk to remember the story she proceeded to tell us about having a sexual encounter with a certain pair of local Latin heart-throbs. We have absolutely no idea if her tale was true or not, but her vivid account of the brief interlude certainly gave the boys high marks for both endurance and originality.
John Buchanan coming up with the best line of the night. Stopping mid-sentence, lapsing into a far-off stare and saying "I think I peaked back in '99."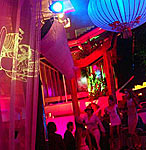 Friday night and it's life among the jet-set at Privé, the private room affair high atop Opium Garden's Collins Avenue complex, where Ingrid Casares, Michael Capponi, and Eric Milon have apparently tapped into some sort of irresistible tribal vibe that beckons the fab crowd every time the doors open. The place completely packed with the crowd all moving in unison to the music. In the center of one mass of people a guy pounds away on a conga drum, doing a modified Desi Arnaz thing. Passing 4am libidinous exuberance flowing through the entire club.
5:50am and still with no compelling reason to call it a night, we wind-up two blocks south of Opium Garden at the southern tip of the island, sitting underneath the stars on a park bench, completely tapped-out, waiting for sunrise and mentally re-hashing the past week's exercise in frivolity—a seven day blur of great music and strange accents. A nightlife marathon worthy of Homer's Odyssey.
Chuckling to ourselves as bits of previously overheard conversation come sifting back through the brain. One phrase in particular overheard at 3am on Washington Avenue, "at this point, it's all about the pussy" pretty much summing-up the entire point of the whole exercise.
In the final analysis, nightlife is nothing more than an endless morality play staged nightly for the gripless masses. A play whose elusive third and final act never fully arrives, leaving in its place an unrelenting glorification of the superficial. A glittering universe of chance and random attitude, not for the faint of heart.
The first glow of sunrise starts to break out to the east over the ocean as Royal Caribbean's Navigator of the Seas begins its turn into Government Cut, heading for the Port of Miami and home. Time for us to do the same.
Miami Beach…what a town.