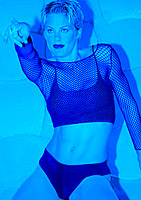 On the barren plains of modern nightlife, where the relentless pursuit of sex and small-change notoriety is elevated to an exalted and perfectly hideous art-form, the nightlife voyeur is presented with a dazzling array of opportunities to revel in the offensive. The psychotropic effect of watching other people self-destruct in a mad scramble up fame's nasty little food chain, combined with the general fits of low-level lunacy occurring on the non-deodorized flip-side of glamour often approaches vomitoriously enchanting levels.
But for the true student of sleaze enlightened to the knowledge that all good disgusting fun requires the presence of certain core ingredients—sex, violence, etc—there is one venue that rises head and shoulders above all others as the ultimate seduction of rational behavior in the western world—South Beach on a Saturday night.
And so it goes…another weekend, another long forced march into filth and degradation culminating in some gay bar at the ungodly hour of 4:00am, where the newsboy sits flanked by his two new bestest-buddies-in-the-whole-wide-world. There's the young female sales executive from Delray Beach with the raven hair and the outlandish tits who is out tonight for a walk on the wild side, and there's her gay male side-kick who has apparently been on the wild side for quite some time. Not only is the side-kick a dead ringer for Yanni—shoulder-length black hair, perfect million-dollar smile and all—but for some incomprehensible reason he feels compelled to tell us the most explicit details of his twelve most recent sexual conquests, which apparently only covers the last week or so.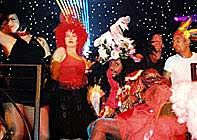 It's a curious thing about South Beach, you meet the most fascinating people in gay bars. At any rate, the female sales exec has just finished showing us her new tattoo which runs from her beautifully exposed mid-rift all the way down to her no doubt glorious nether region—a region the newsboy will soon mount an all-out expedition to explore—and as the side-kick drones on about faded love, lost eroticism and close encounters of the public toilet kind, the female then brings up the subject of muscular masculine legs and her fetishistic appreciation thereof. Four o'clock in the morning being what it is, we state in a thoughtful, esoteric tone, "I believe it was Friedrich Nietzsche who said, 'Legs be the pathway to the genitals,'" which gives her a moment of pause as a mischievous smile slowly engulfs her face.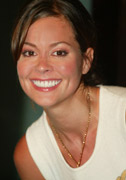 Of course Nietzsche never said such a silly thing, and if he did we wouldn't know about it anyway since we've never taken the time to read anything more uplifting than short, stupid things like this silly-ass column. But then, the uplifting never quite seems to find a home in the nightlife arena, does it.
As the eroto-maniacal festivities continue amid the meaningless conversations and the side-kick's tales of anal vengeance, we momentarily reflect on how we came to rest in such a hellish setting as this.
What exactly was it that compelled our presence in the dark-side's house of horrors on this particular night? Was it what Verlaine described as the "angelic excitation to be found in filth," or was it just our general bite-my-ass attitude toward life that precipitated this latest rapturous wallow in repellency.
The seeds of this particular descent into the void were planted on Memorial Day with South Beach in a state of siege; the whole town a dreary obscenity; an irritant to the senses heralding the beginning of the summer season, hot beyond reason and possessing all the ambiance of your average flophouse.
But feeling the ever-present need to feed the fun-fix we forged ahead armed only with a camera and the monumental stupidity of optimism, searching for that one moment of supreme glamour to make it all worth-while.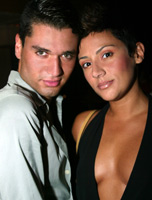 Our pleadings to the glam-gods were answered one Tuesday night with a very cool party called "The Loft @ Rumi" put on by owner Alan Roth and savage boy-toy, Ernesto "the fabulous" Arambatzis.
Entrance to the club was through the back alley off Washington Avenue, up the stairs lined with graffiti-covered walls to the second floor loft/bar area and a gathering of South Beach's hippest crowd.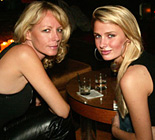 Various luminaries scattered about; Janet Jackson, finishing up a midnight dinner with a small group of friends and a large group of bodyguards. Miami Mayor Alex Penelas en entourage also taking the cure. Former model and current owner of the way-cool Jazid, Michelle McKinnon, dressed in skin-tight black leather and stiletto heals sipping cocktails in the back room with a gorgeous blonde model named Molly, the room illuminated only by candle-light. Michael Capponi, never one to miss a cool scene, showing up around 1am and entering the fray. Also, several female model agency people shepherding a group of new and very young Eastern Bloc models introducing them to the world of South Beach hedonism.
The boys from Level nightclub, Maxwell Blandford, Jorge Tellez, and Jared Stringer—coming off of one of the coolest productions yet to hit South Beach, a birthday blowout for Level owner Gerry Kelly that included 150 or so dancers and a stage number where flashy gender illusionist Elaine Lancaster descended from the ceiling to the stage perched in a swing, singing "Cabaret."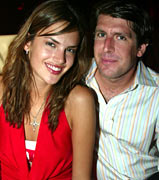 Then it was on to the happy humping ground of Opium Garden and the soft opening of another very chi-chi affair called "Privé" South Beach's first ever private room. Nightlife stars Ingrid Casares, Michael Capponi and the Milon brothers introducing the former hip-hop room high atop Opium Garden, done over in a chic white motif with mirrored walls and eclectic seating zigzagged throughout the space. The velvet ropes tightly controlled by Hugo of Club 320 fame allowing only the muy-fab to enter. It's about time they found a way to keep trash like us out.
Monday night and it's Crobar's Back Door Bamby—one big padded cell of fun—rolling along with uptown drag divas Joey Arias and Sherry Vine doing the entertaining. Sherry, the blonde bombshell, at one point leaning over at the edge of the stage and sweetly asking a stud-boy in the crowd, "Can you smell me?"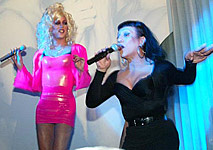 But, throughout the past month's blur of various fun/not fun moments a cloud of doubt hung over the fame militia like a pall. The words of South Beach pioneer Louis Canales ringing throughout every publication in town, heralding the death of fun—and worse yet, hipness—in South Beach. Various people around town characterizing Louis' quotes in the Wall Street Journal as being everything from biased babble to Nazi propaganda. Ocean Drive even trotted out an impressive list of all the celebs and famous people living in Miami. Our name, of course, not quite making the cut—probably a typo.
At the heart of the controversy is a clash of cultures—the differing visions of what South Beach should be. Many of the original pioneers envisioned South Beach as an artistic, bohemian village seasoned with a shot of Fellini's La Dolce Vita—an über-hip playground for the world's avant garde. A playground that didn't include the encroachment of commercialism; hoards tourists clamoring after c-scale celebrities; or the presence of certain people who are famous for nothing other than being famous. And most of all—horror of horrors—no people dressed in primary colors. Exempting black, of course.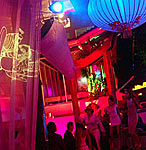 Other, more commercial-minded individuals envision some sort of second-string celebrity petting zoo—sort of the Sears-Roebuck of glamour—that would allow them to extract maximum cash value from the clue-less masses with bus-tours passed Madonna's former home, midget tossing contests hosted by Howard Stern, and all the usual proletariat sludge that infects other destinations.
Thankfully, though, no single group's vision can be imposed on South Beach for long. Many have tried, but sooner or later America's wayward child revolts and goes its own way. And that's exactly what will happen this time.
Canales had been sounding the same alarm for several years now, it's just that nobody paid any attention until his words were printed in the Wall Street Journal. And even though the who's-right-who's-wrong battle still rages, the cold, hard fact of the fashionable world is that, whenever the word "trendy" starts being used to describe an area, the truly hip head for the airport, leaving the un-cool to drown in the populist residue that remains. Alas, poor South Beach—where the swank and anonymous mingle with the down-right cheesy—where does your future lie?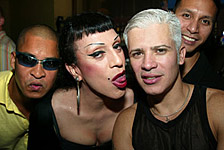 Our immediate future, however, lies in trying to make it home tonight without puking. Out into the neon jungle of Washington Avenue walking home past waves of small-time hoods and nightclub carnival barkers luring the masses into even more dissipation. Capping off another grand mid-summer night's wet dream, determined to be back in our coffin before sunrise, the offensiveness quotient still climbing steadily as we make our way through the sleaze.
Passing a trio of working girls, we see one obviously way under-age teen who looked more like a junior-varsity cheerleader than just another street whore. Yet, there she was in her pink wig and hoochie-clothes, street-walking between passion and poetry. The persistent little urchin followed us for nearly half a block offering to be our dirty-girl, spouting out all the usual whore-drivel—"it's really tight" being the most endearing of her thematic repertoire.
But, having some semblance of a conscience still remaining intact, and being vaguely familiar with the Mann Act of 1910, we declined her offer with a succinct "beat it, kid!" and kept on walking. Score one for high moral values and a strenuous daily regiment of self-gratification.
Standing on the corner waiting for a cab we watched as she was soon corralled by a couple of young gangster-boys that whisked her off for a quick pop. Thinking to ourselves, what a shame it is that this beautiful young girl finds herself in such a terrible situation, we offer up a silent prayer along the lines of, "May this poor lost soul find her way through life okay."
Hopefully, someone's saying the same prayer for us…