Ladies and gentlemen, welcome to the greatest show on earth—Miami Beach—a town conceived as a fantasy, framed in flamboyance and occasionally touched by the darker urges of humanity. An island paradise where the pure of heart confront the nature of desire. A town forever yearning for that shimmering paradise of eternal glamour. The Latin rhythms at Bolero …the pomp and circumcision at Score …Miami Beach! …Oh, the hippness of it all.
The newsboy lately attempting to salvage what's left of his soul by avoiding the huge noisy clubs and the heavy-cash-euro-trash scenes for smaller more elegant venues—those tiny avant-garde flowers that bloom unannounced in the midnight hour and then quietly disappear before they can be trampled by the grip-less masses.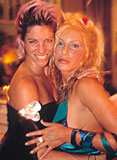 Hope Gainer's "Let's Make Love" at the Tides Hotel immediately coming to mind—a cocktail party setting with a soft, languid vibe allowing people to actually communicate with each other without having to resort to screams and hand signals. The crowd on this particular night most worthy of upper East Side status. Gender illusionist James Davis, sans chi-chi wig and lip gloss, dressed in black Armani, looking like he just stepped out of a full page GQ spread, relaxing with nightlife columnist Cubby. Billboard Live's Rodolphe in his usual House of Zappa orange rayon ensemble, remaining one of the most interesting people in South Beach, the man having maintained true en vogue status since his days at Studio 54. Avant-gardians Nicodemous and Anitra of Men Smash Atoms fame appearing ashen-faced out of the mist in a striking death-as-fashion-statement garb. The participants of the whole affair clinging closely to one-another like nocturnal voyagers on a film noir ship of intrigue. Very chic affair, indeed.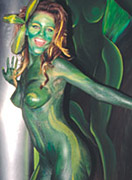 Thursday night at the Marlin Hotel and yet another Hope Gainer soirée, the theme of which escaped us due to a blissful encounter with the evening's special guests—four Playboy models. Upon first sight of these girls as they moved toward us through the crowd, two things became immediately apparent: 1.) these girls were very beautiful; and 2.) these girls were very naked, wearing only the thinnest coat of body-paint from the talented (and lucky) hands of artist Eden. The artist had just finished body-painting the girls and then painted huge portraits of each of them that hung all around the room.
Playboy cover-girl Madison Marie enthusiastically explaining to us how quickly body-paint actually dries once the artist finishes painting, extends her arm and invites us to feel for ourselves. The newsboy, trying hard to act interested in the evaporation rate of paint, obligingly caresses the extended forearm while vainly attempting to not stare at her ever-so-slightly jiggling breasts—fat chance.
New York Post celebrity photographer Adam Scull on scene to document the evening making a profound social commentary on America—when asked if being at war has slowed the celebrity gossip/smut/muck-raking industry at all, Scull replied, "Naah, the whole world can fall apart, but they still wanna know who's fuckin' who." A society must have priorities, I guess.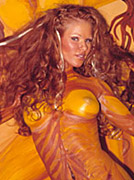 As Playboy Model of the Year Heather Christensen mounts the bar to be photographed in front of her portrait she momentarily begins to lose her balance and as she wobbles precariously atop her platform heels, a hundred hands rise up from all directions to catch her fall. With the ravishing beauty bathed in soft amber light, the whole scene momentarily takes on the quality of a virgin being sacrificed to the gods—most likely the gods of fame and glitter, this being South Beach.
Heather's virginity status aside, we soon depart the Marlin and once again find ourselves trapped in the orgiastic throes of yet another night in South Beach, meandering aimlessly through the trash-pile of lower Washington Avenue, past one satanic scene after another, contemplating the great existential question of our time—where to next. And then suddenly at 1:00 a.m. it's the return of the itch that just can't be scratched. The irresistible urge for exquisite debauchery, striking with overwhelming force and luring us back into the quadraphonic house of pain—the world of South Beach nightclubs. The newsboy bracing himself for the onslaught of offensiveness surely headed his way yet completely unable to resist witnessing the seduction and subsequent gang-rape of all civilized behavior, manners and good taste left on the planet.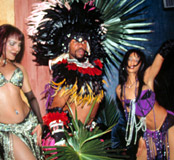 Having, nor wanting absolutely no direction to our lives whatsoever, we simply follow the crowd into the first joint we come to, which turns out to be opening night of the newly Latin-ized Club Bash. Expecting the worse but actually finding a very cool scene, we are immediately engulfed in a sea of swaying hips, swirling lights and half-naked dancers. Nubian performance artist Jose, dressed in combination loin-cloth and yucca leaves, moving intently to the driving rhythm, working that Latin cha-cha thing hard, accompanied by four sultry female concubines bringing the packed club to a fever pitch.
Club general manager Gilles Curtat and fun-director Juan Carlos Perez later explaining that the club's new theme is "Euro-Latin," a term that holds a special place in our hearts, the newsboy having once spent a night in Barcelona wrapped in angelic debasement. They further explain that the club's menu of mischief includes a Monday night party code-named "Le Boyz—for Brazilian boys," an event apparently designed to put the local twink brigade on high alert.
An hour later, still reeling from the effects of four comped cocktails and a monsoon of merengue, it's back out onto Washington Avenue where the 3:00 a.m. horror show is now in full swing—gansta rap pounding away, bad attitude all quadrants, gold-capped teeth—the full shot. On the corner, two young Latinas, surely not more than seventeen years old, yet both already in radiant bloom, valiantly fend off the un-welcomed advances of some skinny little paramour in payless shoes. The whole street, a vision from hell—thugs, whores, lost souls like us—Dante's Inferno with a bad soundtrack.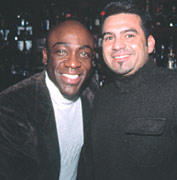 Seeking shelter from the nocturnal emission well under way out on the street, we make our first trip into the new and very chi-chi 6 Degrees Supper Club on the corner of Washington and 7th hoping to numb the pain of another night of shabby behavior with one last cocktail. Expecting to find the place littered with nothing more than the usual South Beach collection of intellectual gigolos, latent club fossils and various other image-obsessed types that exist purely in the visual, we are pleasantly surprised to find that 6 Degrees is actually an island of civilization amidst the freak-show of Washington Avenue. Soon after we arrive, Circuit star and South Beach legend Shawn Palacious a.k.a. Kitty Meow on a boy's-night-out, enters to a flurry of hugs and cheek-kisses from the crowd and finally lands at the bar long enough for one photo.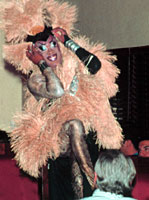 Then, as we sit at the long elevated bar enjoying the supper club's laidback vibe, lounging in the very same room known in the 1950's as the Paddock Club where avant-garde comedian Lenny Bruce performed, suddenly a spotlight hits the back curtain and from behind emerges drag queen Power draped in an ocean of pink feathers. His Royal Dragness momentarily vogues for the crowd then launches into an overtly flamboyant version of "Diamonds are a Girls Best Friend," as the newsboy is soon informed that tonight is Jeffrey Sanker's "Cafe Miranda" night at the new supper club. Power, right on target with the crowd—perching on tables, swooning cross-legged to and fro — la Marlene Dietrich—the dinner guests transfixed on the show and applauding wildly.
But as the energy of the show subsides and the soft languid tempo of the club returns, the travails of the night and the misgivings of a mortal existence slowly begin to wash away. And with Armageddon still raging out on the street, the newsboy soon comes to realize that even in the harshest of settings, there is warmth, conviviality and fun to be found.
Once again a tiny flower blooms—the shimmering paradise of eternal glamour draws near.