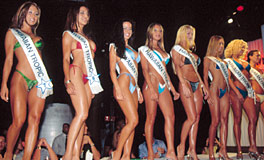 Dogs dropping dead on the sidewalk … shrubs bursting into flames … summer in South Beach is hot.
The fun city all-stars showing a distinct lack of nocturnal initiative during the dog days of summer, but as always, willing to rally one more time for the basic precepts that bind us one and all—cheap thrills and free drinks until 11. Driven onward by a primal fear that we might miss-out on something either pleasantly enlightening, moderately entertaining, or better yet, totally disgusting.
The first stop of the evening definitely non-disgusting. Level nightclub and the Miss Hawaiian Tropic regional finals, a parade of South Florida's flashiest feminine component. One by one the gorgeous contestants doing that walk-of-fame thing down a long, elevated runway lined with rows of horny guys and their green-with-envy dates … plus a few lesbians doing some window shopping. All heads turning in unison, scoping out every voluptuous centimeter of the golden tanned lovelies. The beautiful girls doin' it up before the huge crowd just like they practiced it … smile … work that ass … try not to step on anyone's tongue … and keep that chest pushed w-a-y out. A fleeting horrific thought along the lines of—What if we had to parade up on stage in front of a nightclub full of horn-dogs like this? … then finally deciding that we'd gladly do it if we had tits like these girls. The crowd reflecting various attitudes toward appreciation of the feminine form. Comments ranging from "That one has the best personality," to "I'd like to be her underwear." Club owner Noah Lazes acting as one of the judges, entertaining a blonde beauty from Atlanta named Lindsey Stewart who should have been up on stage herself.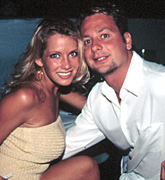 In between costume changes for the contestants, DJ Lazaro Leon cranks up the music and the crowd resumes dancing. Our immediate entertainment provided by a lone female X-head performing either the worst example of break-dancing known to man, or her impression of an epileptic seizure. Bouncers scratching their heads, not sure exactly what to do with the Baroness von Warpo, but knowing that something, sooner or later, must be done.
The winner of the Miss Hawaiian Tropic regional, a svelte 22-year-old beauty from Ft. Lauderdale named Tami Donaldson.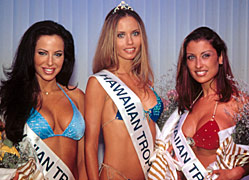 Various news flashes coming our way … Mynt soon to open on Collins Avenue, and certain key employees of other clubs around town looking forward to the big day, ready for a change of scenery from their present unsatisfying positions.
Club Rio, a Louis Canales, Gary James and Jeffery Knight production opening downtown on the Miami River.
Two new restaurant/clubs in the form of Kiss and Rumi coming to Lincoln Road, bringing back the glamour days of dining to our little city of sin.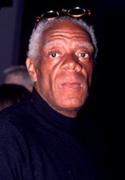 South Beach's avant-garde talent scene soon to suffer a loss with social critic and occasional cabaret performer Gilbert Stafford pronouncing the equivalent of "I'm outta here." Commenting with a smile on the torrid South Beach nightlife scene, "I can't take it any more," then, after an instant of thoughtful pause, a seriously ominous, "It can't BE taken."  Christmas cards from Gilbert will most likely be postmarked "Santa Fe, NM."
Nightclub performance art taking a giant leap forward with Gerry Kelly, Maxwell Blandford and crew at Level cranking up a new monthly Moulin Rouge party as an adjunct to their wildly successful Studio 54 parties. When asked how the first Moulin Rouge party went, Jorge Tellez, Production Manager for the club said, "Well, we're still mopping up the champagne off the floor." Some people just know how to throw a party.
The Deuce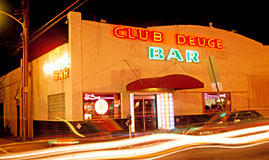 With the pleasures of first-class entertainment soon giving way to the periodic human urge for something totally degrading, we make a command decision to end the evening, the week, and maybe even life itself with the ultimate off-the-list experience—an all-nighter at Club Deuce, arriving just in time for the 3:00 a.m. horror show.
The scene decidedly non-VIP. Assorted creatures of the night shuffling in and out. Harlots in hoochie-clothes, middle-aged drag queens. Aretha's "Chain, Chain, Chain" pounding out on the jukebox. About as far from jet-set glamour as one can get.
Various mutant life-forms of indeterminate gender milling about in a complete dead zone of distaste. The whole scene, basically a Jackie 60 party gone psycho … more or less just what we were looking for. At the end of the bar, a rather attractive working girl explaining to her business manager the unsatisfactory amount of nightly revenue her sweet-thang was able to generate, "baby, these cops is all over us."
A trip to the restroom revealing some rather quaint artwork adorning the ceiling, "Death to Queers" signed "The Johnny Wadd Hit Squad." Cutting-edge stuff up in SoHo, but down here, just more postmodern sleaze.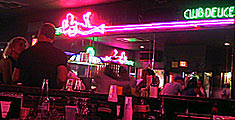 Approaching 4:00 a.m., most of the sparse crowd adrift in an alcoholic stupor, watching "Amazing Pet Videos" on the Deuce's big screen TV. There's something truly spiritual about seeing the darkened profile of a drag queen seated at the bar, silhouetted against the video of a Chihuahua wrestling a vacuum cleaner hose that captures the true essence of South Beach.
Seconds later, finding ourselves being stared-down across the bar by an anorexic woman with a pained look of rage on her face, apparently having had either too much to drink or a tumor explode in her head. Recalling a line from some long forgotten Bogart movie, "In every man's life there are pin-points of time that govern his destiny."  I hope tonight ain't one of 'em.
Alone in the heart of darkness, lost in the sleaze, pondering the essential emptiness of life on the South Beach glitter circuit. Laughing uncontrollably at certain fleeting thoughts passing through the brain—has Warsaw's Danny the Wonder Pony ever found true love; will Madonna's delivery-room scene make it into her next video. Fleeting thoughts that only have meaning amidst the psycho/social grotesqueness of Club Deuce at 4:55 a.m.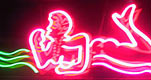 Wondering, does this place called South Beach have any connection whatsoever to the real world, or is it just one big, pre-paid lap dance for the world's off-the-hook minions all stage-diving headlong into the abyss of pleasure? Is this place a paradise by the sea, or simply the geographic equivalent of a teenage trollop with good bone structure—a beautiful harlot who just can't seem to get past her philandering ways because deep down inside she truly loves the life.
Part gorgeous folly, part naked narcissism. The rest, one big wad-shot of woe.
I'd leave town tomorrow if it wasn't so much fun.