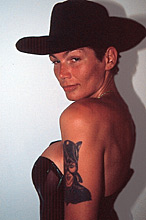 Trekking down to the Paris Theater and the annual Aqua Girl Ball for the expressed purpose of photographing the meteoric and beautiful DJ, Tracy Young—the subject of an upcoming Sara Churchville article—and having nothing, absolutely NOTHING to do with any sort of constantly recurring sexual fantasy about being the only male-hetero in a nightclub full of gorgeous lesbians, I arrived on-scene with a warm heart and a camera full of film, ready for a great evening.
With Tracy already at work spinning, and being swamped with people wishing to greet to her, I momentarily wandered around the starkly beautiful art deco hall, lost in the reveries of the moment—watching sensual slide shows projected up onto the rooms huge white walls, and trying to figure out where Herb Ritts had positioned his models when he had used this location for previous photo shoots.
On huge walls adjacent to twin staircases, slide shows slowly clicked through a succession of artfully sensual images from every possible origin—all, of course, having one central woman-as-object-of-desire theme. Sultry scenes from European films 'semi-nude girls awakening, writhing on white sheets as amber morning sun beams through an open window—the sort of thing that produces awakenings of all kinds—the extreme close-up of a feminine tongue rhythmically hitting the mark finally sending me passed the protuberant point of no return.
As the room filled, DJ Tracy blazed-up on the twin console and suddenly, the whole room was dancing.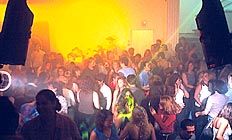 Initially knowing not a soul in the place, I later recognized two girls that host/wait at a restaurant on Lincoln Road, and who were filling-in as bartenders for the evening. After a brief, but hilarious conversation along the lines of, "I didn't realize you two were gay" / "We didn't realize you weren't," and a few more minutes of the three of us trying to figure out the exact exchange rate for drink tickets, I wound up simply handing them my entire fist-full of tickets and they wound up giving me a LOT to drink—another wise trade. I soon realized that this evening had all the ingredients of the consummate South Beach night 'sexual fantasies, vaguely familiar people and lots to drink.
Later, moving through the crowd I ran into Carl Zablotny of The Wire, who after a split-second of mentally questioning how he could possibly run into a raging-hetero like me at an all lesbian function like Aqua Girl, spoke the first words of a conversation that was quickly terminated when Carl's eyes jumped to something much more visually interesting than me. The fabulous Elaine Lancaster had somehow repositioned her gorgeous 6'6″ frame behind me and was hiking her skirt W-A-Y up, presenting Carl with a long and leggy photo-op he just couldn't refuse…..so he didn't.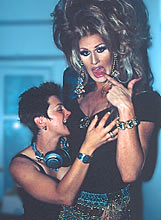 I, of course, missed the shot, being cut off by some rather large, insensitive individual who had positioned her bus-like rear end squarely in front of my camera at precisely the wrong moment. But, not wishing to make a scene, nor get my ass kicked in public by a girl, I slowly sulked off, mentally recalling a put-down I had once heard uttered by a drag queen on New York's 9th Avenue years earlier, "big overgrown, fried turnip-eatin' bitch…"
Because I had waited too long to approach Tracy Young to explain to her that the photos I was going to shoot throughout the night would be used in the upcoming article, and not wanting to distract her from her now well-entranced groove, I decided to simply write notes on the back of a series of business cards and hand them to her one by one, to get my message across.
After she read the notes and nodded her head in the affirmative, and after giving me a sugar-sweet smile that I interpreted as meaning either "Sure baby, anything for you," or "Geez, what a fucking dork," I went back to combing the crowd for paparazzi shots.
One shot in particular of a group that included a heavenly-hip creature from the U.K. calling herself Jedi Princess, soon turned into a 24 frame mini-session by the girls restroom. A sveltey vixen most closely resembling a Caucasian Grace Jones, and with an obvious lust for the lens, who just kept on posing as I kept hitting the button—turning up the heat with each change.
An interesting thing, this fantasy-effect a camera has on some girls—which, according to numerous accounts, produces a sexual experience unequaled in boudoirs and backseats of their previous frolics.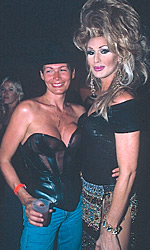 Later, she confided in me that her immediate fantasy of the evening would include a rapid round of passion-push-ups with the fabulous Elaine, but she would settle for a photo of the two of them together. Elaine, now swamped by girls wanting photos and autographs finally became available for one quick shot, and, of all things, the Princess turned little-girl-shy on me in the presence of the famous drag queen. I guess Elaine really was a bell-ringer for her.
Best shot of the night turned out to be a lucky, spur-of-the-moment thing when Elaine went over to greet Tracy Young behind the turn-tables. The picture speaks not only for itself, but for the basic grab-a-handful approach to life that exists here in South Beach—where each night is a kind of performance-art on a grand scale, with the cast of characters composed of everyone on-station at any given time—a walk on the wild side that rarely lapses into lameness.
South Beach—the Fantasyland Walt Disney never envisioned.