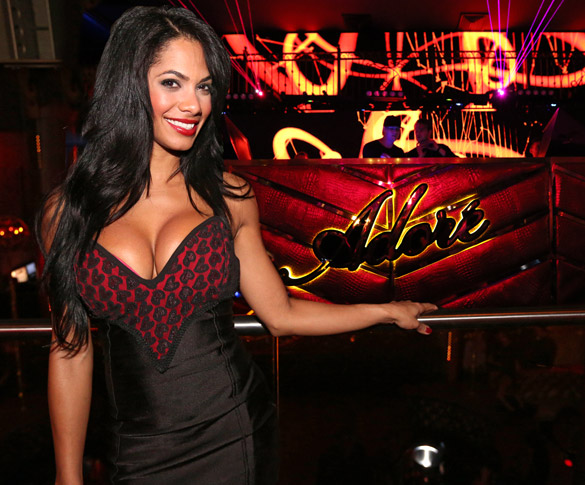 (Closed) Promises of "something new and fresh" fly fast and loose in the fickle world of Miami nightlife, but every now and then someone actually delivers on that promise. Enter Cy Waits, the nightlife visionary behind such hefty Las Vegas nightclubs as Tryst and XS, who now brings us Adoré Nightclub at 20th and Collins in the Boulan Hotel.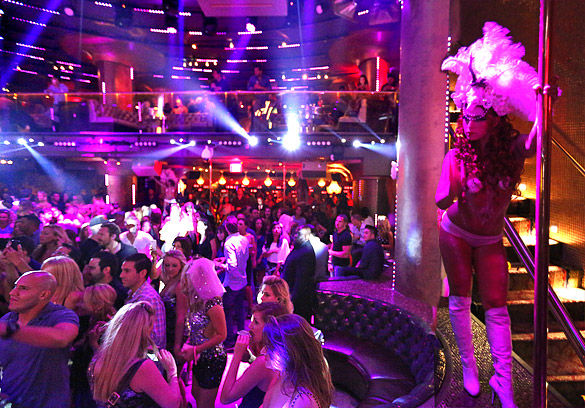 Adoré is a two-story, 12,000 square foot garden of hedonism with soaring cathedral ceilings flanked by twin staircases leading to an upper level containing a large bar area and numerous banquette-style tables. The space is draped in deep crimsons and glowing ambers accented in gold and complemented by blue LED lighting just made for South Beach's life-is-a-party aesthetic.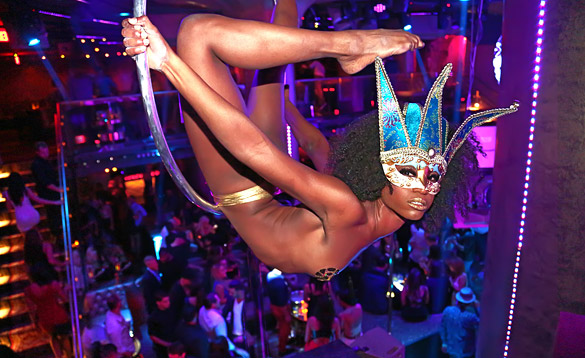 What struck us initially about Adoré was that such a large part of the club appears to be of a design quality level that equals and often exceeds the VIP sections of other top South Beach clubs. The entire upper level could easily be mistaken for an über VIP area.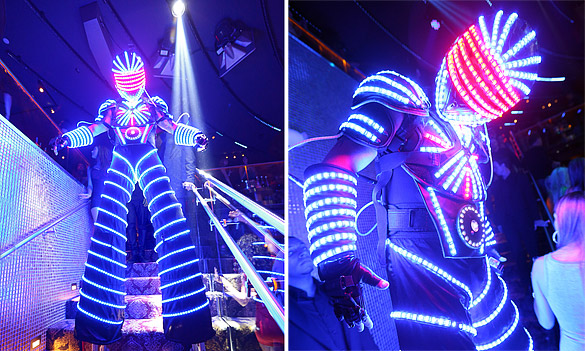 On the nights we visited Adoré during Miami Music Week, no less than nine DJs were working out on the booming 100,000 watt Funktion-One sound system, and the club's state-of-the-art floor-to-ceiling LED lighting display operated in perfect sync with the music. The entire wall behind the elevated DJ booth is a video display topped with a catwalk where club dancers do their thing, while a massive three-dimensional LED sphere—a modernist's take on the classic disco ball—hangs over the dance floor and is part of the video display. The combination of driving music, blazing video and live performers makes for a uniquely mesmerizing display that rivals any club in the world.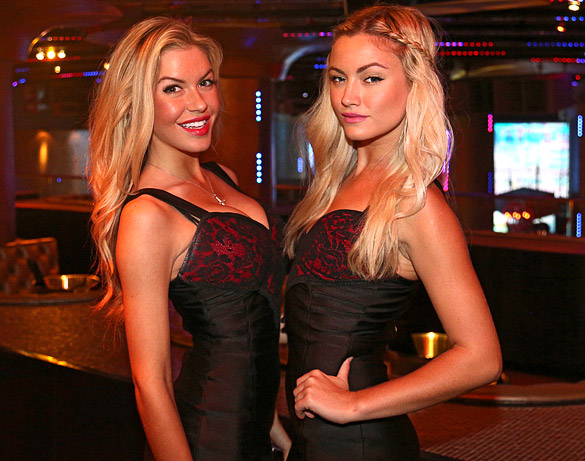 As visually appealing as Adoré's physical layout is, the club's staff may be even more alluring. Adoré's servers have to be the most genetically-blessed group of ladies we've seen in a long while and they present quite a striking image in their skin-tight, crimson-topped little black dresses. They quickly acquired the moniker "AdoréDolls" around South Beach for reasons that are eminently obvious to us. And this being South Beach, can a photo shoot of the same name be far behind?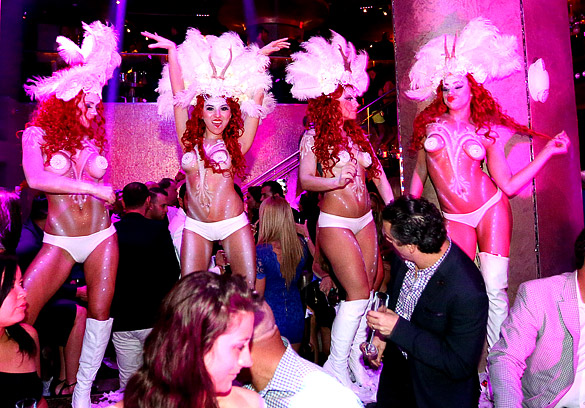 We recently had the opportunity to speak with Cy Waits about his new nightclub…
What makes a successful nightclub experience for guests?
"The overall service experience and amenities are unlike any other at Adoré. All clubs have great talent, but it's another thing to provide superior service and treat each guest as like a VIP. The ambiance and energy will make you feel like home from the minute you walk in the door."
Will Adore be DJ-driven or VIP/Exclusivity-driven?
"Adoré is not about the DJ or bottles you purchase. We want to focus on providing an elite experience to individuals and be well rounded in every way you can imagine. Music of course is one aspect, but service, production, amenities and a cocktail program are not to be forgotten."
Is Adoré bringing a Las Vegas vibe to South Beach, or enhancing the current South Beach vibe?
"Adoré is definitely enhancing the current South Beach experience. I have worked on projects from LA, Chicago, NY and Las Vegas and I've refined what I learned to enhance guests' experiences. I've used my experiences to create Adoré and bring a well thought out nightlife venue to South Beach."
Do you see any noteworthy trends developing in the high-end nightclub scene?
"The amenities and service are definitely evolving in the nightlife scene. Here at Adoré we believe we're raising that bar. For example, in our bathrooms we have attendants handing out champagne and every banquette is equipped with a storage space that include a cell phone charging station."
With nightlife being such a competitive business, how will Adoré be able to compete with the established hierarchy in Miami clubland?
"By opening in Miami Beach we're trying to add to the experience here, not compete or replace other nightclubs. We're excited to be a part of this incredible landscape."
Adoré Nightclub
2000 Collins Avenue
Miami Beach, FL
Thursdays through Sundays from 10:30pm-5am