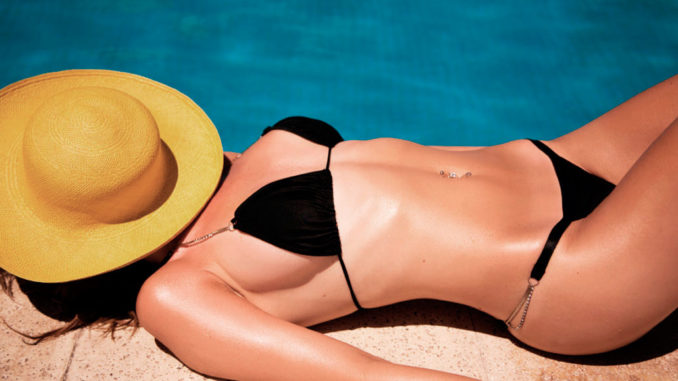 I stare at the empty black suitcase. Prospective candidates—shoes, handbags, accessories—are all competing in my mind for this trip to Miami. My adventurous style had been ever-so-slightly shaken recently while wearing a vintage lingerie top when someone asked, "Did you forget to put on your dress?" But, I know Miami will be a bit more accepting of peek-a-boo lace than my suburban Orlando polo-with-pearls scene. I decide on a balance of basic tanks and skirts with a few flashy accessories, handbags big enough for my cell and cigarettes, dresses, bikinis and stilettos. Taking inspiration from the Prada spring collection I recently saw in some glam-rag, I impulse-purchase a fresh tube of bright magenta lipstick and hit the scene in Miami.
Night 1:  SoHo Lounge
The Electroclash party. I choose a red strapless dress and white heels ensemble before my tan lines get too out of control with a week at the beach. I joke with my gay partner-in-crime, Adam, "Ooh, I feel so hard-core" leaving the edgy hip of South Beach for the grit of downtown Miami. I note the DJ's appreciation for Prince's Erotic City, but judging by the number of men I don't meet, I assume my red fashion statement isn't quite hard-core enough. Bummer.
Night 2:  Shore Club and Lounge 16
Short sixties-esque white satin dress with big green earrings. Adam and I are joined by his girlfriend-before-he-was-gay, Joleen, who has four piercings on her face and wears black leg warmers despite the heat. Again, I find myself feeling fashionably mild in a sea of chic.
Night 3:  Opium Garden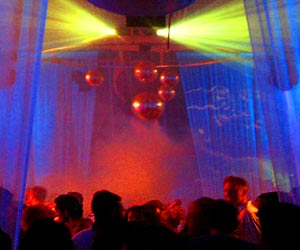 I'm hit with a maddening desire to forsake all the rules fashion I once obeyed and go with a green skirt topped with a brown and orange tank that exposes my leopard-print bra and serious cleavage. Accessorized with a gold antique brass belt (one that had seemed too impractical when packing, but now made so much sense) and gold hoops. Adam and I are on the dance floor until 5 a.m.—we have a great time, I feel alive and for once, not at all under-dressed.
Night 4:  The Sagamore and the Delano
Black slip dress over black capris. I love the way high heels give me an extra few inches of eye contact with bartenders, but, after three nights of extravagant dancing my feet are ready for the intensive care unit, so I settle for flat leather sandals. Adam has been replaced by my friend Anna for the rest of the trip, and as much as I love him, this turns out to be a great strategic move for two reasons: 1.) Anna is a jewelry designer and has supplied me with a fabulous pair of Swarovski crystal earrings with matching bracelet, and… 2.) She's so hot that my chances of meeting a South Beach hunk are twelve times better running with her than with a gay man. It's just too confusing with all the metros lolling about. We're out all night and have a wonderfully scandalous time (what's not to like about those little cabanas at the Delano?).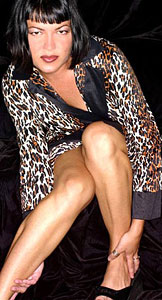 Night 5:  Shore Club and Privé
Purple nightie edged with hot pink lace over my leopard bra. Black and white patterned skirt. Brass belt with newly acquired black and gold pumps. Crystal earrings and bracelet. It sounds horrible I know, but it works for my last night in South Beach. Before leaving the hotel room I strike a tragically hip pose for Anna and we laugh in amazement at the amount of fashion fearlessness I've acquired in a mere five nights. Out into the night we go. The eyelashes bat, the business cards fly, and the martinis go down like Kool-Aid.
Day 6: Wretchedly Hungover and Dreading the Drive to Orlando.
Water…must have water. My throbbing headache is apparently affecting my ability to parallel park a car and I become the asshole who leaves it hanging-out too far from the curb while I run in to the quickie mart for some hydration. "That's how you park a car? You make women look bad," a woman bellows from a nearby cafe Now, I might have bags under my eyes, but at least I'm wearing Gucci sunglasses and lip-gloss, so I retort, "I make women look bad? Pah-leez…"
Praying the horrid she-beast doesn't follow me, I slam the door and make my way toward 95-North. Apparently, my attitude has increased along with my desire to walk the streets wearing underwear and high heels. All in the name of fashion, of course…
Epilogue
Miami is a tropical playground for people who live for the moment—a moment that often occurs at 3 a.m. in some ritzy club overlooking the ocean. And while speed boats and botox have a way of making the beautiful people appear ever-more alluring—even if there is sometimes little virtue behind the facade—visitors who simply want to take a walk on the wild side of fashion will soon find their inhibitions floating away with the ocean breeze.
I think I'll move to Miami…