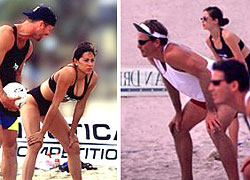 You have to picture this: Over one hundred of the best looking models on the planet, all out on the beach at Ocean Drive, competing in Ocean Drive Magazine's Volleypalooza Model Volleyball Tournament. What a show it was! Master of Ceremonies Rick Delgado said it best when he announced (to the beat of driving hip-hop music) that the tournament was going to be three days of "…playin' ball, having fun, and looking good doin' it…!"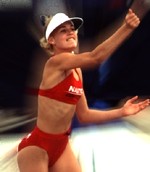 South Beach has one of the highest concentrations of model agencies in the world due to its huge popularity with fashion photographers and video production companies. And the reasons for South Beach's popularity are obvious: great weather, sexy scenery, and all those beautiful people. Ah yes, the beautiful people…the creme de la femme…the hunks-in-trunks…those great bodies and million dollar faces you see in magazines every day at the news stand.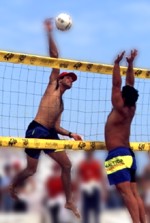 And many of those very same faces were on hand at 9th Street and Ocean Drive for Volleypalooza last week, when twenty-one of South Beach's top model agencies assembled teams for the three day event. This year's sponsors were Nautica, American Airlines, Patron Tequila, Y-100, and Ocean Drive Magazine.
Each team consisted of three guys and three girls, and special tournament rules required that at least one female teammate contact the ball before it crossed the net. Teams from the following model agencies fired up on day one of the tournament:
Model Agency Teams:
Elle
Ford
Age
Boss
Page Parkes
Michelle Pommier
Green Agency
Elite
MMG
Star
Image
Trouble Sports
Marianne
Network
Boca
Jacques
Irene Marie
Stellar
SOBE
Next
Select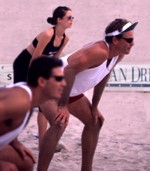 The first day of the games kicked off with plenty of action on the courts, and lots of live hip-hop music during the breaks from several New York groups. One all girl package of atomic energy from the Big Apple known as "She Moves" wowed the fans with their tight harmonies and nitro-charged choreographies.
By the second day, the field was cut to only eight teams, with previous winner Michelle Pommier favored to sweep the tournament again. But a strong comeback from the Image team dashed Pommier's hopes of a repeat this year, and advanced Image to the finals against Marianne Models.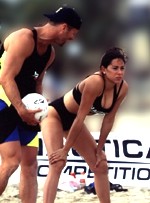 Weather conditions on day two of the event were downright nasty, with gray overcast skies and 40 knot winds courtesy of El Nino. High winds especially, put a strain on the players. Spike attempts were often aborted as strong crosswinds blew the ball out of position. Tournament director Chris Hannemann decided to require court changes every two points so that neither team had an unfair wind advantage.
But, as challenging as the weather conditions were, the games were never halted, and players powered through the second day's adverse conditions to find blue skies and light winds on the third and final day of the tournament. A hardy bunch, these models.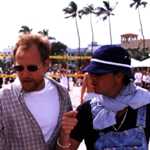 As you might expect, Hollywood was well represented during the three day event. Woody Harrelson and Wesley Snipes came in midway through the tournament to checkout the action, while comedian Pauly Shore was drafted for "roving reporter" duty. With video crew in trail, Pauly dusted off his skills from his days as a MTV VJ and kept fans howling while he worked the crowd in the stands with his own "special" style.
TV's "America's Most Wanted" star John Walsh was in town doing a series of projects with Ocean Drive Magazine, and also found time to take in the games on the third day. (By the way, did you know John used to be a lifeguard on South Beach!)
Believe it or not, the best shot of the tournament came during an impromptu all-star game from none other than the Master of Ceremonies himself, Rick Delgado! In this special all-star match up, Rick and tournament director Chris Hannemann each chose five players from model agency teams, and squared off against each other, for a grand prize of a trip to the Bahamas. Running to back court, Rick pulled off a backhand shot (similar to a tennis backhand) that was truly remarkable! But, even shots like Rick's weren't enough to keep Hannemann's team from winning the all-star match and the trip. Bon voyage, guys…
And the Winner is…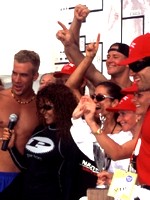 On the third and final day of competition there were only four teams left: Michelle Pommier, Image, Green Agency, and Marianne Models. After a hard fought final day the tournament winner was Marianne Models, and true winners they were. After being defeated near the end of the tournament, they fought their way back through the consolation bracket to face Image in the championship match and emerged victorious.
Every year Ocean Drive Magazine puts on this spectacular event for a worthy Miami cause, and it's certainly an opportunity to see South Beach at its very best. So, if you're coming to South Beach next year, checkout next years Volleypalooza, and be sure to bring your camera with you. We did!