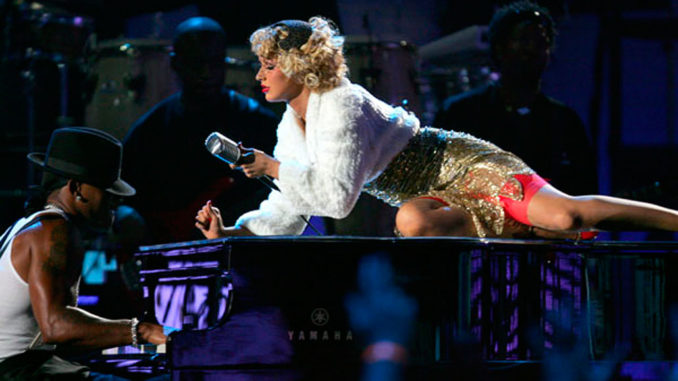 It's funny how things worked-out during MTV's Video Music Awards last week –pop music's brightest stars all collected their awards at the American Airlines Arena in downtown Miami, but spent most of their time over here in South Beach partying at every sexy location imaginable, from ocean-front hotels to private homes on Star Island. As an example of what a world-wide splash this star-studded partying in Miami Beach made, news sites as far away as WebIndia reported on P. Diddy's Star Island soiree where the food buffet was served on top of a curvaceously nude female, with Will Smith taking the first bite of forbidden fruit and prompting other guests to join in.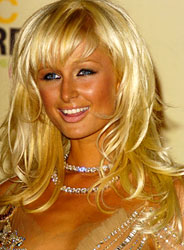 Room for One More
After months of prepping for a monster VMA weekend, South Beach got its first taste of star power when residents spotted Paris Hilton leaving the lobby of The Shore Club. Ironically, the Hilton heiress didn't stay in her namesake's hotel 20 blocks north —which might have been a better idea, because, as Page Six reported, Hilton's credit card was declined. Apparently forgetting to pay bills isn't unusual for the heiress, so accepting the situation as a mere oversight, the Shore Club let Paris flash the cash at a later date. Obviously she's good for it. Champagne Wishes Thursday led to even more sightings, as Jamie Foxx was seen cruising the town in a blue Lamborghini in the early afternoon. Foxx, who will play Ray Charles in the upcoming film Ray, kicked off his Thursday night at Teasers by pouring one of 10 bottles of Cristal down the throats of some very lovely – and lucky – ladies. T.G.I.F On Friday, Adidas kicked off the weekend with a Missy Elliott-style cookout at The Sagamore. Elliott was there, along with Paris Hilton, Diana Ross, Queen Latifah and The Flaming Lips. (Yes, that guy that was in the bubble at the awards).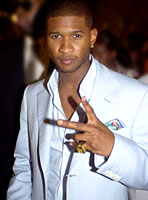 Mansion nightclub had a mob-scene of star-seekers out front waiting to get in seemingly undeterred by the $100-$200 cover. Inside the huge club most of the celebs were safely shielded away in a heavily guarded ultra-VIP area. But, unknown to most people waiting out front, celebs actually entered Mansion via the back alley entrance where the red carpet was set-up. Here, journalists, paparazzi and a few onlookers climbed around the metal barricades to gaze upon the motherload of celebrities entering Mansion in support of P. Diddy's Citizen Change voting rally.
Diddy, of course arrived sporting enough bling to blind –from his diamond-studded watch to his custom-made "Vote or Die" diamond necklace, Diddy was showing his patriotism in true Miami Beach style.
Ja Rule and an entourage of 25 people made their way across the red carpet, as did the gorgeous Naomi Campbell.
Publicists seeking to shield the arrival of Paris Hilton from the paparazzi created a diversion with rap singer Da Brat while the heiress ducked into the club unseen by photographers.
With this diversion the paparazzi became absolutely furious. (Apparently images of Da Brat aren't as marketable as those of Ms. Hilton) Shouts of "What am I going to do with pictures of Da Brat? I can't sell those… Who the hell is Da Brat?…It's your job to get Paris out here and make her do press" bombarded the publicists, then other photographers began arguing with those causing such a scene as they feared this would shut down the entire red carpet for everyone.
In the midst of this scene, a frantic Queen Latifah dressed in a pink button-up shirt and white Dior handbag, came flying out of Mansion with her body guards practically knocking-over some folks in the media pit.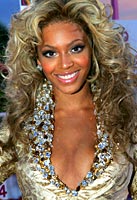 The frenzy at Mansion's back alley red carpet set-up for the media was so intense that Ashlee Simpson, wearing a black tank top, cropped pants and black CFMPs, was able to wander down the alley behind Mansion with Geffen Records President Jordan Schur unnoticed by the squabbling paparazzi. After shaking hands with fans, she approached a side entrance door furthest away from the media, but the doormanwouldn't allow her to enter telling the platinum-selling artist the only way she could get in was to walk the red carpet (through the mass of journalist and paparazzi). Schur stepped in and demanded the doorman let the MTV reality star through, but when the bouncer refused yet again, Schur and Simpson simply departed back down the alley rather than submit to the media circus in full swing barely 50 feet away. The biggest laugh of all was that not a single paparazzi was able to stop their feuding long enough to notice the incident and get photos.
Saturday Night Fever
While Mansion was Friday night's "it" spot for MTVs who's–who, fans of No Doubt who waited in line for a concert from the pop/ska band to support a Democratic fundraiser were disappointed when the band cancelled its performance. They did, however, receive an appearance by John Kerry's daughters. Maybe we South Beach denizens are a little jaded, but somehow swapping No Doubt for the Kerry daughters just doesn't seem like a even trade.
Crobar stunned audiences with live performances by opening act De La Soul and the Beastie Boys for MTV2/LIFEbeat, the music industry's AIDS awareness program. Performing on a tiny stage approximately the size of a king-sized bed, the Beastie Boys mixed elements from their first album with their latest one, creating a frenzy of fans who pumped their fists and cheered frantically. Beastie Boy King Adrock sported a "Time's Up, Mr. Bush" T-shirt, but that was as political as the party got. Seen moving through the crowd was former Saturday Night Live star Jimmy Fallon, who quickly made his way up to the secluded super-duper VIP area upstairs. After the show, Fallon and a herd of friends took off down Washington Avenue, with Fallon laughing and ducking as he ran toward a black SUV in front of Butterfly Lounge.
The Blender Magazine/Neptunes party at Nobu was a tasty delight for the likes of Nick Lachey and Jessica Simpson, along with sister Ashlee, their dad and mom, who were all hanging in the VIP.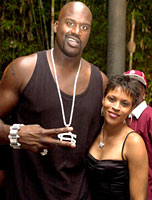 While the elite were invited to Missy Elliott and P. Diddy parties on Miami Beach's Star Island, Elliott, for some unknown reason skipped out on her soiree, but still made sure guests had plenty of eye candy to ogle. Paris Hilton was there, even though she was supposed to be hosting her own party at Mansion. On Friday night the hotel heiress must have had enough of the club-scene (hard to believe, I know), because she never showed up at the event. Instead, Mansion happily welcomed the it-twins, Mary-Kate and Ashley Olsen, who were having a great time and partying like rock stars, even though that's the one part of their empire they've yet to broach.
Sunday, Sunday, Sunday!
The scene at the VMAs in downtown Miami was both sheer excitement and utter chaos. TV helicopters and airplanes towing party banners filled the skies, while those lucky enough to get tickets made their way across barricaded streets to the musical promise land. While the show was in progress, South Beach was busy getting ready for the be-all-end-all of after-parties, and as the awards came to a close, Usher looked into the camera and announced to MTV that he was on his way to the Shore Club's SkyBar to party – and of course that meant everyone else on the planet was, also.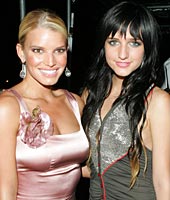 SkyBar's entrance was absolutely fierce. Conrad was working the door and despite being his life-long friend, screaming his name or offering him your most prized sexual favors, you just weren't getting in. It was a time when South Beach locals realized they had no juice whatsoever once the big dogs came running through town.
Those of us who were lucky enough to get inside (don't ask how we did it –it's borderline illegal) were greeted with a fabulous circus themed scene. Jaguars with diamond-studded collars, snakes wrapped around painted ladies, and trapeze artists dangling above the pool, while fashionistas sipped champagne at the open bar.
The crowed "ooh'd" and "aah'd," as a magnificent fireworks display lit up the South Beach sky, but in reality, the fireworks was nothing more than a diversionary tactic to keep the masses from noticing Usher's entrance to his private soiree. As partygoers looked up at the sky, Usher, who won Best Male Video and Best Dance Video, snuck in via the private entrance at the far right of the pool. The singer filed in with the likes of Lil Jon and the East Side Boyz, a very laid-back Shaquille O'Neil, and Jet, who won Best Rock Video.
After his stealthy entrance, Usher found his place on a throne made just for him in the VIP where the paparazzi snapped away at the unofficial king of R&B.
Back on the celeb-less side of the party, some out-of-control fan tried to invade the VIP area and was tackled to the ground by two watchful bodyguards. For some bizarre reason idiot-boy kept on struggling even though he was way out-muscled, and the guards finally had no choice but to pepper spray him.
As the spray wafted through the crowd, people started to choke and cough, and with hands clutched over their mouths and tears streaming down their face, they angrily walked out of Usher's victory party.
While Dave Navarro and Carmen Electra were making an appearance down the street at The National Hotel for Ocean Drive's event, the lines at the Shore Club grew even more intense.
After fire marshals shut down the velvet ropes for further entry due to the tremendous crowds inside, along comes supermodel Naomi Campbell who found out that even fame and her notorious temper wasn't getting her into SkyBar tonight. Screaming at doormen, the frustrated Campbell shouted she would "have your jobs," then uttered the kiss-of-death phrase here in Miami: "Don't you know who I am?" The doormen knew who she was alright, but apparently the Fire Marshals didn't.
Even though MTV has a fifteen year history in Miami, first shooting "The Grind" at the Raleigh hotel then numerous specials all over South Beach, this was the first year the VMA was held anywhere other than New York or LA. But, if the level of partying in South Beach was any indication of the event's success, we get the feeling they'll be headed back this way soon.