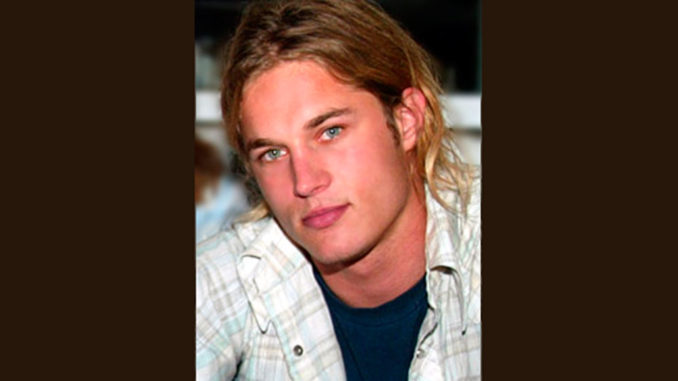 It's about 14,000 miles from Opium Garden nightclub in South Beach where this shot was taken, to the farm outside of Echuca, Australia where Travis Fimmel grew up—a lot of ground to cover for a 22 year old (reportedly much younger) surfer, whose presence in a room seems to ignite a sustained tremolo in the private parts of both hetero and homo alike. But then it's a relatively quick hop when your image is plastered all around the world as Calvin Klein's new pony-boy underwear model.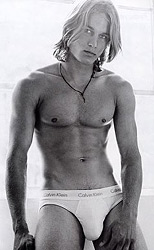 Fimmel's rap sheet is a success story straight out of Hollywood. He arrived in LA with $60 in his pocket, spent $40 of it on a cab into town and blew the rest in a pub. Weeks later after wandering into LA Models flat broke, he found himself in New York standing in front of Calvin Klein and other company executives in his underwear, winning the battle of the bulge hands-down over numerous other male models.
Fimmel's relatively slender physique breaks out of the mold set by Calvin Klein's previous hard-pumped poster-boys like Mark Wahlberg, Antonio Sabato Jr. and Michael Bergin, and evidently the new approach is working quite well. Just two months ago the British Advertising Standards Authority dismissed complaints that the Calvin Klein underwear advertisement hanging on the corner of London's Tottenham Court Road and Oxford Street was "indecent, sexually suggestive and demeaning" —concepts which don't seem to register here in South Beach. The poster apparently caused "more congestion than usual" according to the Authority's Head of Road Safety.
Even though Travis is currently working under a multi-million dollar contract with Calvin Klein, he still drives a 1985 Bronco; answers most interview questions with five words or less, and scoffs at celebrity—both his own and others.
During his time as a fixture in the London party scene, his fling with All Saints singer Nicole Appleton, who is now married to Oasis front-man Liam Gallagher ended because "she was boring," and he says he never dated film star Meg Ryan, even though they were seen dining together at Robert De Niro's Nobu restaurant in New York. Who do you believe—Travis or Inside Edition?
He also displays his affection for former video clip love interest Jennifer Lopez using a rather quaint, down-home complement, "She's got a fat arse but she's very nice."
Yeah, we know, Travis—isn't it great?