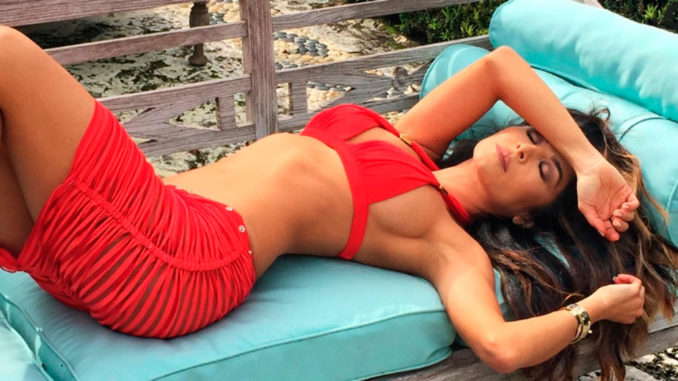 Take a group of half-naked supermodels, mix in the best photographers, the hottest swimsuits, and the most sensuous destinations in all of South America and you've got a magazine issue that literally flies off newsstands. Yes, the 2002 Sports Illustrated Swimsuit Issue is in and so far it has sold 5 million copies and been read (and I use that term loosely) by an estimated 12 million people.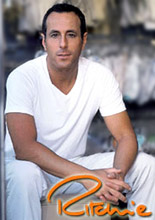 This year the Sports Illustrated crew traveled to exotic locales like Brazil, Costa Rica, Mexico, Argentina and Guatemala to photograph their scantily-clad beauties traipsing through open fields, frolicking on deserted beaches and even dancing with the natives in local street festivals—all in the name of art, of course.
So how did one laid-back South Florida swimsuit designer go from selling beachwear out of the trunk of his car to being featured in the Sports Illustrated Swimsuit Issue three years in a row? Ritchie Berger of Ritchie Swimwear tells all: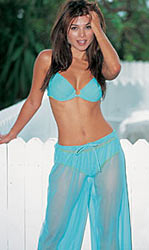 Where are you from originally?
I was born in Brooklyn, New York forty-five years ago.
How long have you been in South Florida?
Since '76 and in the clothing business since '78.
Let's talk for a moment about the hottest magazine on stands right now-the 2002 Sports Illustrated Swimsuit edition. You've been in the Swimsuit Issue for the past three years in a row, what was it like when you found out you were going to be featured for the very first time?
It felt great because the original person that put the issue together just ignored our company and at that time the issue really took another path. They were geared more towards something you would see in Vogue or Cosmo. Three years ago Diane Smith, who is the one who oversees the swimwear issue now, brought it back to the pin up style. It was a lot of ass kissing in the past and now it's just really fair. Now it's for everyone: Men look at the girls and women look at the bathing suits.
What was involved in working with the people at Sports Illustrated?
I'd like to say I was there brushing the sand off the girls, but they keep everything a total secret. They won't even say whom the suit is on. I have volunteered to go to shoots and hold a towel or whatever, but they've rejected all of my offers so far.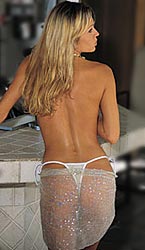 It's pretty cool that your suit was shot on Molly Simms, the unofficial spokeswoman for the issue. I even saw her wearing it on MTV's Fashionably Loud. Do you know where they were when they shot Molly in your suit?
Argentina. The story was centered around the cowboys of Argentina. They are called Gauchos. She is wearing a cowboy hat and chaps-it's a really cool photo. I think my photo is the best? I haven't in the past. I was always like, I wish my suit was standing on this girl with this set, but this is the first time I can say I wouldn't want to switch my suit onto another one of the photos. It was cool to see Molly wearing the entire outfit on Fashionably Loud. She only wore it for like 5 minutes, but it was nice to see it on.
Any suggestions for young designers trying to get their stuff into the issue?
It really isn't hard. Basically, you can send Diane any suit you want to be considered. She goes to the trade shows too and if she wants to shoot a model in your suit, and they like the photo then you're in. It's more about the models now. If they get the model where they want her and she happens to be in your bathing suit that's luck, but it's not a closed set up. Diane is a really nice woman and open to any young or old designer that wants to try and break into swimwear. Sure it brings some business in for our company, but it's really more of a self-satisfaction thing. It's like a little pat on the back…
How old were you when started your company?
Twenty-two.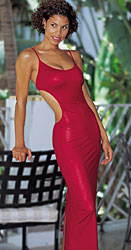 Twenty-two!? At twenty-two the last thing on most kid's minds is starting their own company, how did you do it?
I was in the restaurant business at the time and I went to Club Med on vacation. I found a pair of beach pants that were being sold in a boutique there—they were diaper style harem pants—and when I came back with a pair, basically everywhere I went people asked me where I got them. So I had a seamstress make up like fifty pairs and I sold them all the first day on the beaches in Florida. I kept going back having more made and eventually I built a following of people from all of Florida, and all over the world, looking for these pants. I kept reinvesting my money into the business and I started to sell to stores and then opened my first freestanding store around 1981. There was no set plan, I just thought, I'll do this for a few years and see where it takes me.
When did you turn to swimwear?
I filled up my store with all kinds of beach clothing and resort wear and then I started to order swimwear from some companies in California when I realized that I had a knack for picking successful styles. And so I said, let me try and make some of my own styles. I started to manufacture the swimwear part of my business in the early '80s and around '84 I went exclusively swimwear and mostly bikinis.
So what's the draw to swimwear for you?
I just discovered that I had some in-born talent to recognize good ladies swimwear. I thought there was a niche in the market for innovative and body-conscious swimwear—not to mention the fact that it was also a great way to make money, meet women, and have fun at the same time.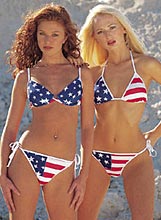 Well, obviously things have changed since you were selling pants out of the trunk of your car. You operate on a much larger scale now-do you have a design team or do you do most of the designing yourself?
I've collaborated with various designers over the years, but for the last four I've done all the designing myself. I've had some great collaborations, but I look at it like this: It was like a rock band where you get together with people and you create. I guess you could say I was the leader of the band and eventually I felt the need to go solo—or they did. I have always picked all the fabrics and all trends and now I do everything myself. However, if there's a pattern I can't make I just hire someone freelance and have him or her shape the pattern I want.
Did you go to any kind of design school?
No, growing up I loved sports, clothing and anything that had to do with design, but frankly I am just not educated enough to design buildings or cars or golf courses. Bikinis are the best things that I could do.
Who was your company's first big contract with?
For clothing it was Club Med and for swimwear it was Everything But Water, which is a big chain now. Currently, we sell through our own stores, we sell to other stores like Everything But Water and we also sell directly over the Internet.
Shopping on the Internet is the way of the future, trust me. I buy shoes, clothes and anything else I can "Add to my Shopping Cart" any time,  day or night.
Definitely. Our sales have doubled each year over the last four years over the Internet and it keeps getting stronger. We have a really good web site and we put a lot of time and thought into it. Besides we try and do everything as a class act. People can return the suits; we don't hold their money. It's the little things that set us apart and we have a proven product.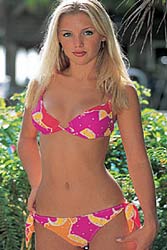 Are there any designers that you kind of model yourself after? Or that you aspire to be like?
Most of my inspiration comes from Versace circa late '80s and early '90s. I found his clothing very inspirational for swimwear. His risk taking and his way of doing strapping and ornamentation were very inspiring. I am not ashamed to say that there was a time that I used to knock off or shall I say interpret the look of his dresses into swimwear. I think he was a real leader when it came to prints and detailing, and he used color in a way no one else did. He was my biggest influence. And then there's Armani. I really love the class and understatement of Armani. In my collections I always have some classy, more understated things and I also have some loud more outrageous rock 'n' roll things. I have those two personalities. Honestly, I don't look at other swimwear, I look at clothing and couture design and I draw my inspiration from there.
Have you dressed any other celebrities?
I've supplied suits for Pam Anderson's TV show VIP and we have been in a couple of Toni Braxton videos. I design for regular women though, and I really don't get caught up in the whole celebrity buzz thing. That's good and bad, but I want people to discover how great my suits are and not buy it because this person wears it.
Summer is just around the corner, what suits/styles are hottest right now?
There are a lot of trends right now, but the simplicity of the string tie bottoms and triangle tops are really hot. The biggest difference between last year's line and this year's is that we have incorporated the look of the low-rise jeans. They aren't quite bottoms from the Bridget Bardot era, but they have that feeling. There's a newness in the cut and the patterns are a little different. It's not like anything I have ever worked with before. When I got started, the high cut suits were really in and everyone thought they would never wear a suit cut way down low again. It's funny because I tried a group like three years ago that I called "Wear It on the Hip To Be Hip" and it flopped. I guess I was just a little too early with it. I knew then that the new zone on women was in the belly area. It's the emphasis now instead of breasts or legs.
I guess we owe that to Jennifer Lopez and Britney Spears …
I just think it looks good and with it there are new extremes that you can go to.
What's next for Ritchie Swimwear?
We just moved from Miami to Fort Lauderdale into a new state of the art building where we can concentrate on our growth. We were in Hialeah for like 20 years in a very unglamorous warehouse. Now we are in a nicer facility where we can go to the next step. I've been doing direct mailings to our customers for a while, but we want to go even more direct to the public. That's why our biggest concentration right now is the Web. We feel that we are offering great service and a great product to people all over the world.
A lot of local designers do fashion shows at places like Crobar or Level, have you ever thought about doing something like that to boost business?
We don't really do fashion shows in the nightclubs because then it becomes a review for males and it's not really doing anything for our client base. We want it to be more about the suits and the women who buy them.
So, can you offer some advice to women who are in the market for a new swimsuit for summer?
Go to any store where the people know their product. Not so much where they are trying to sell you a suit, but where they are trying to fit you with a suit. Experiment with different cuts and take a few chances. When you put something on you should feel good in it. It's not something you should have to get used to. Don't buy a suit because someone else is wearing it and you want to wear it too, it should be something you feel great in.
Ritchie, thanks for talking with us. Is there anything else you would like to add?
I just want people to know that there is a certain soul in South Florida—I travel all over the world to places like the South of France and Italy, and there is a certain feeling down here when the weather is just right that you can't duplicate in too many places. I would like to see more people come down here and just enjoy the beach…
Visit Ritchie Swimwear at www.ritchieswimwear.com
Ritchie Swimwear's shop in South Beach is located at 160 8th Street.