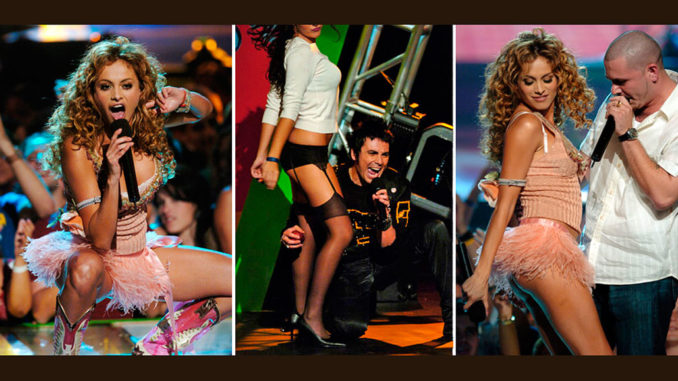 Miami Beach rarely needs a reason to party, just name the place and hire a DJ – we'll take it it from there. And just as things were cooling down from MTV's Video Music Awards a few weeks earlier at the American Airlines Arena, along comes the 3rd Annual MTV Latin Video Music Awards (VMALA) to heat things up again. The Jackie Gleason Theater opened it's doors to welcome this high-energy patchwork of hip-hop and rock, Spanish and English, sex and celebrity for one of the hottest events in the Americas.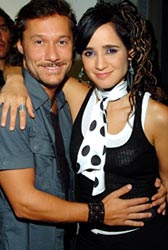 The VMALAs have a reputation for being a sexed-up version of VMAs pushing every possible boundary, and once again they didn't disappoint. The show opened surprisingly with U2's Bono welcoming audience members in Spanish.
The show's producers wasted no time on turning up the heat when moments later Latin superstar and host Paulina Rubio, quickly set the show's over-the-top vibe as she made her entrance in a custom-made Roberto Cavalli superhero-inspired outfit (think knee-high purple glitter boots and a purple feather-sleeved bustier). She arrived on a 15-foot chariot crafted to resemble the VMALA tongue statuette award (the VMALA's award is a tongue – symbolizing the Spanish language that unites all Latin Americans), carried of course by four chiseled male handlers.
It's no secret that this award show was as much about style as it was about sound. Rubio had more costume changes than Jennifer Lopez has had husbands and she showed off amazing creations from Dolce & Gabbana, Valentino, Fornarina, Blue Marine and Missoni, each more outrageous and revealing than the last. As she bounded off stage for yet another costume change she coyly remarked, "I'm very conservative," her glittery mini-dress open in back to reveal her naked backside.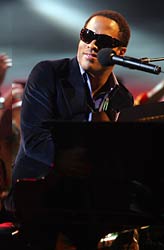 It's no wonder that the VMALAs have called Miami home for the past three years, the sexiness and daring nature of the two go hand in hand. And while the show is trying to set itself apart, MTV2, home of the VMALAs is still heavily influenced by its parent channel. The most obvious example is three of the Latin VMA's headlining acts were the Black Eyed Peas, Lenny Kravitz and the Beastie Boys – all from the U.S. Jose Tillan, MTVLA's Vice President of Music and Artist Relations, says they have to "balance between edginess and popularity."
Among the edgier acts on the show were Cartel de Santa, a hip-hop group from Monterrey, Mexico and DJ Toy, a producer and DJ who spins with the Mexican group Control Machete and Cuban-American rapper Pitbull of Miami. Tillan says producers were aiming for the Miami-based show to have an atmosphere that's "less awards show, more club." Well, you know what they say – when in Rome.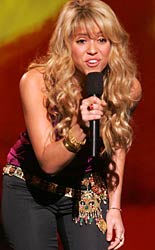 One new facet this awards show introduced is that for the first time in VMALA history viewers were able to vote for all categories via phone with the help of Motorola. In the past only certain awards such as Best Alternative Artist and Best Group or Duo was available for voting via text messaging. The winner for each category was selected by Latin American viewers who voted online at MTVla.com and via their cell phones between September 7th and October 5th 2004.
For the most part, voters picked the most well-known artists with the most mainstream sound in each category. Julieta Venegas, whose cleverly written, original songs have made her a favorite in the Latin alternative and she topped the winner's list, taking home three awards, while Cafe Tacvba and Maroon 5 followed closely behind with two awards each. Spanish flamenco-pop singer Alejandro Sanz, who cleaned up at this year's Latin Grammys, won for Best Pop Artist. The smooth, powerful melodies of Chilean rockers La Ley won Best Rock Artist and Cafe Tacvba took home Best Alternative Artist. Avril Lavigne was voted Best International Pop Artist and The Black Eyed Peas walked away with the show's newest and first ever "Best International Hip Hop/R&B Award".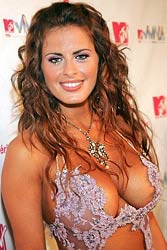 While few acceptance speeches were given, back-to-back live performances kept the show rolling. Performers included the Black Eyed Peas, a demure Lenny Kravitz at the piano, a cameo by Shakira, Helsinki's The Rasmus, Diego Torres, La Ley, Julieta Venegas, Cartel De Santa, Pitbull, Tiziano Ferro, DJ Toy, Juanes and Alex Ubago.
But the highlight was Molotov, who premiered a song from their upcoming album with Amateur, a thundering version of the '80s hit Rock Me Amadeus. And last but not least The Beastie Boys brought down the house and closed the night with "Ch-check it Out" and "Sabotage."
Like all great parties, the real fiesta begins at the after party – and this one was no exception. After all the thank-yous and good-byes were said, everyone headed over to Mansion where the winners, performers and glitterati partied in true South Beach style – until the sun came up. Surprise appearances by Puerto-Rican heartthrob Luis Fonsi, local favorite Julio Iglesias, Jr. and hip-hop heavy weight Big Daddy Kane made this the official kick-off to what will undoubtedly be a season to remember.
If you missed the VMALAs the first time around be sure to catch the show on MTV on Saturday, October 30 at 11:00 p.m. PT/ET.