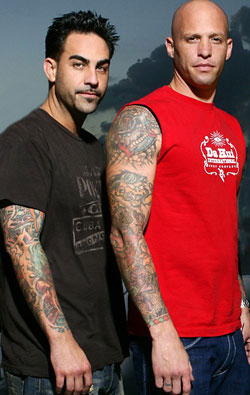 Today isn't just another day in South Beach for Ami James and Chris Nuñez. Besides holding things down at their internationally known tattoo shop, Miami Ink, and filming an episode for their hit TLC TV series, James and Nuñez are rushing down the street, cameras in tow, to 423 Washington Avenue to put the finishing touches on their latest venture, Love Hate Lounge.
This is the grand opening of their new South Beach lounge, and for both the stress is beginning to show. "I'm freaking out," James admits with a sly smile. 'tonight is the grand opening." Nuñez agrees, mentioning the word "stressed" more than a few times while running through his day's schedule thus far. Considering their success to date, chances are James and Nuñez can rest easy.
After working together at another South Beach tattoo parlor, the two joined forces and opened their current tattoo shop Miami Ink, and since 2005, their partnership has been documented on the wildly popular TV series of the same name. But, today they're taking their other passion, nightlife, and making it part of their South Beach empire. Open four nights a week, James and Nuñez hope Love Hate will bring South Beach to the forefront of tattoo culture and give their fans a look at the guys behind Miami Ink.
Tonight's opening night, how do you feel?
Chris: Stressed. We have a million things to do, but after that I think the anxiety will slow down a little. I need a drink…
How did you go from tattoo parlor to nightclub?
Ami: I've been working in the nightlife [scene] for a long time, and I just wanted to extend it into something a little different with kind of the same crowd. I'm always going out, looking for the best party. And we have hundreds of friends, so why not do our own spot? I've always wanted to own a bar, so this was it. I found a spot and wanted to open bar there, so here we go.
As long-time residents of Miami, you've seen the fickle nature of the nightclub industry here. Why did you decide to get into the nightclub business?
Ami: I've grown up on Miami Beach, and in the 20-odd years I've been here I've seen people come and go. The Beach will chew you up and spit you out. Being here for so long made me want to open a bar. I just wanted to go back to the good old days, back when South Beach was just good bars. Now it's just clubs and shit music, and I wanted to change that. I wanted to have a place where you could get a good cocktail, talk and chill and not deal with club music. That's what we're going for.
Who came up with the name and what does it mean?
Ami: It's everything; the relationship between my partner and me, just everything. Without love you wouldn't have hate, and without hate you wouldn't have love. It came from the old school thing where everyone had "love" and "hate" tattooed on their knuckles, like the Blues Brothers. It's an old, traditional thing to do.

I've read that Love Hate will give Miami Ink fans a glimpse into your 'real' lives. How so?
Chris: Basically what we're going to do is offer a spot for our fans and friends to come, hang out, have a drink and basically find me or Ami. It gives them the opportunity to have a drink with me…[laughs]…
How involved in the day-to-day operation of the lounge will you be?
Chris: We have two bar managers and a full staff. Of course it's our project, but at the same time we're trying to keep the business running tight and separate. We're still filming and still have the tattoo shop. We'll oversee and have final decisions, but most of the day-to-day operations will be done by the staff.
How are you balancing Miami Ink, the lounge and the show?
Chris: We don't sleep much. If I'm not doing all that [filming, working at the shop or at the lounge], then at night I'm promoting. I'm out all the time. I think the key is balancing, but if we work hard now, our future is going to be paved nicely. I don't mind putting in the work now if I can look back later when it's paid off and it's all over.
Will any of the filming for the show be done at the lounge?
Ami: We are trying to squeeze it in because it's a great story to cover on the show. You get to see what it looked like before and how it got to where it is today, from the painting to the hanging of the murals. It's been a long road.
Chris: Tonight there'll be cameras covering it. We've been so stressed out about it in the show that they had no choice. Between the back and fourth of our personal lives and our show lives and the bar itself, they decided to document it.
Tell me a little bit about the lounge. Is it more of a celebrity host destination or a rock-n-roll party-till-you-puke kind of place?
Ami: It's definitely that, like an extension of Miami Ink. Imagine if Miami Ink had a bar…that's what it's like. There's a cross on the wall that says, "In memory of my sobriety." I think that sums it up…[laughs]…
What is the lounge's theme?
Chris: We did a really classical American tattoo theme. Tonight is opening night and we aren't millionaires, so there are a lot of things we had to limit ourselves to. But as the bar grows and continues, a lot more will go in. We took a straightforward tattoo approach and added touches of cars and motorcycles. It's kind of like a neighborhood club house for the boys.
I hear you're planning on live music, which I find kind of risky, as live music doesn't seem to be a big draw for Miami's nightlife crowd.
Chris: Let me clarify, its not a live music venue, but with all the connections and friends we have, we know a lot of people in the entertainment industry who are close. On any given night there may be 6 or 7 guys having a drink and someone will get up and play a live set. It will be more like that, not like a stage venue, more of an impromptu venue.
Why did you choose Washington Avenue for this venture?
Ami: I think that's where the action is, and that's where I've always been. South Beach is pretty much Washington Avenue, it's the heart and soul. I bought Miami Ink [on Washington] off of another tattoo artist. It was perfect and just at right time. Now I'm opening three or four stores down.
Which night do you anticipate to be the biggest and why?
Ami: We definitely want to do something different, like a Sunday daytime party, from 4 to 9 or 10 p.m. We want to have somewhere where you can just come in and have great food at the bar, like tapas, and great DJs, somewhere where people can come lounge in flip-flops and enjoy a bar where there are cool things to look at.
What is Love Hate going to bring to Miami Beach's nightlife scene that will make it stand apart from other lounges?
Chris: Hopefully we are just going to be edgier. We are obviously going to give more of a tattoo, old '90s feel back to it. It's more like the spot where you would see this one and that one, not a celeb fest. Come out in your jeans and sneaks, kick back and listen to good music. We're not going to have doorman problems, unless it just gets completely big and there is nothing we can do about it. We are just opening with the intention of being a neighborhood bar.
Any chance you'll be putting a tattoo parlor in the club?
Ami: No, that's not an issue. We are opening another shop in a month or two right here on Beach. It'll be an extension of Miami Ink with choppers and cool, different themes.