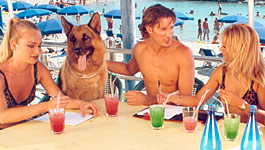 So, how does one become the spokesperson for a dog that owns Madonna's former Miami mansion and is worth over half a billion dollars? Or better yet, become the lead singer for a band the dog owns? By now you're thinking "dog?" Well, to clarify, Gunther IV is a German Shepard who inherited millions from his very loving and very dead former owner making him the richest dog in the world. And the spokesperson for Gunther's trust fund is an interesting chap from South Beach named Lee Dahlberg.
At age 28, Lee Dahlberg has lived a life that most people only dream of. He has traveled the world as a successful model; met the Royal family while working as a magazine editor in London; has his own room in the Miami mansion formerly owned by Madonna; maintains a successful modeling career; runs his own promotional company and still finds time for oodles of charity work. Born without a mean bone in his body, Lee Dahlberg is the guy that every girl wants and every guy wants to be.
Lee comes from a coastal area 30 minutes outside of Jacksonville called Amelia Island, Florida, where his mother was the Island's dance teacher and his uncle was the town's lawyer. "If ever Norman Rockwell was a mayor, he was the mayor of that town." Attending the University of Florida out of high school, Lee lived on a houseboat for several years while working as a cruise ship casino blackjack dealer. As he learned the secrets of being a casino dealer he began to enter tournaments and at the age of 24 was considered one of the top ten blackjack dealers in the country.
At this point in his life Lee decided to go to Europe in hopes of finding his estranged father. Without rhyme or reason, he quit his job, packed his bags and left the next morning. He spent three months in Paris traveling and searching for his French father, but, being unsuccessful, came back to Florida to finish his college degree.
Fate has its own agenda and that same year Lee was involved in a motorcycle accident and was seriously injured. One of the biggest challenges of his life was learning to walk again. But, as terrible as his accident was, Lee didn't let it hinder his dreams of success, and in the final stages of his recovery, he set off to start a new life in Miami. He had been offered modeling contracts before, but didn't think it was something he would be interested in. But the modeling world had been waiting patiently for Lee to arrive and soon the jobs started rolling in. On his first casting he was hired to do an editorial story (a fashion spread to you and me) in Cosmopolitan magazine. After 2 months, Lee was swept away to London to continue modeling overseas.
As luck would have it, while at a photo shoot Lee began chatting with the editor of a magazine, and after Lee expressed an interest in writing the editor offered him an assignment as a freelance writer. He picked up every odd job he could from food critic to covering nightclub openings and in the process impressed a few of the right people because he was offered a job as the assistant editor of City to City magazine in London. In addition to meeting some of Europe's finest writers and artists, other perks included attending the 2000 World Fair in Hanover, Germany and acting as the stand in for Prince William in the Royal Family photo. How does this guy do it? But, when the magazine folded Lee headed back to Miami and continued with his modeling career.
Which brings us to the dog, Gunther…
Like most of the young and beautiful here in South Beach, Lee was out one night partying with his friends at a club when he was introduced to Gunther's publicist, who was immediately drawn to Lee's outgoing personality and positive energy. She offered him a job as ?the lead singer of a band owned by a dog that would be spreading a message of positivity to the world.? But, how Gunther IV got his paws on half a billion dollars is a story in itself. `
Which brings us to the Countess…
In 1992 a certain Countess passed away in Italy and left her entire estate to her dog, Gunther III. At first it seemed a bit ridiculous, but at closer inspection it was actually quite ingenious. In her will the Countess wished to leave a framework for a very positive message that she wanted the world to hear. If the money had been left to a person, someone else could have contested the will and possibly taken the money. If the money had been left to a charity, it could've been spent against the Countess' wishes. But, by leaving the money to her dog, all decisions must be made by a board of trustees – who, by the way, are all millionaires themselves with no interest in the money other than to carry out the Countess' dying wishes, because Gunther can't really voice his opinion on much of anything other than when do we eat? You see, Gunther is just a symbol of the Countess' wealth and the board uses him to spread the goodwill the Countess originally envisioned. The original heir, Gunther III has since passed and now his son, Gunther IV has inherited everything.
In Italy, where most of the trustees reside, Gunther is quite a personality. He owns his own night club comparable in ambiance to Nikki Beach – albeit five times the size – called the Bow Lab; he has just purchased Pisa's soccer team; and of course Gunther also owns the Madonna mansion here in Miami. After the 9-11 tragedy Lee proposed, and Gunther backed, a charity for animals affected by the catastrophe called Pause for Paws. Gunther has also created a ranch in Europe where people who leave for their month-long holiday can drop off their animals and they will be taken care of and provided for.
Lee's job, besides singing in the band, is to speak to the press and the public on behalf of Gunther and the board of trustees. For example, when Bow Lab opened Lee made a number of appearances all over Europe and on many TV shows like Regis and Kelly and Good Morning America. Here in the U.S. he has appeared on Access Hollywood, Inside Edition, Extra, E! Insider and Animal Planet.
Outside of his duties with Gunther, Lee has not only created a company called Type Cast, which helps his model friends earn extra money during the off season, but he's also the District Market Manager for Smirnoff and Captain Morgan's Rum and he is currently working on organizing a union for models. A union for models? Hey, models need health insurance too.
When asked if he had any advice for newbies just making their way on to the modeling scene, Lee said, ?You just have to go for moderation, which is true of Miami in general, but more so in this industry because it is so surreal.?
So, after all this, what else does Lee Dahlberg have planned? "I want to bring some honesty back into this town" he says.
With all of the extravagance and fervent pursuit of the seven deadly sins we're all too familiar with here in the Magic City, it's a pleasant surprise to find this brand of kindness, and what Lee likes to call PMA, "positive mental attitude."
And what do we make of this ongoing endeavor to spread goodwill? Nothing less than a long overdue breath of fresh air.