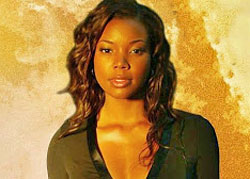 Gabrielle Union really did plan to attend law school. That is, until she was discovered during her senior year of college while working at a modeling agency. The agency was so impressed with the young college student's looks, they picked her up upon completion of her internship.
Fast-forward to the summer of 2002 in gorgeous Miami and Union finds herself amidst extreme car chases, gratuitous violence and lots of humor—the perfect recipe for this summer's blockbuster, Bad Boys II.
With Miami serving as the backdrop for nearly five months of shooting Bad Boys II, it didn't take the cast long to start popping-up in hotspots all over South Beach, and when shooting wrapped, it was only a matter of time before 30-year-old beauty Gabrielle Union returned to Miami, this time hanging with another group of bad boys who are just as infamous.
We caught-up with Gabrielle Union at the Eden Roc hotel on Miami Beach.
What brings you back to Miami Beach?
We are in town for *NSYNC's The Challenge for the Children celebrity basketball game. I'm very excited about the event. I'm trying to recapture my half-court challenge with the lofty goals we set a couple of years back at an all-star weekend, where the other team came up from behind and beat us.
Your husband, Chris Howard, is a former Jacksonville Jaguar. Did his games frequently bring you to Florida?
We would go to Jacksonville a lot, as well as Orlando, Tampa and Gainesville.
You spent a lot of time here in Miami for the filming of Bad Boys II. Had you been here prior to that?
I had been here before, but only for vacations. I was here for five months filming the movie, and I had a blast. It was great to be here on someone else's dime. They roll out the red carpet for Will and Martin, and if you are here with them, you are instantly in. I've never felt so embraced by an entire town before. It was so cool.
Where is your favorite place in South Beach?
Cheeseburger Baby is my absolute favorite place. I tell everyone from L.A., all of my friends and family, that if they go to Miami, they have to go to Cheeseburger Baby. I'm like Cheeseburger Baby, Cheeseburger Baby, it's the best. When we were filming, we'd go there all the time at like 3 in the morning. I even danced with the owner one night. He's awesome.
What was your favorite thing about filming the movie?
The after-work parties were the best. Afterward, on a Friday night, we would roll straight to Mynt. Everyone would be enjoying each other, laughing. It was like a five-month long bag session. You had to come with you're A-game to stay in the mix. We just had so much fun. They [Will and Martin] wouldn't just let me sit on the sidelines. At the time, I didn't know them that well, and for them to go out of there their way to make sure I was included and to make sure I was having fun, that was really cool.
When you're not filming, what do you do to unwind?
I'm a reality TV junkie. I like MTV's Making the Band. I also enjoy reading. I'm re-reading the biography of Malcom X. I re-read it every year. A professor told me to read it frequently because you will be able to relate to different aspects of his life as you get older, which is true. I've been reading it since college.
Where did you go to school, and what did you study in college?
I went to U.C.L.A. and I studied Sociology.
Who are some of your favorite artists?
I love Lil' Kim, 50 Cent and Luther Vandross. I really like 'The Closer I Get to You,' the duet with he and Beyonce.
Speaking of music, since you're hanging with the boys from *NSYNC, did you make it to Justin's [Timberlake] concert at the Office Depot Center in Sunrise?
Did I! I lost it when he did 'It Takes Two to Make a Thing Go Right.'
After this event, are you planning any other trips to the Miami area?
I'm looking for a place [here in Miami] now…[laughing]… I'm not going to be on Star Island, but I'd love to live in a condo near Nikki Beach. I just love it here.