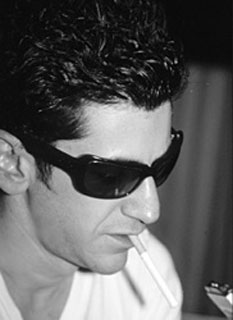 When 26-year-old New Jersey native David Bick returned to the U.S. three years ago after living in Israel for nearly a decade, he and two Israeli partners set their sights on a lofty and audacious goal – to build a friendly, innovative South Beach bar where the fabled and fickle locals would come to hang out. Today, one year after its low-profile debut, Lola Bar is a smashing success – so much so that Bick does almost no advertising and is trying to put the brakes on his most successful night because he thinks it has become overcrowded.
Located on 23rd Street just off Collins Avenue, Lola Bar is the U.S. sibling of Lola Bar in downtown Tel Aviv, launched in the mid-'90's by Bick's partners, Mark Averbuch and Mady Nassiamian. Lola Tel Aviv had, in turn, been loosely based on Good Bar in Tel Aviv, where Bick and Averbuch had spent many nights drinking and talking before the Lola plan hatched. Although Bick had no direct role in the actual running of Lola Tel Aviv, which was actually a resuscitated and re-invented version of a long-running but dilapidated bar of the same name in the same space, he played a pivotal role in the development of its core concept and its ultimate export to the shores of South Beach.
From the beginning, the trio had a precise and unique goal – to target the locals who work in the South Beach tourism industry – and particularly in the big nightclubs. "The kind of money that comes into Miami Beach is obscene," says Bick, who became an Israeli citizen and served in the military and forestry service before returning to the U.S. to begin the South Beach Lola project. "Waiters, waitresses, bartenders, managers – those people make a good living and have plenty of disposable income. It just seemed like a great idea and a great opportunity to make them our customers. It was a no-brainer."
From its opening night, Lola Bar drew an "insider" crowd of nightlife workers, journalists, artists, strippers, drag queens and assorted eccentrics, with an ever-growing population of discerning, in-the-know tourists thrown in for good measure. In fact, the entire Lola formula was based on interaction between people as Bick and Averbuch had observed it on countless nights from bar stools in Tel Aviv's Good Bar.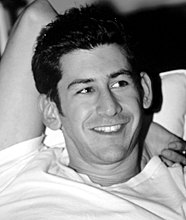 "Mark and I drank in Good Bar every night for probably two years," says Bick, who has been married for nearly five years to his Israeli wife, Dalit. "It's the best vibe of anywhere I've ever been in the world on a regular basis. It's all about the people and the interaction between people. Because of the way the place is laid out – it's basically just a long, narrow bar – it's absolutely inevitable that when you leave the place in the morning, you'll leave with new friends. You will meet and talk to the people next to you. If you don't like them, you move on a little bit down the bar and meet someone else. The interaction adds so much to the experience."
On that simple premise, Bick and company built the foundation for Lola South Beach. The place is essentially a large black box with a long, horseshoe-shaped bar that runs the entire length of the room. Lola is simply furnished with white day-bed-style "bar stools" that each accommodates four people – making it impossible not to talk to strangers. Ambient light is provided largely by ubiquitous white candles on black cast iron candelabras. The latest works of South Beach's best artists often adorns the walls. A pool table occupies a corner by the rest rooms. There is a certain Gothic-Bohemian charm to the place. There is a collective energy that is contagious.
Then there is the music – and the house Elvis impersonator. The former is provided by the sublimely eccentric DJ Smeejay, whose arsenal includes everything from movie themes to timeless gems such as Tammy Wynette's country classic "Stand By Your Man." The latter is provided by Randy Walker, an Elvis impersonator hand-picked by Bick to provide a good portion of Lola's current quirkiness quotient.
What Smeejay and Elvis have in common with the décor, the furniture and the live bands he occasionally brings in to play is that Bick does exactly what he likes personally – and nothing else.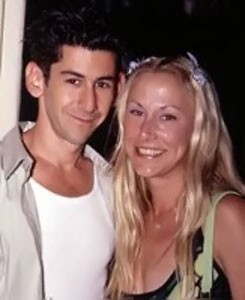 Most important, though, Lola Bar is designed as the very antithesis of the big South Beach clubs. There is no loud dance music, no elitist attitude at the door, no dress code, no "VIP room." In fact, although it is a practice now being followed by other new clubs such as Rain, the "no ropes-no VIP room" philosophy was pioneered by Bick at Lola a year ago.In turn, the stereotypical clubgoer is not Bick's idea of the perfect customer. "The people who want to do Ecstasy and jump around are getting the idea that Lola isn't the place for that," he says. "It's for people who want to come and see their friends and listen to good music that's different, and have fun. It's a place to relax."
Lola has turned out to be so relaxing – and so much fun – that its Tuesday nights have become the talk of the town – literally. Everybody goes there because Tuesday is the most commonly shared night off in the local nightlife industry. Now, Bick fears the Tuesday party has become too crowded and he wants to scale it back. He is now focused on an early-evening, after-office cocktail hour that starts at 7 p.m. on Wednesdays. His weekend business is growing, too.
Although Bick is not surprised by his success, many others are. "We were told that no one from out of town could come in and make it here – and especially not with a local crowd," Bick says. "A lot of people were coming up and offering us advice six months ago. We tried to explain to them that we knew what we were doing. We designed something different and we knew it would take time to get people to warm up to it. But the kind of relationships we want with our clientele, that takes time."
Bick says a large amount of Lola's success can be attributed to a well-known local character named Janet Jorgulesco. When Bick met her at the infamous Monday night Back Door Bamby party at Crobar, the manic and amusing Jorgulesco worked as a waitress at the 11th Street Diner. "I found out she worked the morning shift," says Bick, smiling. "Everybody in the restaurant business knows that is the worst time to work. I knew that if she had the grit to pull herself out of bed at five in the morning and go wait tables at the diner, she was a hard worker. I was so impressed by that."
Bick immediately liked Jorgulesco. She, in turn, immediately recognized the opportunity. Today, the rest is history. "She does everything, from the bookkeeping and PR to jumping behind the bar when she has to," Bick says. "I just basically pay for the place and otherwise, it's all Janet." In addition to her other responsibilities, Jorgulesco hosts a cable TV show called "Tube Talk" from Lola Bar on Tuesday nights. Given her wacky and spontaneous nature, her show, on any given week, is anyone's shot at fifteen minutes of fame – if they're over-the-top enough.
Next to Jorgulesco, Bick thinks his most important stroke of good luck has been finding Elvis impersonator Randy Walker, who performs from atop the crowded bar. "I love Elvis," Bick says, laughing. "The twist I get a lot of kicks out of is that now we have him doing pop songs. Last night, he did 'Genie in a Bottle,' as Elvis.
"The plan at the beginning was to have a young Elvis, an old Elvis, a black Elvis, an ethnic Elvis. Unfortunately, there is a serious lack of Elvis impersonators in South Florida. Someone should address that. It's a sad time in South Florida – forget about the Republicans stealing the election – that's not nearly as embarrassing as not having enough Elvis impersonators. It says something about our culture and it points toward a decline."     (Editor's note: Viva la Elvis!)
Just as one wondered about his comments regarding Janet Jorgulesco's role as "de facto CEO," one wonders now whether Bick is kidding. It doesn't seem so – on either count.
And just as he has a passion for Elvis, he has a passion for good contemporary live music, too. So far, Lola Bar has showcased several of Miami's most acclaimed musical groups, including the alternative band Wanton Soup, generally considered South Florida's best unsigned act. Bick promises more, a commitment which addresses another cultural problem on South Beach – a serious lack of live music.
Future plans for Lola Bar include expansion to other U.S. cities. Although he has had offers from New York and Los Angeles, Bick says he is more interested in an inquiry from Philadelphia. "Philadelphia has a great vibe, and that's what it's all about," he says.
Says Bick, "Lola is built on the idea that the place, the furniture, everything, is up to the customers, our clientele, it's their place, it's not really ours. We get it in motion and then it's up to the clientele."  That philosophy appears to be the most important factor in Lola's wildly successful equation.
That, and the quality of the Elvis impersonators.