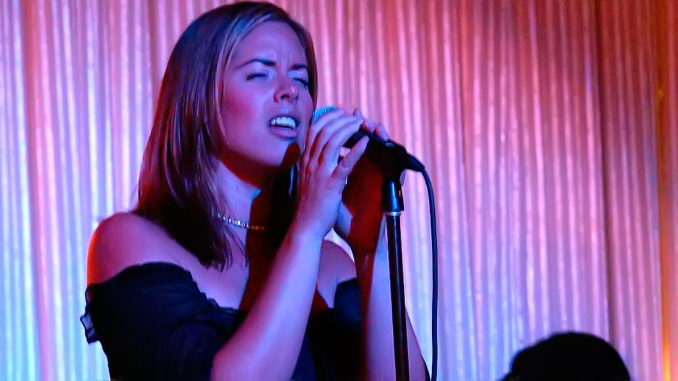 Lovers cuddle in a corner booth. A group of friends share a drink and the day's juiciest gossip at a nearby table. Tourists puff cigars, as they take in the ambiance of South Beach's National Hotel. As 8:30pm draws near, a strikingly beautiful blonde takes her place beside the baby grand piano. The singer's name is Christina Sichta, and her sultry, soulful sound is about to catch everyone a little off guard. Twenty-five-year-old Sichta makes it quite clear that this Wednesday night is her night to inflict the audience with a little soul.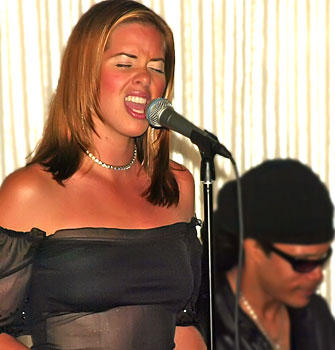 With looks to kill and a voice that rivals any R&B diva, some would think Christina has it all. But for someone who couldn't even hold a note in her high school choir, the road to stardom has been a long and winding one. After years of trying and training, Christina finally got a break. By day she supported herself with a modeling career, and by night she expressed herself in song at New York clubs and bars.
Today Christina is making a name for herself in South Florida. Her five years on Miami Beach landed her gigs at Liquid, Red Square, Nikki Beach, Bambu, The Clevelander and Jazid. Over dinner at Lincoln Road's Next Cafe Christina shares how she got involved with music, the direction she wants to take her career in and why boyfriends and social lives take a back seat in her life right now.
How did you land in South Beach?
I was living in New York, and I needed to make money. When I first moved the New York, I started as a plus-size model. My agency at the time mentioned South Beach as a place to try and find work. Basically I just said, 'Great, I'll do it.' I came down here, and I ended up staying. I learned to love with the place, learned to be accustomed to the craziness of it all. But I really enjoy it now.
How was modeling?
It was great, but I've lost a lot of weight. I started exercising and taking care of myself, being health conscious and loving the outdoors. Fortunately, I'm still able to do it. I also do lots of German catalogs.
Have you ever done runway?
Plus-size runway—it's definitely wearing the kind of clothes you don't want to be seen in. American plus-size clothes are, design wise, very unfortunate. For whatever reason they don't consider fashion as much as Europeans do. You wear a lot of frumpy clothing and things that just don't fit right. The Europeans are a lot more tailored, more curvy. The clothes are form fitting and fashionable.
How did you get involved with singing?
When I was a little girl I used to sing in the car, because my family used to travel and moved around a lot by car. My father was also a big-time wannabe singer, and my grandmother was an opera singer, that also inspired me. But when I first started joining choir in high school, I got rejected and cut, I couldn't sing. I really couldn't. I had no clue of technique, training or breathing. That devastated me, so after school I started taking private vocal lessons. That's where I fell in love with it. It was very challenging, but I guess when someone says, 'You can't do that,' to a kid, you have no fear. It was just one of those situations where I went for it. I started doing these cute little singing contests at underage dance clubs for 18 and under.
Tell me about the contests. What were they like?
It was nerve-racking, because you know how kids can be. The first time I went it was one of those you-bring-your-own-background-music deals and you sing whatever song. I was so nervous the first time I did it, that I brought a cheat-sheet with all the lyrics on it… [laughing]…the lyrics were in red ink, and as soon as I got up on stage, the light that shot down on me was red, so I couldn't read the paper.
Did you freak out?
I freaked out and forgot all the words. I had to stop. I was so embarrassed. Everyone was booing at me, it was tough. That experience alone could have stopped my career. But, for whatever reason the determination was very strong.
Who are you influences?
I love Aretha, ever since I was a little girl. Tina Turner was a huge idol. I love Chaka Chan—a lot of '70s artists, because my parents are from that era, and they played that in the house growing up. My mom and dad wanted me to take piano lessons when I was young, so I have classical training. I love opera, from my grandmother. And I love Broadway musicals. I was a music-theatre major. But I also love classic rock, bands from the '60s and the '70s like Fleetwood Mac, Led Zeppelin, the Eagles and Heart. I appreciate female artists from the classic R&B area as well, like Denise Williams. She was a big '70s singer. I love just strong voices like Turner and Etta James—she was amazing. The women empowerment movement was definitely very influential.
Who from today are you just blown away by?
I love Sade. I just saw her concert in November. It was out of this world, probably one of the best concerts I've ever seen. I saw Mary J. Blige in concert. I like it when I can see their performance, when I know they are singing. I don't try to judge or depict my opinion on musicians based on a music video or something on the radio, because I think it's contrived. That's the music business part of it all, which is not bad, but I just think, to see talent is very important. I respect and love anyone who is on the road regularly performing.
Is there any type of music you would love to sing, but just can't?
Honestly, I've worked really hard, and it's constant work, preparation and training. I used to not be able to sing anything, literally. I could not sing one note. But because I just didn't give up and trained in every style (jazz, classical, opera, Broadway, blues) I would love to do it all, and I really feel I can. Now, for the first time in my life, I would love to do everything,  sing on Broadway, be on a record of my own style, as well as radio or television jingles.
Do you write music as well?
I do, but mostly I like to collaborate. I work with producers who approaches me with songs. I also do house music. I just finished a recording with a local DJ/producer, Kiko—he's a DJ at Mynt. I also produced a house single called "I Wish."
Other than singing at the National on Wednesday nights, tell me what else is going on with your singing career.
I began singing at Jazid last year. I was doing a little happy hour night, and I used to work there too. There was this time for about six months where I was bartending, managing and singing, and I did it all in one night. Then I came into contact with several musicians who needed a singer. They were putting together a night, a full night, so I started my own night, singing. That was great. Then I came across a guy who wanted to promote a night at the National Hotel. He heard me sing at Jazid and was like, 'Why don't you come and sing at my party? I can help you with getting people in there.' So that's when I started singing at the National. He was kind to bring people, press and local Miami celebrities. I also put a package together where I have my own demo. And I've been doing private shows, as well.
How busy does your career keep you?
I have no social life right now, no time for a boyfriend—you're married to your career. You have to love it, but it's good not to allow it to stress you out either. Thus far it's been amazing, let alone the last six months.
What's the worst part of your job?
When people underestimate you. You say, 'I sing at the National. Come by and hear me sing. You'll like it. You'll be inspired and maybe enjoy yourself.' And they will say, ' Yeah, sure, whatever.' Maybe like a month later they will stop by finally and be like, 'Wow. I can't believe I waited this long. I'm sorry I didn't come sooner.' Things like that make you feel like people just don't believe anything. They think you're all talk until they're able to see you're speaking the truth. Under-estimation is very challenging. But it's the people who come that make all the difference in the world, and that is when you forget about people underestimating you or not believing what you say.
What is the most important thing to you right now with your music? 
The most important thing to me is being able to have a career, being able to maintain work and my job. If a record deal comes from this, it would be great, but I don't think that is what makes the artist. I don't believe worrying about something that could happen is important. I'm more concerned with now, maintaining my happiness, being appreciative of everything that's going on in the moment and just being healthy and happy. For the first time in my life I've stopped worrying about what could happen six months from now. I'm working toward it, but that's all I can do. I can't worry about it, because that's useless energy. To prepare for it is something else, but honestly, everything that's happened at this point is everything I've always dreamed about. To me, being an artist is being able to perform, sing, get paid for it, continue down that track? be paid enough to survive and live comfortably, not lavishly. I think a true artist does it because they love the craft. My outlet is performing. That is the most naked feeling. I can't ask for more. I don't think I could handle more. I was thinking today, it's already overwhelming at times. This is amazing to me, honestly. I have such a wonderful time just appreciating the fact that someone wants to interview me.
Other than your cheat-sheet incident, what's the most embarrassing thing that's happened to you on stage?
That's going way back. I was doing musical theatre in high school, and when you're singing on stage for the first time, you start to shake. It's one of those things I notice more than other people notice. My body goes into little convulsions. But I love being on stage now. It's like home, almost like an addiction. I need to be on stage. I love having that once-a-week moment. When you are on stage you're sharing. It's about you, but it's also about encompassing everything else in that particular moment. It's about entertaining the audience, and hoping they enjoy it.
Would it be difficult for you to hear yourself pouring your soul out on the radio while people listen, or is that something you would be comfortable with? 
I think it would be overwhelming, yes, but more in a good way than bad. The first time I heard my demo blasted in the studio on the speakers, I started crying. I think it would be very emotional, but I think that would be good. I'd probably cry? a lot.
You said you think music videos are sometimes contrived, but are videos something you would like to do?
Honestly, I can't lie, so of course. I just believe in allowing that artistic side to have an opportunity, projecting that artistic aspect. I would like to get back to the way music videos used to be. I would like to have an opportunity to express who I am through a video.
In your career, do you think your age helps you or hinders you?
I think it's a hindrance. The music industry tends to focus on younger artists, but it shouldn't be about age. With the way music is starting to change there's a transition taking place, especially in this last year. I think we're wanting, searching and looking for more of a mature, soul-searching aspect to music. And that might have to do with someone who is older, someone who is more informed on what life and music are about.
For a long time now music has been very produced. Everything is in the studios being enhanced in every way possible. Do you feel like people are looking for a pure, unaltered sound?
Totally. With the way the style of music is changing, it is going to be interesting to see where pop music goes, even hip-hop and R&B. Right now those genres are becoming more centered in involving alternative or rock music into their backgrounds. I'm really excited to see something like that. I think that opens up a lot of doors for artists who want to sing R&B but have more physical attribute to them than just being darker skinned. I sing soul music and people categorize me by saying I sound like a black lady. But why do I have to be categorized? I sound like I sound. Any one of any color can sing that way. God gave me that gift. The way I sing is definitely not the way I look. And, in a way that is my curse. It allows a lot of people to underestimate me, because they don't believe it's possible. I would definitely like to have some kind of influence in changing the way people think? in the way we socially discriminate. It's important that we force ourselves to be a little more open, a little more understanding and aware that anything is possible. We can't depend so much on the little niches and categories that we want to put everything under. I would love to be involved in the music industry to make that difference.
Let's say you get on the radio, but your big hit is a one-hit wonder. Is that something you would be happy about or would it crush you?
I would be happy, because it happened. I would rather have that experience than none. But I don't think it would just end there. Having a one-hit wonder allows you to have or be involved in other experiences. The experience would be there for me to appreciate it, not to be disappointed by.
What if you get to that point of stardom and it's not what you wanted?
That's one reason I don't want to be involved in this industry? the fear of success, the fear of actually making something and then once I get it, it's not what I wanted it to be. I think for that reason alone, where I am right now is exactly where I want to be. And I am very happy with it. To be patient and allow everything to happen is the best success. I feel like having this outlet now, I already made it. And even if it was to end next month, that's OK, because I know something else is going to come. I was performing at the Ritz Carlton in Key Biscayne for about six weeks, and now they're taking hiatus for the summer, so I'm not going to be there for the summer months, but other things opened up. I'm going to sing at the Miami City Club downtown in the First Union Federal Building. It's a members-only, business-executive club. I also sang the national anthem at a Miami Fury professional football game. Things like that are amazing. Taking your time, doing anything when you can appreciate everything in that moment, knowing this is everything you wanted and nothing you didn't expect, that's what I hope for.