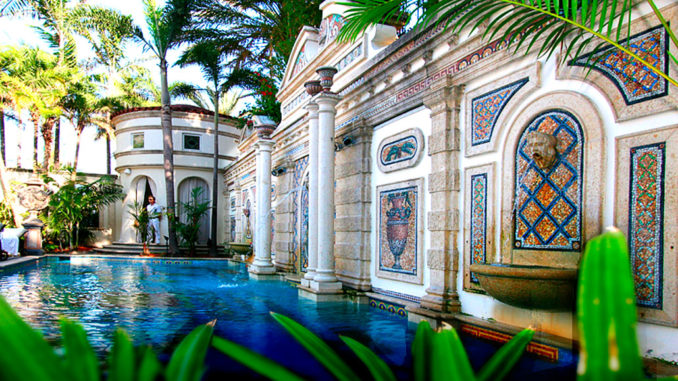 The warm southern wind blows against my face as I glance at what seems like an endless stretch of pristine white sand and an ocean as calm as bath water. Before me are expertly manicured, towering hedges and entry-way steps that lead up to an impressive wrought-iron gate. I explain to a face behind the bars that I am in fact a guest at Casa Casuarina—one would think the suitcase behind me was a good indication—nevertheless, I'm welcomed in and ushered to the front desk.
In an instant, I'm reminded of the first moment I fell in love with South Beach: warm salty air blows through the corridors, a cloudless sky so blue it sparkles, and relaxed, sun-kissed faces that look like they haven't a worry in the world. The air is definitely different down here.

I'm escorted to my suite, the Parrot suite actually, and given a quick tour of the room. From the Romanesque columns to the lavish, Italian murals, sumptuous velvet curtains and Versace insignia on the bathroom floor, it's clear that this isn't just any hotel.
Like a typical New York workaholic, I sit down to check my email and see what's happening in the real world while everyone in a ten-mile radius is wasting away in the South Florida sunshine.
At about noon, there is a knock at my door. Would I like water or a glass of champagne? It's like someone flipped on the light switch? OK, so now I get it. I gently snap my laptop closed, change into the fluffy white robe and head down to the gorgeous pool to catch up on some reading (in the shade, of course).
Much to my surprise, there were only two other people lounging by the pool. Unlike at other SoBe hotels, there are plenty of chairs and no loud children. Interesting.
Then it hits me and I realize how utterly fabulous it all is! I imagine Versace himself loafing about, Madonna skinny dipping in the pool, Elton John sipping champagne while comfortably perched on a chaise lounge. Interesting indeed.
The staff moves almost imperceptibly through the grounds (except when refilling champagne glasses, of course), and the serene silence is only interrupted by the sounds of seagull flying by.
As I sit daydreaming about Kate Moss, Princess Di and Donatella frolicking here in days gone by, I realize it's time for my facial. I cross the courtyard to Spa Eleven, Casa Casuarina's intimate, luxurious pampering oasis. When it comes to spas, I'm quite the international connoisseur, and expertly speaking, this was one of the best facials I've ever had. All traces of dehydration from the plane has been banished and my skin positively glowed. (The open bottle of serve-yourself champagne in the waiting area was merely an added perk.)
At this point, New York feels like a distant memory, not a place I left a mere eight hours ago fighting midtown traffic—proof that there really is something magical about the former Versace mansion.
As I wander back to my room I notice how truly spectacular the architecture is. If all the doors and windows were open like the designer and Versace had intended them to be, guests could wander from room to room, pool to spa, roof deck lounges to observatory, with ease, mingling with famous faces and fashion icons, and all the while basking in the gorgeous Miami Beach sun. A veritable heaven on earth.
The next morning my car is scheduled to arrive at 6am, an hour at which most revelers are just making it home after a long night at one (or several) of Miami's hotter-than-hot clubs. In fact, when I called reception and asked for a 5am wake-up call, the person on the other end of the phone laughed hardily. I make it downstairs at about ten of six and wander out to a peaceful and virtually empty Ocean Drive. The uninterrupted sound of crashing waves before the rest of the beach has even stirred is like music to my ears.
And as I stand on the steps of Gianni Versace's prized palace, I realize that I have fallen head-over-heels in love with South Beach all over again.
Update: Casa Casuarina is now "The Villa by Barton G."
The Villa by Barton G.
1116 Ocean Drive
Miami Beach, Florida
(800) 258-7503