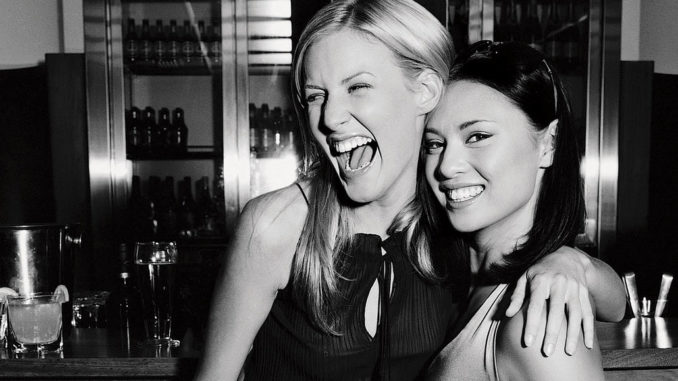 So, you're planning your best friend's bachelorette party and the thought of a corner booth at the local steakhouse makes the both of you yawn, right? Well, how about bringing the girls to South Beach and transforming what would've been a "good" bachelorette party into a memory of a lifetime for the entire group? If the idea of a Destination Bachelorette Party in South Beach appeals to you we have some tips to help you along. Here's how it's done.
Before your trip, clearly establish a few basic ground rules. Talk to each person attending the bash and determine their personal boundaries BEFORE you book your tickets. Communicate clearly the logistics, the expenses and the general nature of the vacation. Some girls like to get together to bond, relax, get a tan and talk about the particulars of the upcoming wedding, while others see a bachelorette party as a farewell to the meat market and a last hurrah as single women. Some girls really do want to be "bad" (like the boys) with male strippers, then rely upon useless promises that no one back home can EVER hear about what really happened on the trip.
The bride should be the first to decide what kind of party she wants. After that, be certain each guest is comfortable with all of the events so that no one returns home with a bruised ego. Even if planning this trip falls entirely on your shoulders and you want to reserve a few surprises for the girls, be mindful of the fact that the energy and expense you invest in planning a Destination Bachelorette is too great for anyone to end up in tears. Simply put, before you go, know your group, communicate your plans, and avoid hurt feelings. Your friends will thank you, the bride will thank you… and the groom? Well, "what happened in South Beach" will make him wish he had friends like you!
Should I Stay or Should I Go?
Hotel choices range from extravagant to simply practical. You can reserve a few simple rooms and save your party funds for restaurants and bars, or you can Go VIP and let the hotel do the hard work for you. At the top of the line, you and your guests might opt for the celeb's favorite – Delano Hotel (1685 Collins Avenue). The Delano Pool is all about people watching, so you'll need to bring your A-Game in terms of hot swimwear and sexy cover-ups. Bachelorettes can book an exclusive day-into-night beach cabana or opt for a swank, 2 level poolside bungalow that's the most luxurious townhouse in the city. Either option gives you a front row seat at the hottest show in town. If the bride is a bit of a Diva who likes to tan and be pampered, the Delano will definitely rub her the right way!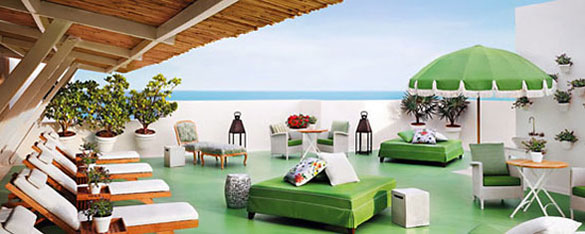 Agua at the Delano is a rooftop, girls-only spa featuring full-service salon treatments and a clothing optional sun deck. Plan a full day of spa services for all of the girls to celebrate this special time away together. Get your bodies soothed and smoothed so you'll look your best before you hit the town. Plan dinner at the hotel's new Bianca Restaurant starting with cocktails at the adjoining Rose Bar where guests meet and mingle over a game of pool or a flute of champagne. Everything about the Delano feels chic and sexy and all areas, including the spa, cabanas and the terraced dining platform, are open to reservations even if you aren't a hotel guest. Definitely check it all out!

If a spa vacation sounds like something you and the girls would enjoy, think about a totally relaxing stay at The Standard Hotel (40 Island Avenue), Miami's first adults-only full service bath house. Located on the west side of town, this place is considered the "antidote" to South Beach where the focus is on quiet, rest and relaxation. But don't worry – all the best nightclubs are only a 5-minute cab ride away! This east coast version of Los Angeles' hippest hotel chain features an outdoor pool with a Roman waterfall hot tub, a full service and self service spa and a co-ed Turkish style Hammam (steam bath). Unlike the Delano, The Standard is quiet, sophisticated, and entirely casual.
To experience both a quiet escape by day and a rocking good time by night, reserve a few "wet rooms" at the Standard and enjoy outdoor bathtubs filled with customized aromatherapy soaks right on your terrace. Wrap yourselves in the spa's white terry robes and make your way to the bay front pool area to sample a Golden Body Mud Bath. Swim in the chlorine free pool to the tune of underwater speakers piping in music spun by the in-house DJ. If you're too relaxed to bother leaving the property for lunch, you'll be happy to know that Eric Ripert of New York's Le Bernardin restaurant supervised the spa menu served poolside. No matter how much trouble you manage to find after hours, it may be a comfort to know that the Standard has the cure for whatever ails you once the sun rises on Biscayne Bay.
Other top-level hotel options include the Ritz-Carlton South Beach, the brand new Crowne Plaza South Beach – Z Ocean Hotel on Ocean Drive, or the very sophisticated Hotel Victor. Each property can cater a lavish bachelorette weekend with spa service, luxurious food and drink and extravagant accommodations. Plan a night of exploring the best South Beach lounges and try to see them all. To give you an idea of the subtle differences in hotel style, we'll start our tour at the very elegant Ritz-Carlton.

The Ritz-Carlton South Beach (One Lincoln Road) is perhaps the most conservative choice of all. What distinguishes the Ritz is the level of service, the quiet quality of the hotel staff and the gourmet cuisine at the Bistro One restaurant. On Thursdays, the Ritz spa will host a Bubbles and Blowouts Party for your group featuring French Champagne, imported cheeses and fresh fruit. All the girls can have professional stylists blow dry their hair to pitch perfect glamour before a hot night out on the town. Every Tuesday and Thursday from noon to 5pm the spa will treat your group to a free mimosa and 20% off all spa and salon services.
In the morning, try a quick pick-me-up at the DiLido Beach Club and then a day of sun and surf. While the outdoor menu is light and healthful, the atmosphere at the beach club is as sexy as a day on the Mediterranean. A DJ takes over when the sun goes down, transforming this oceanside spot into an open-air lounge. Best bet for your plans? The Friday night happy hour and Sunday's special menu. Even if your plans don't include an expensive hotel, be sure you and the girls hit the Beach Club at the Ritz.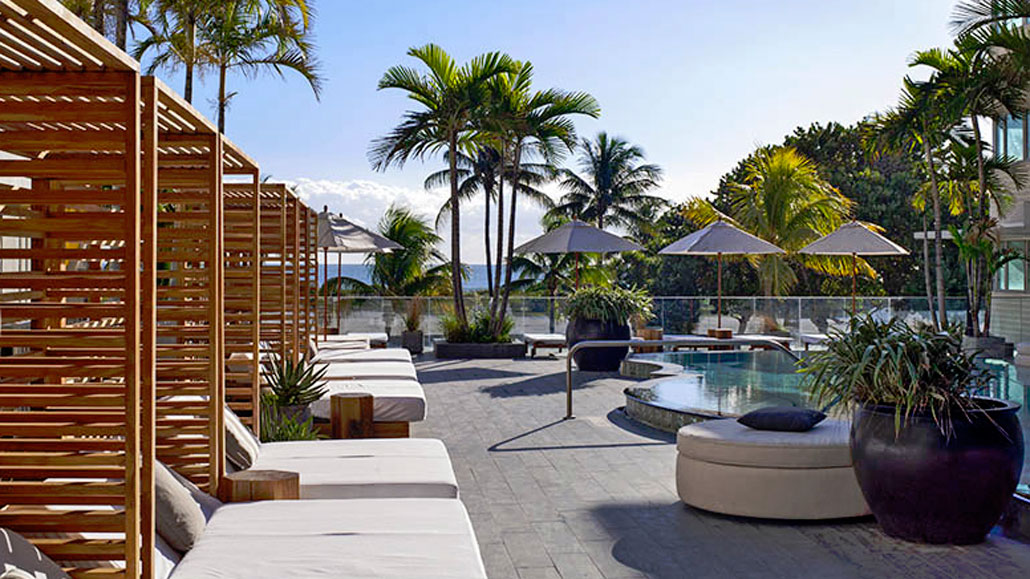 The Hotel Victor (1144 Ocean Drive) is a little less exclusive, but a lot more wild. Imagine a sexy weekend house party hosted at one of the best MTV Cribs. The Victor looks like something out of a stylized music video. Perhaps that's why this is the favorite haunt of celebs in the music business. With only 90 rooms including a spectacular penthouse, you can party like a rock star right on Ocean Drive. At the top of the property, enjoy a 4000 square foot indoor/outdoor penthouse accessible only by private elevator. This two bedroom, three-bath suite features a 360-degree view of South Beach and the Atlantic Ocean. The living and dining areas have plasma screen surround sound TVs and there's a hot tub out on the terrace. If you've got the budget, a penthouse party at the Victor truly is the Top of the World!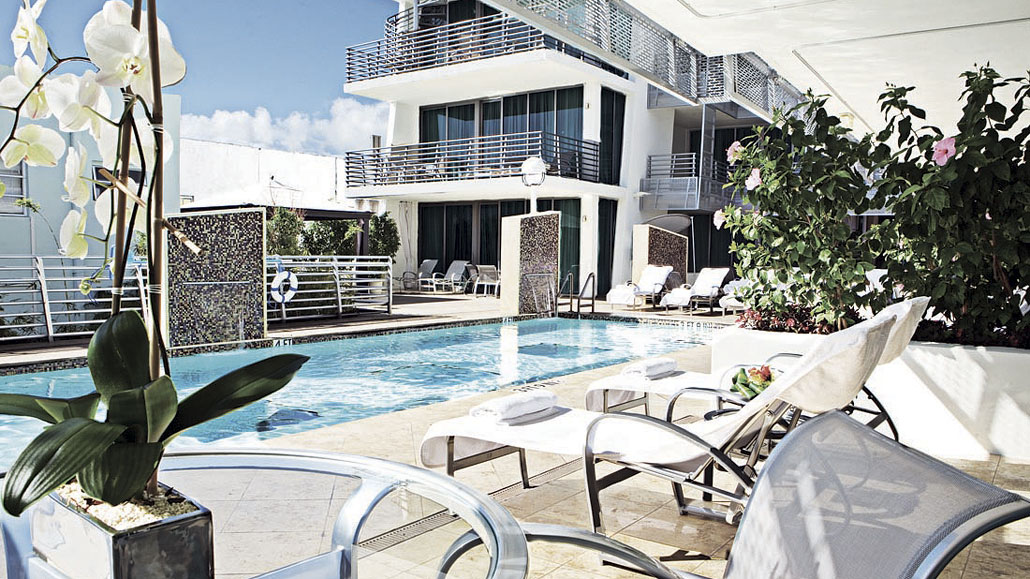 Roof top hot tubs and custom massages also figure prominently into the guest experience at the new Crowne Plaza South Beach – Z Ocean Hotel (1458 Ocean Drive). While most Ocean Drive hotels are renovated Art Deco properties, this low-rise building was designed to resemble a modern cruise ship. Each guest suite feels like the perfect apartment including gourmet kitchens and lavish baths. Taking advantage of the prime Ocean Drive location, every suite has a wrap-around terrace and some have private hot tubs overlooking the glass bottom pool. Best bet for a larger group are the suites opening onto the pool deck which offer sheer fabric drapes that slide around the patio to create an impromptu private cabana.
The Z Ocean Hotel's 5 star service staff includes butlers who can make magic happen 24 hours a day. From spa service on the secluded rooftop garden to a chef's tasting menu prepared just for the bachelorettes in your suite, no request is too extraordinary for the professionals at the Z Ocean Hotel.
South Beach Bites
We have some great ideas for group gatherings at the city's most popular cafes and lounges. Tapas lounges are everywhere on South Beach right now which makes it easy to enjoy a variety of little dishes as you make your way about town. The most fashion-forward spots are Gusto Vino & Cafe (59 West Avenue), Barceloneta (1400 20 Street), and Mayas Tapas & Grill (809 Lincoln Road). Plan a group happy hour at any of these small cafes to warm up the night before you hit the clubs. Mayas Tapas has 2 for 1 pricing weekday evenings and Gusto Vino offers a $10 karaoke ladies night with all you care to drink on Mondays, or an unlimited tapas buffet on Thursdays with cocktails and a DJ.
If the Bride to Be is interested in a wine tasting, take everyone for a Sip and Savor Night at Wine Depot & Bistro (555 Jefferson Avenue) or the cool Spanish-style hideaway Tapas y Tintos (448 Espanola Way). For a more exotic escape, try one of South Beach's Hookah Lounges where everyone can sample the fruit flavored smoke of a Middle Eastern Water Pipe. The D'vine Hookah Lounge (455 Lincoln Road) has cozy couches right on the sidewalks of Lincoln Road Mall and the Di Lido Beach Club lets you chill right by the sea (1 Lincoln Road). Top Chef Andrew Balick serves tapas and discount drinks at his "Miami Five-O" happy hour at the Di Lido Friday nights starting at 5pm. Enjoy a DJ spinning lounge music, sip champagne and feast on fresh oysters and bar bites priced by the hour at just $5 at 5pm, $6 at 6pm and so on. Sundays the girls can enjoy an old-fashioned beachfront crab boil from 4-7pm with Southern Comfort cocktails and $5 beer.
For a more Asian approach to the tapas menu, check out the Southeast Asian street food menu at Lantao Kitchen + Cocktails at the Surfcomber Hotel (1717 Collins Avenue) or Chow Down Grill, a funky Chinese restaurant & sushi bar featuring dim sum tidbits and strong tropical cocktails. Chow Down (920 Alton Road) knows how to throw a party, so every night from 4-7pm and once again from 10pm-5am there are drink specials and board games in the lounge plus great music, a DJ and a friendly clubhouse vibe. Closer to the beach, discover another sushi party spot — Bond Street Lounge at the TownHouse Hotel (150 20th Street). If the girls like sushi, no one does it better than Bond Street. From top to bottom, the TownHouse provides the perfect setting for a bachelorette hang out. Bond Street features an ultra modern party atmosphere, great food and cool music. Start out with a few nibbles and then take the group up to the rooftop lounge from 8pm – 2am to enjoy a panoramic view of South Beach from their bright red waterbeds!
Tucked away in the west side warehouse district, a number of new restaurants and bars attract local foodies and clever travelers seeking the quieter side of South Beach. Attracted by cheaper rents and a large population of condo owners, these destination restaurants can provide a group of bachelorettes a more mellow night of good food and friendly conversation. Discover an authentic taste of Spain's tapas-style dining at Barceloneta Spanish Bistro (1400 20 Street). This tiny west side haunt serves indoors and alfresco so you and the girls can eat, sample regional wines and socialize. The restaurant's owners also host adjoining restaurants Pubbelly and Pubbelly Sushi; fun places to chat and nibble on assorted appetizers of pork, seafood and Asian noodle bowls. As the evening wears on into night, walk around the corner to Purdy Lounge (1811 Purdy Avenue), a classic South Beach dive bar with reggae, rock and DJ nights – the perfect alternative to the velvet rope scene.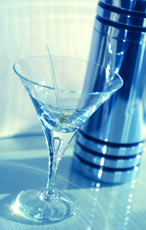 Set Yourself Free
While the rest of the world might make you feel like it's better for boys, girls rule at South Beach nightclubs where the doormen are always welcoming to unescorted girls. We've created a nightlife guide especially for the girls to guide you through the maze of clubs and lounges in South Beach. Whether you're interested in a laid-back barefoot night at Nikki Beach Club (1 Ocean Drive), a thumping round of hip hop beats at SoBe Live (1203 Washington Avenue) or dancing to the latest house music at Mansion (1235 Washington Avenue) there is always something happening on SoBe! If the velvet rope scene isn't your thing, Thursday nights at Commonwealth (1216 Washington Avenue) are a bachelorettes dream come true – you'll drink absolutely free all night long! If the bride likes a fun, casual atmosphere where there's never any attitude, pull on your favorite jeans and join the locals at this all night party spot. Rock n' roll, 80's and old school hip hop create a soundtrack that's guaranteed to keep the girls dancing until 5am.
The Morning After
You'll find that mornings are often very quiet on South Beach. While everyone sleeps off the effects of the night before, treat the girls to a casual breakfast at Big Pink (157 Collins Avenue), a gourmet diner with sidewalk seating that just happens to lead to the most popular surfer's beach. Try to focus on your fluffy omelettes and polenta fries as guys who look like they just stepped out of the Abercrombie and Fitch catalog make their way past your table. Our complete brunch guide will help you find food that's guaranteed to fight the most powerful hangover!
On Sundays, treat the group to the best brunch in the city at the Ritz-Carlton South Beach (1 Lincoln Road) where the desserts are calling your name. A table on the patio overlooking the pool provides the perfect respite from the busy day ahead. The food is fresh, tasty and really plentiful, so when they say "all you can eat," it's not difficult to overindulge.
And Don't Forget Shopping…
If you've had your fill of sun and surf, take the girls on a shopping adventure. South Beach has two concentrated areas of sidewalk strolling on lower Collins Avenue and the Lincoln Road pedestrian mall. Collins Avenue from 5th through 9th Streets is an ideal shopping destination with stores as basic as the GAP, Urban Outfitters and Banana Republic and as sophisticated as Barney's NY COOP and Armani Exchange.
For shopping, strolling and a quick pick-me-up at a sidewalk cafe, Lincoln Road pedestrian mall is as close to Main Street as you'll find on South Beach. Choose from vintage boutiques to big box department stores, art galleries to day spas. This 10 block promenade serves as the heart of the district for locals and tourists too.
If the thrill of the hunt makes your heart beat faster, take the girls on an outlet shopping day at one of the premier shopping destinations in South Florida. While the Dolphin Outlet Mall (www.shopdolphinmall.com) is closer to South Beach, the best finds are in Broward County at Sawgrass Mills Mall (www.sawgrassmillsmall.com). The latest addition to Sawgrass, the Colonade Outlets features top designer discounters from Neiman Marcus, Barneys, Burberry, Cavalli, Miss Sixty, Escada, Kate Spade, Max Mara and so much more. Both mall websites provide transportation guides so you can coordinate shuttle service for your savvy shoppers.
Bargain hunting might not appeal to your bridal brigade, but no woman can resist an afternoon of designer daydreams at the Bal Harbour Shops. This top dollar destination is just 10 minutes north of South Beach and features the biggest names in fashion. Plan an afternoon of lunch or cocktails and then check out the newest receipts at D&G, Cartier, Chanel and Bulgari. Even if your budget won't stretch to fit one more Louis Vuitton bag, a quick bite at La Gouloue or Carpaccio and a peek at those Tiffany diamonds does wonders to soothe her pre-wedding jitters.
Can You Keep a Secret?
Sun, sand, shopping and spas all fall well within the parameters of a South Beach holiday. What you need as a final bit of inspiration in planning your escape is the most important element of all – Surprise. While some might think a guy dressed as a sexy policeman who slowly shows you his own interpretation of a Moving Violation is the kind of excitement bachelorettes crave, we've decided to take the high road and give you a few pointers on some unexpected pleasures that aren't all X-rated.
Perhaps the most genteel escape is an afternoon at Miami's historic Biltmore Hotel and Spa (1200 Anastasia Avenue, www.lhw.com/Biltmore ) where a formal English tea is served weekday afternoons from 3-6pm. If the bride enjoys golf or tennis, there are 10 tennis courts and a renowned 18-hole golf course, a full service spa and one of the world's largest and most elegant swimming pools. Free walking tours of the grounds are available Sunday afternoons following one of the most popular champagne brunches in the city. Surprise everyone with a mystery limo ride from South Beach and then let the girls decide if they want to work out or relax at this lavish 1920s era resort. The hotel concierge can even arrange a complimentary horse drawn carriage ride through historic Coral Gables.
If the bride is sporty and the girls are a bit competitive, plan a night at Lucky Strike (1692 Michigan Avenue) a high tech bowling alley night club just off Lincoln Road. With a little advance planning, you can order some customized bowling shirts and goofy trophies and throw an impromptu Tournament of Champions. Pit the married girls against the single ones or the bad girls against the good… Think of a category that most suits your personalities and let the games begin! Lucky Strike has a great munchie menu and a staff of experienced party professionals who will help you plan your semi-friendly competition.
Most visitors to South Beach enjoy a 90-minute tour of the star's homes on Duck Tours South Beach aqua coach, a motorized vehicle that drives into the bay and transforms into a boat. For your surprise package, why not take everyone on a road trip to Key West? Rent a car or jump on a bus in the morning and you'll arrive in time for the famous Duval Street Pub Crawl. Enjoy fresh seafood at the waterfront Half Shell Raw Bar (231 Margaret Street) or a gourmet meal at the fabulous Marquesa Inn (600 Fleming Street). The folks at Key West Walking Tours will happily lead you on a bachelorette adventure you're not soon to forget.
Bachelorettes on South Beach have carte blanche at all of the best clubs and bars. A few telephone calls before your trip will open many doors. Research Miami's hottest clubs to see what kind of music they feature, what special performances they're scheduling and what offers they make to groups out celebrating a special event. While most visitors expect to stand in lines at the top doors, parties of single women often breeze right past the bouncers and into the fun. Be friendly, dress up, and tip generously and you'll find there's a place on every dance floor in town for you and the girls.
Once you've got your plans sorted out, we think you'll agree that South Beach just might be the vacation you and your girlfriends remember long after she says, "I do…"