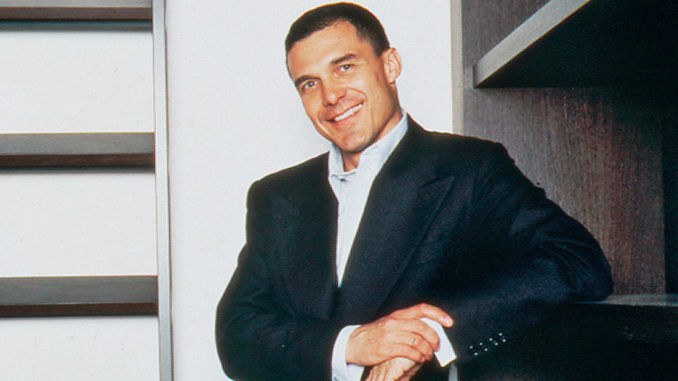 Set against the backdrop of 1940's-era fabrics, Art Deco furniture and terrazzo floors, André Balazs enters the lobby of Collins Avenue's oceanfront Raleigh hotel and is immediately accosted by a group of landscape artists seeking his opinion on recent changes to the lush gardens surrounding the hotel's gorgeous pool area.
As Balazs makes his way toward our booth in the waiting area, a guest in the hotel introduces Balazs to his daughter who has just flown into town. Just as Balazs approaches our area to begin our interview his cell phone rings, whereupon he instructs the caller to set-up a table overlooking the pool area where he will soon be dining with a special guest. Finally he shakes my hand and we sit on the plush green banquet and begin. Clearly, 46-year-old André Balazs is a very busy man.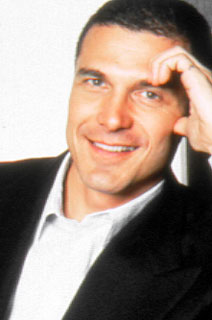 With a string of historic, boutique hotels, such as the Chateau Marmont in Hollywood, the Downtown L.A. Standard and The Mercer in SoHo, Balazs has quite a reputation to uphold, especially with his latest endeavor, the Raleigh in Miami Beach, a hotel that moves within the same realm of old-Hollywood charm and artsy chic his other properties are noted for. And as Balazs winds down from a busy Art Basel weekend in Miami Beach, we finally have a chance to explore his vision for the future of Miami Beach's Raleigh hotel.
You've been a journalist, started a medical company called Biomatrix, and owned restaurants and clubs — so, how does the son of a scientist wind up on South Beach?
I worked in journalism because I started a publishing company. And I worked in biotechnology because I started a biotechnology company. Really, I'm an entrepreneur, who, for a variety of reasons, found one area where my various other adjacent interests came together. I like starting things. I've always liked design, and I went to architecture school briefly. I went into nightclubs and restaurants before getting into hotels. I've thought about these earlier vignettes in my life and how they have come together. There's an element of journalistic aspect to the creation of a hotel — at least the ones we do. In involves researching and finding a story to the culture of the hotel.
With an empire of chic hotels from New York to St. Barths to Los Angeles, why did you choose Miami Beach as your latest conquest?
I've actually been coming to Miami Beach for quite a while. I owned a building on Eighth and Washington, a little hotel where we were going to do a restaurant about 15 years ago. I loved Miami then, but at that time I thought it was a little premature. I've always loved The Raleigh and its feel. It was a pioneer hotel here. It reminds me of the Chateau Marmont in Hollywood. I thought this property in particular had qualities that could make it a fabulous, very high-service, luxury boutique hotel. Very few of the other properties here have that quality. Unfortunately, this was not for sale until nine months ago. Ken Zarrilli, the previous owner, appreciated what we did with the Chateau and thought we could nurture The Raleigh and continue its culture.
What is the essence of a good hotel?
I think the hotels that mean the most to people are the hotels that feel like home — like your own home. For me, how you achieve that feeling is really the whole point of being an hotelier. There are many different tools to doing that: visual tools, special tools, service tools, tone and the mix of people. That combination is what makes someone feel emotional about a hotel. A good hotel is one that makes you want to come back.
How did you go about finding the soul of this hotel?
To some extent, it's a process we are still doing. It really starts with the location of the hotel. Obviously, it's South Beach, but what is South Beach? What is Miami? It has a Latino, exotic, international feel to it, so that is one aspect. Then you look at the building itself. It's sort of a restrained example of Art Deco work by L. Murray Dixon. It has a very unusual outdoor area. In 1947, Life called this "the most beautiful pool in America." Aside from that, it has one of the largest outdoor/beach areas because unlike other properties along here, it escaped developers—urges to maximize revenue by building more and more until they just ate everything.
In the 1980s, it was very much a cultural melting pot with the first gay and other cultural pioneers staying here, so it had a richness to it. Those are the basic perceptions you build upon in terms of culture. It's not in-your-face design, and it's not about the latest [trends]. It's about timelessness and comfort. Putting together a hotel is very much like assembling a perfect dinner party. It's nice to have a mix of guests, and have them enjoy each other. Together, a sort of culture emerges.
The Raleigh has been a Miami Beach showplace since the day it opened in 1940. What changes do you envision for The Raleigh?
We are dramatically improving the service. There were also a lot of physical changes — it was really very run down. It's all-new décor, and we greatly expanded the back area. Eric Ripert, our chef, is one of the few four-star chefs in America. Together we are going to create a much more expansive culinary aspect. There will be restaurant/grill-type dining outside in the back. Next season, there will also be a formal dining room in the old ballroom. There are a lot of neat changes, but I think the goal is for someone to come in and say, "Oh my god, it's so perfect. Nothing has changed!" The goal is to make it feel perfect like it is, not to make a design statement.
Your magnificent restoration of the Chateau Marmont in West Hollywood was apparently quite a task due to its precarious condition when you first acquired it. Has the Raleigh been anywhere near that level of difficulty?
We approached this in the exact same way we approached the Chateau. It was of similar vintage and had similar issues. Both are historic landmarks — the Chateau is a federal landmark, which happens to be something we work with a lot. The Mercer happens to be one the few designated historic districts in New York, so we are used to working within the historic fabric. Here, everything is a parcel of that discussion—what you keep and what you take away. In restoring a hotel like The Raleigh, what you do is take away things that messed it up. It's not so much adding, but editing out, enhancing what was there.
The Raleigh's pool has a rich history. Shortly after it opened, it was used to film some of Esther Williams' aquatic scenes, it was the subject of numerous articles, and in the early '90s, MTV used it while filming "The Grind." So, is it safe to say that the pool area under André Balazs will be used for something more than doing the backstroke?
The feel that we wanted to evoke with the pool was very much the feel of the pool from the '40s. There's a classic composition to the seating and design. The concept of how to use the pool is sort of elegant and classic. It's like a beach club.
Will Susanne Bartsch and her notoriously lavish drag parties have an on-going involvement at The Raleigh?
Susanne is an old friend. She did a party here last New Year's, but I'm not sure she will be doing something here this year. We do have a lot of events planned, because it's a very unusually large area. My friend Patrick McMullen published a book, 'so 80s,' and we had a party for him during Art Basel. We had a party for Visionaire, as well. We also did the opening party for Art Basel.
Why is this a good gathering place for people who are interested in the Arts?
I think there's something about the hotel that is sophisticated and appeals to people who buy art or are artists. At the Chateau in L.A., we have a very longstanding, loyal clientele of writers, director and the creative community. I feel there's something similar at The Raleigh. It's a mindset that takes you back. It's not an in-your-face attitude. It's casual.
In your opinion, what makes The Raleigh stand out when compared to hotels like the Shore Club and the Delano?
I think those are our two main competitors and in the end, I hope service will make us stand out — the tone of the service. We are a much smaller hotel and that changes the atmosphere. We have a much bigger pool area, more grounds, more outdoors, but we are actually a smaller hotel. It's a cultural difference, too. I also think the tone of the ownership travels through the staff. It's just different. I don't even know how to characterize it, but I do know a lot of people are very passionate about how they characterize the difference.
Tell me about your plans for renovating The Lido Spa here in Miami Beach.
I bought it about nine months ago. We are renovating it right now. It's going to be a Standard Hotel and it's going to be a spa — it should open in late spring/early summer.
I know you were involved with nightclubs in the past. Do you have any nightclub plans for South Beach?
[…laughing…] No, I don't think I have an interest in opening a club anywhere — except in conjunction with a lounge in a hotel…
How will The Raleigh play into South Beach's future?
I hope it becomes the hotel of choice for sophisticated people who expect luxury on a certain level, space and service. When I say sophisticated, I mean people who are culturally sophisticated, know themselves and have a rich inner life.