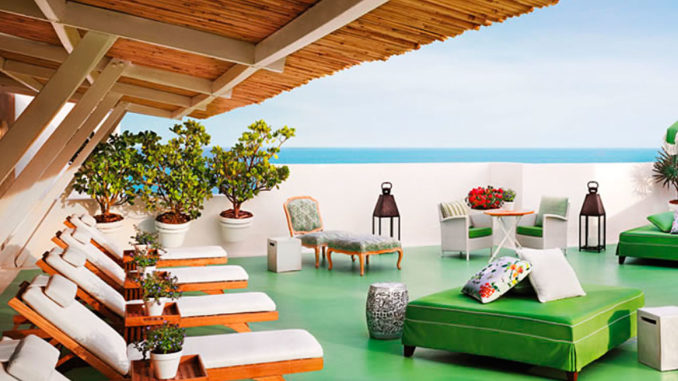 Perched in a pristine and peaceful penthouse complex at the Delano hotel in Miami Beach, Agua Spa has risen from humble beginnings and modest ambitions to emerge as one of the world's premier facilities of its kind.
Launched quietly at the opening of the infamous boutique hotel in July 1995, Agua was originally conceived as a women's bath house by Rita Schrager, the wife of Delano proprietor Ian Schrager. With her friend Leila Fazel, the ex-New York City Ballet dancer and über-hospitality spouse sought a private refuge from the burgeoning madness that was model-aglitter, big-bucks South Beach.
Nearly seven years later, however, Agua has transformed itself into a full-service day spa for both men and women. Offering massages, facials, manicures, pedicures and wet treatments such as Dead Sea salt scrubs and algae wraps, the 2,500-square-foot facility features 11 treatment rooms – three massage rooms, two facial rooms, two aromatherapy rooms, two manicure stations and two wet rooms, one with Vichy shower, the other with Swiss shower.
But a key ingredient in Agua's success is that it reaches far beyond the traditional massage or spa treatment. In the now sacred names of healing and wellness, it invokes the centuries-old principles of East Indian Ayurvedic medicine, which emphasizes prevention over cure. As a result, Agua is much more than a place to get a sports massage, although that popular service is readily available.
What sets Agua apart, says New York model-turned-spa-director Jenna Ward, is a bold, innovative combination of design, ambiance, the quality of its therapists and technicians, and the spectrum of services offered from its vast roster.
The stylishly monochromatic white-on-white interior, created by Philippe Starck, the celebrated visionary who crafted the Delano's quirky and universally acclaimed public spaces, is conjured from "walls" of billowy white curtains softly illuminated by available light from windows on all four sides of the converted penthouse suite. White columns, floors, walls and ceilings complete the soothingly ethereal, other-worldly ambiance. There is also a 700-square-foot rooftop solarium painted Mediterranean blue and furnished with comfortable tanning chairs and futons. Most treatments are available outdoors or indoors.
But despite its breath-taking aesthetics, it is the A-list quality and experience of Agua's 40 licensed massage therapists and 10 other technicians that keep its most well-heeled clients – models, celebrities, titans of industry – coming back. "What people like that really need is a place where they can relax," says Ward, who transformed her own high-stress life through the study of Eastern philosophy with an Indian guru in the early 1990's. "Our goal is to create an environment where they can experience something within themselves they don't ordinarily get a chance to experience."
Emotional release, Ward says, can be accomplished with a wide range of treatments and techniques, from a Reiki massage to an Eve Lom facial – Agua is the only spa in the U.S. that provides the highly-regarded Londoner's holistic and revolutionary approach to skin care. "Her philosophy is that you can actually help your body function better by moving lymph around and cleaning out your system," says Ward. "It also reduces the bags under your eyes and enables your system to operate better by draining all the toxins you accumulate from eating too many fatty foods and drinking too much."
Agua's list of massage options includes every major discipline, from Swedish and Shiatsu to cranio-sacral, Reiki, reflexology and neuromuscular.
The spa's signature body treatment is a Milk & Honey, available for either an hour or a half-hour. A mixture of warm organic sesame oil – a traditional ingredient in Ayurvedic medicine – and organic honey is massaged into the body. It is then removed with a rinse of warm milk. The result is a deep hydration of the skin, meant to be left on overnight without showering.
A popular package is a Milk & Honey combined with a salt scrub or an algae wrap. "The two treatments complement one another because they both detoxify and re-mineralize your system," says Ward.
Other popular treatments include another European facial by Biologique; a "manual lift" facial that uses massage to tighten and tone the muscles of the face; a collagen eye mask; a half-hour neck and scalp massage; acupuncture; guided meditation; tai chi; qi gong and a 90-minute yoga class, available at the David Barton Gym in the hotel. Massages are also available in tents by the Delano's swimming pool.
For spa director Ward, watching the evolution of Agua's services over the past six years has been a revelation. "What is most amazing and rewarding to me is to see people learn that it is possible to change their lives," she says. Today, she says, stress reduction and self-realization are high priorities for high achievers – and the results can often be awe-inspiring. She offers the powerful example of corporate CEO's who attended a Delano retreat for advertisers hosted by Heart Magazines and featuring writer Carolyn Myss, author of Anatomy of a Spirit. Ward saw corporate chiefs reduced to tears by the spontaneous release of emotions. "If you can open up their hearts for a millisecond, then the door is open for change," Ward observes. "People at a certain level have done just about everything and when they bump into this kind of insight it's because they're ready for it. That's an understanding that shifted my whole way of looking at the world."