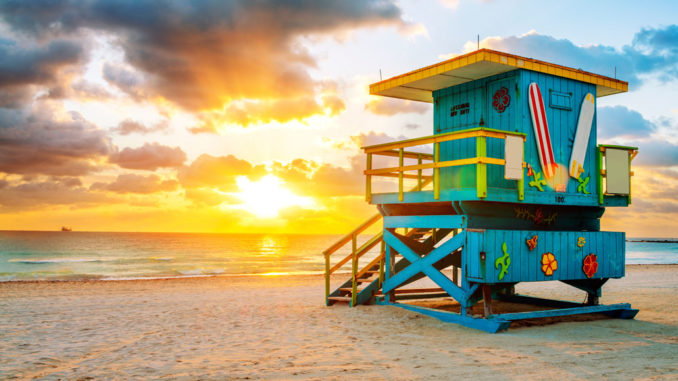 In sultry and pulsating South Beach, the fun is non-stop from white-sand beaches to international bistros. With a slew of hotels, restaurants and bars sitting across the street from the ocean, it's definitely an adult entertainment Mecca. Interested in surfers and other thrill seekers? These creatures tend to congregate around 1st to 5th streets. (Watch out for reckless jet skiers in this area, though). Topless women? All over and as easy to spot as a hip-hop artist and his entourage in one of the nearby clubs? VIP rooms. And where else but in South Beach will you see pastel-colored lifeguard stands?
Despite its reputation as a trendy hot spot, South Beach is also a fun beach for families. The preferred area for families is from 6th Street up to 11th Street. Chairs and umbrellas are available for rent from stands located across much of this area ($20 for an umbrella and 2 lounge chairs). Adjacent to the beach is a paved area where rollerblades, bicycles, and scooters are welcome. Volleyball nets are set up at all times. A wide portion of the beach is hard packed sand, which is great for ball games, playing Frisbee, and kite flying. Every few blocks at the beach entrances are showers.
Negatives: Ok, so the restrooms are filthy, parking is a hassle on metered streets and the private lots are a rip-off—so just park in one of the many city garages along Collins Avenue and hold it until you get home.
Find more info on Miami's best beaches here.