In a nondescript 40,000-square-foot Miami warehouse that once served as a Drug Enforcement Administration storage facility for cocaine and cash seized from drug dealers, one of the city's most acclaimed treasures, and best-kept secrets, is having a seismic impact on its evolution as a cultural center. Although the Rubell family art collection, which features some of the edgiest and most important contemporary work of the last 30 years, is not on any tourist maps of Miami's finest attractions, the Northwest 29th Street building with the caged entrance attracts an average of 200 visitors per week. And what they see, usually on leisurely individual tours conducted by the curator or one of the Rubells themselves, is an astonishingly original manifestation of the power of art to provoke debate and prompt social intercourse.
For example, pieces in the collection address a vast spectrum of vita issues, from theories of sculpture that date back to the Renaissance, to fascinating questions about the nature of creativity and originality. Even more important, perhaps, a pair of paintings from the Rubell collection can single-handedly inject a credible mediation in art-related political disputes as timely as ex-New York Mayor Rudolph Giuliani's philosophical altercation several years ago with the Brooklyn Museum of Art over elephant dung as a decorative motif.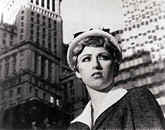 More significantly, though, the Rubell collection, which contains 1,500 pieces by celebrated artists including Keith Haring, Peter Halley, Damien Hirst, David Salle and Cindy Sherman, as well as important local talents such as 62-year-old African-American folk artist Purvis Young, is a representation of every major influence in contemporary art over the last three decades. It includes paintings, sculptures, drawings, photographs, installation and videos. Fifteen exhibition spaces have concrete floors and corrugated metal ceilings that evoke the aesthetic and ambiance of an artist's studio. Quite simply, the Rubell collection is a monument to contemporary art.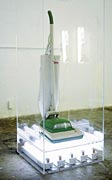 "It serves the important movements in contemporary art in the last 30 years and it's probably one of the most complete surveys in the U.S.," says Bill Begert, who served as curator for one year before departing for New York. Begert cites minimalism, neo-expressionism, neo-geo, photography and identity politics as the art movements best exemplified by the body of work the Rubells' father Don, mother Mera, and children Jennifer and Jason, have lovingly assembled by seeking out the small studios of emerging but undiscovered artists in the U.S., Europe, Africa, Asia and Latin America.
Much to their credit, the Rubells did not use their wealth, largely inherited from the 1989 AIDS-related death of Don's brother, Studio 54 co-creator Steve Rubell, to do the obvious as new collectors and buy expensive, universally-acclaimed works by the masters. "It's very easy to buy Impressionist paintings," says Don Rubell, a 61-year-old, Brooklyn-born former obstetrician who met his future wife in the library of Brooklyn College in 1962. Soon thereafter, the couple began collecting art with a $50 investment in a piece found during a European summer vacation. After that, they established a $25 a month budget for collecting original art. Ten years later, they crossed an important benchmark as serious collectors when they invested in a painting by young Italian artist Francesco Clemente.

Today, the Rubell collection, almost invariably bought from the artists at the earliest stages of their careers, is celebrated in art circles around the world. And Don Rubell enthusiastically points to the fact that they made their reputation without ever buying a single piece by an already "established" artist, much less a master. That's just too easy, he says. "You buy your Picasso, then you buy your Matisse, then you buy right through Duchamps and Pollack," he says. "It is more challenging and certainly more interesting to pursue these artists before they were considered Impressionists and to meet the artists. The uniqueness of this collection is not that we have objects from each of these periods. The uniqueness arises from the idea that we have pursued and obtained these objects at the earliest moments, before the definitions of these objects were clear."
One thing is abundantly clear. Prescience in the world of art can be quite lucrative. For example, 20 years ago the Rubells invested $25 in a black-and-white photograph by Cindy Sherman, whose work injects the artist into scenes from famous movies. Today, the picture, which is reminiscent of Alfred Hitchcock's The Birds, is assessed at $250,000.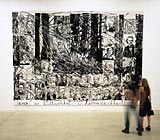 Don Rubell likes to point out that all art is contemporary art at the time it is being created. "A historical master was once a contemporary artist, whose only advantage was probably that he's been dead longer than some of the other contemporary artists," he says. "But every artist was a contemporary artist in his time. No one was born an old master."
In fact, he says, it was often the early work of the masters that was actually the best and most enduring. He cites the example of Rembrandt. "Early Rembrandts were the most popular paintings he did. Those were his social works. When he became what we call quote-unquote the good Rembrandt, he fell completely out of favor."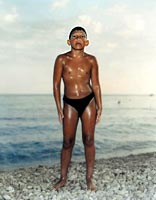 Today, Don Rubell and his family have taken on a passionate collective mission to ensure that the most important artists since 1970 never fall out of favor. It is a highly-personal quest, without any constraints from public funding, corporate grants, sponsors or even a board of directors. Put simply, the Rubells can do whatever they want and their tastes run the gamut of the key influences in contemporary art.
Along the way, art has brought the well-educated family closer together. The children are now largely responsible for the collection. Daughter Jennifer, who earned an art history degree from Harvard before relocating to Miami in the mid-1990's at the age of 25, works with her 31-year-old brother Jason, who earned an art history degree at Duke after launching his first art collection at 14.
In its current incarnation, the Rubell art collection addresses a number of important and controversial issues that are often in the headlines. A perfect example is the extremely controversial work of black artist Chris Ofili, who lives in London. The Rubell collection contains a pair of beautiful, elegant, haunting pieces by the man who created the "elephant dung" school of art so reviled a while back by former New York Mayor Rudolph Guliani, who proclaimed that Ofili's work defamed the Virgin Mary by having the offending dung smeared across her personage.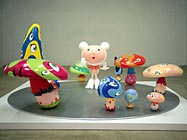 According to the Rubells and their former curator, nothing could be further from the truth. "The Virgin Mary piece the mayor talked about was a very beautiful, highly worked and developed painting that involved many layers of paint, resin, glitter and collage elements," says former Rubell curator Bill Begert. "It emphatically was not smeared or splattered with dung as the ex-mayor of New York presented it. That was a total misrepresentation, a lie."
In fact, says Begert, noting the two Ofili pieces in the Rubell collection, dung is almost sacred in the artist's native African culture. "You heat your house and cook with it," he says. "It's part of the cycle of life. It isn't just excrement."
But, Begert says, the Ofili-Giuliani incident demonstrates that "the amazing thing about art is that it can play whatever role you want it to play. So, for Giuliani, it played the role of being the perfect illustration of the decadence of art."
Another Rubell collection artist who ignites fierce debate is photographer Sherrie Levine, whose 1987 black-and-white print "Untitled (After Alexander Rodchenko)" is merely a photograph of the Russian master's original photograph. Levine's work intentionally provokes a furious debate over the very nature, and definition, of creativity and originality.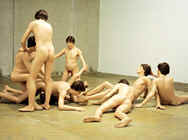 A 1992 sculpture by Charles Ray, titled "Oh Charley, Charley, Charley," consists of eight cast-fiberglass nude males all made in the image of the artist. The work blends homoerotica and egomania, while solving artistic riddles about sculpture that date back centuries.
For such courage and vision, the Rubell collection is praised by art experts.
"Everyone in the art world who comes through Miami goes through the Rubell collection," says art gallery owner Fred Snitzer, one of the pioneers of the now burgeoning Miami art scene.
Bonnie Clearwater, director of the Miami Museum of Contemporary Art (MOCA), says the Rubell collection has had a major impact on Miami as an art destination. "I have been working with a lot of young artists in Miami," she says. "And a lot of the, have pointed to the fact that it's important to them to have the Rubell collection here."
The Rubell art collection is located at 95 Northwest 29th Street in Miami. The exhibit, which is changed twice a year, is open Wednesday through Sunday  from 10 a.m. to 6 p.m. Admission is $5 for adults and $2.50 for students, seniors and anyone under 18. Special tours can be arranged at other times. For more information, call (305) 573-6090 or inquire via e-mail at rubellcollection@mindspring.com.