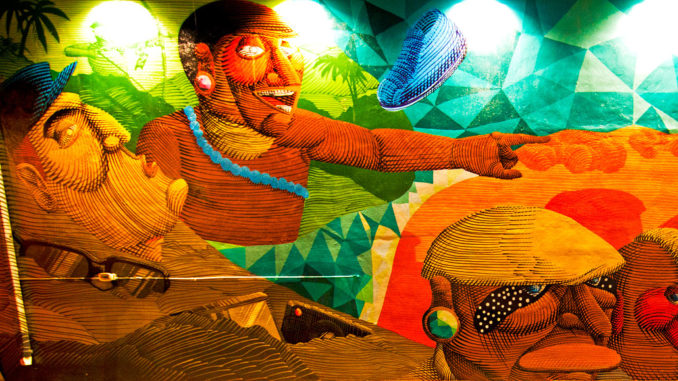 While Miami holidays can be all about swaying palms and frozen drinks, some travelers may want to spend a little time exploring the cultural aspects of South Florida, so we've compiled an easy A to Z guide to the Arts in Miami…
ART DECO WELCOME CENTER / 1001 Ocean Drive, Miami Beach / 305-672-2014
The first stop for any visit to South Beach's Art Deco District should be the Art Deco Welcome Center at 10th Street and Ocean Drive where the friendly folks from the Miami Design Preservation League (mdpl.org) have established an ad hoc concierge service to help facilitate getting to know Miami Beach! The landmark building is full of information, colorful brochures and event guides. A daily 90-minute Walking Tour of the area hotels, restaurants and historically significant structures kicks off at 10:30am with an additional evening tour Thursdays at 6:30pm. Reservations are not required so long as you arrive around 20 minutes before the start time.
ART CENTER SOUTH FLORIDA / 800 Lincoln Road, Miami Beach / 305-674-8278
Creating the cultural hub of Lincoln Road Mall, Art Center/South Florida is home to some of South Beach's most talented young artists who enjoy affordable art classes and studio space in the heart of the busy shopping district. Dedicated to the advancement of contemporary art, the bright and airy gallery space showcases important new works and offers visitors a glimpse of projects currently in progress with impromptu studio tours staged by the craftsmen in residence. As part of an established plan to spread cultural opportunities throughout the community, works from the Art Center are also exhibited all over Miami Beach in storefront gallery windows adjoining many Walgreens pharmacies.
BASS MUSEUM of ART / 2100 Collins Avenue, Miami Beach / 305-673-7530
A comprehensive collection of historic and contemporary art resides at the BASS Museum of Art (www.bassmuseum.org/calendar/) in the littoral Collins Park District – a newly renovated cultural arts park facing 21 Street Beach. Experience the unique cultural programming designed to inspire art lovers and families who are challenged to make the cultural connections between historic and modern works. Exhibits include Important Antiquities, Renaissance, Baroque and Rococo Art, North and South American Painting & Sculpture, Asian Art, European Decorative Objects and so much more.
COLONY THEATER / 1040 Lincoln Road / Miami Beach, FL / (305) 674-1040
The city-owned, 465-seat Colony Theater, originally built in the 1930s (Art Deco, of course) by Paramount Pictures as a movie theater, is now used to showcase live performances and film festivals. Eartha Kitt, Spalding Gray, Sandra Bernhard, Lypsinka and Ru Paul have all graced its stage, as have numerous local dance companies. The annual South Beach Film Festival, and the Winter Shorts Film Festival are usually held here, and the theater has recently opened that necessary if not sufficient Lincoln Road staple, the outdoor Café which features coffee, desserts, liqueurs and a full bar for those post-performance critical chats.
FILLMORE MIAMI BEACH at the Jackie Gleason Theater / 1700 Washington Ave / Miami Beach, FL / (305) 673-7300
Originally called the Miami Beach Auditorium when it was built in 1950, in 1987 the theater was renamed in honor of Jackie Gleason, who moved to Miami Beach in 1964 in search of a year-round golfing climate and recorded his The Jackie Gleason Show from the Auditorium. This season marks the 50th anniversary of the theater, whose lobby will showcase images of the theater through the years.
JEWISH MUSEUM of FLORIDA / 301 Washington Avenue, Miami Beach / 305-672-5933
The Jewish Cultural Heritage of Florida is carefully documented and celebrated by the scholars at Florida International University at the Jewish Museum of Florida on South Beach. Focused upon the Jewish experience in Florida and more global issues of discrimination and cultural dynamics, the museum is a center for research, education and community outreach. Collections include a historic timeline wall, more than 600 photographs, documents and artifacts of the era, audio-visual presentations as well as the building in which most of the collection is housed – a 1936 landmark synagogue with 77 stained glass windows, a marble altar and vintage Art Deco chandeliers.
MIAMI BEACH BOTANICAL GARDEN / 2000 Convention Center Dr., Miami Beach 305-673-7256
One of the most popular area attractions, The Miami Beach Botanical Garden is a free cultural destination offering adults and children access to native plants and flowers, a diverse array of palm trees and native birds plus many educational opportunities that promote green living. Serving as a backdrop for visual and performing arts, the garden is located just behind the Miami Beach Convention Center. Garden visitors can enjoy ancient cycads, bromeliads and flowering trees plus a Japanese style garden that naturally attracts dozens of butterflies. Saturday tours start at 2pm.
MIAMI CITY BALLET / 2200 Liberty Avenue / Miami Beach, FL / (305) 929-7010
The Miami City Ballet is one of the largest ballet companies in the world, featuring performances such as George Balanchine's "The Nutcracker," and a Contemporary Dance Series under the direction of Artistic Director Edward Villella.
New World Symphony / 541 Lincoln Road / Miami Beach, FL / (305) 673-3330
Since 1987, conductor and artistic director Michael Tilson Thomas has been impressing South Florida audiences with the New World Symphony, housed in the historic Lincoln Theatre on Lincoln Road and Drexel Avenue. The symphony is composed of 85 musicians who have passed a strenuous national audition. Once chosen, they are part of a three-year fellowship program that has had an impressive success rate: in 1999, 43 alumni went on to join professional symphonies nationwide.
WOLFSONIAN FIU MUSEUM / 1001 Washington Avenue, Miami Beach / 305-531-1001
One of the most unique presentations of cultural objects, the Wolfsonian FIU Museum houses the fascinating collection of Miami Beach native Mitchel Wolfson, Jr. – a man who spent his life and fortune gathering the world's treasures and bringing them back to Florida. Turning his personal obsession into a landmark cultural institution, the massive exhibit fills a former warehouse in the heart of South Beach. Be prepared to marvel at British, Dutch, German, Japanese, Italian, Celtic, and American designed objects, graphics and fine art plus all manner of curiosities and rare books. Ideal for teens who may not appreciate traditional art museums, this place is simply filled top to bottom with really interesting stuff.
WYNWOOD / DESIGN DISTRICT / NW Second Avenue & NW 40 Street, Miami / 305-722-7100
There seems to be no stopping the surge in growth of adjoining Miami neighborhoods Wynwood and the Design District where crowds of hipsters, fashionistas and art lovers flock to check out art galleries, quirky taverns and a brand new group of top designer stores. Inspired in part by the adoration of the Art Basel Miami Beach crowds, these once forgotten stretches of Downtown Miami are now thriving with monthly Art + Design Walks (www.wynwoodartwalk.com), weekly bicycle tours and plenty of online buzz. While Wynwood is best navigated during Second Saturday evenings (when many galleries host open house parties), the Design District (www.miamidesigndistrict.net) remains a daytime destination; a designer shopping mall filled with furniture showrooms and top European luxury brands like Louis Vuitton, Prada and Hermes.
WYNWOOD ARTS DISTRICT / Art Galleries in Miami
Abba Fine Art
A. Dale Nally Studio
Alejandra Von Hartz Gallery
Alma Fine Art
Area 23 Galeria
Art Fusion Gallery
Art Nouveau Gallery
Black Square Gallery
Buzzart
Charest-Weinberg Gallery
Curator's Voice Art Project
David Castillo
D & G Art Design Gallery
Diana Lowenstein Fine Arts
Dina Mitrani Gallery
Dorsch Gallery
Dot Fiftyone Gallery
Durban Segnini Gallery
Emmanuel Javogue Fine Art
Fredric Snitzer Gallery
Galerie Helene Lamarque
Gallery 212
Gallery Diet
Gary Nader Fine Art
Gregg Shienbaum Fine Art
Hardcore Art Contemporary Space
Harold Golen Gallery
Juan Ruiz Galeria
Ka.Be. Contemporary
Kavachnina Contemporary
Kelly Roy Gallery
KIWI Arts Group
Lelia Mordoch Gallery
Locust Projects
The Lunch Box Gallery
Lyle O. Reitzel Gallery
MAC Art
Myra Galleries
N'Namdi Contemporary
Now Contemporary Art
O. Ascanio Gallery
OHWOW
Once Arts Gallery
PanAmerican ArtProjects
Robert Fontaine Gallery
Sammer Gallery
Waltman Ortega Fine Art
Yeelen Art Gallery
Zadok GalleryOther Wynwood Art Venues…
Bakehouse Art Complex
The Margulies Collection at the Warehouse
Rubell Family Collection
World Class Boxing – Scholl Collection
Wynwood Walls