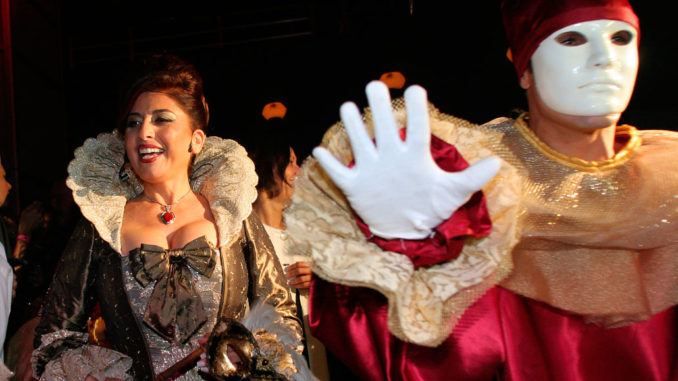 Miami Beach continues to achieve excellence in the field of cultural arts with world-class organizations such as the New World Symphony and the Bass Museum calling the Beach their home. City officials have given special consideration to cultural organizations that appeal to the broad range of residents and visitors that frequent Miami Beach.
Art Center South Florida
800 Lincoln Road / Miami Beach, FL / (305) 674-8278
Created in 1984 by a small group of beach artists, Lincoln Road's very own artists? colony, Art Center South Florida is a 60,000 square-foot space with 52 open artist studios. The center is now supported by the city and features the works of numerous local artists, as well as ongoing classes in painting, drawing and photography. There is also a Lincoln Road Gallery Walk on the second Saturday of every month, 7p.m.-11p.m. (And the center knows how to throw a good bash.)
Bass Museum of Art
2121 Park Avenue / Miami Beach, FL / (305) 673-7530
Designed in 1930 by Russell Pancoast, the architect grandson of John A. Collins (as in Collins Avenue), the Art Deco Bass Museum of Art structure was originally a library. Japanese architect Arata Isozaki, who has designed new spaces for the Los Angeles Museum of Contemporary Art, the Guggenheim Museum SoHo, and the Brooklyn Museum of Art, has redesigned the Bass to provide more than three times its original exhibition space. The new museum will include an outdoor sculpture terrace, café and museum shop, and it will be equipped to exhibit both its permanent collection of European and American paintings and sculptures, and collections on loan. Before it closed for renovations, the Bass drew crowds for its exhibit of the dark, brooding works of Maxim Kantor and of Liza Lou's meticulously hand-beaded sculptures, portraits, and installations.
Colony Theater
1040 Lincoln Road / Miami Beach, FL / (305) 674-1040
The city-owned, 465-seat Colony Theater, originally built in the 1930s (Art Deco, of course) by Paramount Pictures as a movie theater, is now used to showcase live performances and film festivals. Eartha Kitt, Spalding Gray, Sandra Bernhard, Lypsinka and Ru Paul have all graced its stage, as have numerous local dance companies. The annual South Beach Film Festival, and the Winter Shorts Film Festival are usually held here, and the theater has recently opened that necessary if not sufficient Lincoln Road staple, the outdoor Café which features coffee, desserts, liqueurs and a full bar for those post-performance critical chats.
Fillmore Miami Beach at the Jackie Gleason Theater
1700 Washington Ave / Miami Beach, FL / (305) 673-7300
Originally called the Miami Beach Auditorium when it was built in 1950, in 1987 the theater was renamed in honor of Jackie Gleason, who moved to Miami Beach in 1964 in search of a year-round golfing climate and recorded his The Jackie Gleason Show from the Auditorium. This season marks the 50th anniversary of the theater, whose lobby will showcase images of the theater through the years.
Miami City Ballet
2200 Liberty Avenue / Miami Beach, FL / (305) 929-7010
The Miami City Ballet is one of the largest ballet companies in the world, featuring performances such as George Balanchine's "The Nutcracker," and a Contemporary Dance Series under the direction of Artistic Director Edward Villella.
New World Symphony
541 Lincoln Road / Miami Beach, FL / (305) 673-3330
Since 1987, conductor and artistic director Michael Tilson Thomas has been impressing South Florida audiences with the New World Symphony, housed in the historic Lincoln Theatre on Lincoln Road and Drexel Avenue. The symphony is composed of 85 musicians who have passed a strenuous national audition. Once chosen, they are part of a three-year fellowship program that has had an impressive success rate: in 1999, 43 alumni went on to join professional symphonies nationwide.
Wolfsonian Museum
1001 Washington Avenue / Miami Beach, FL / (305) 531-1001
Founded in 1986, the Wolfsonian Museum joined forces with Florida International University in 1997, and specializes in art and design from 1885-1945. Curated by Cathy Leff, the museum owns over 70,000 objects d'art. As part of the university, its aim is to educate by providing a way of glimpsing history and tracing the evolution of North American and European culture and technology. The Wolfsonian also publishes the annual Journal of Decorative and Propaganda Arts. This year's theme is Florida, with a collection of essays on the history and culture of the state. The building itself, while easily bypassed in the bustle of Washington Avenue, features an extraordinary interior and is worth a rainy-day visit even if the particular collection on display does not tempt.