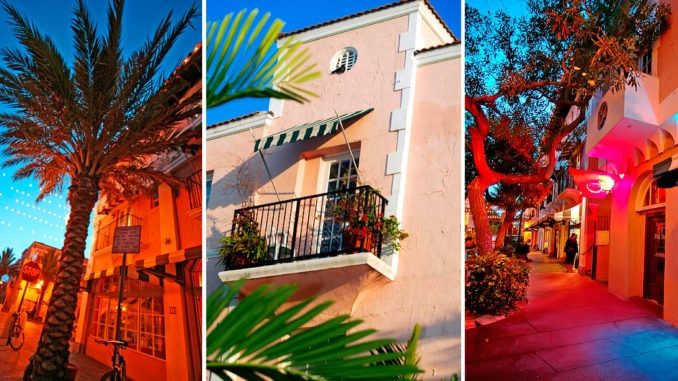 Quaint but gritty, picturesque yet terminally bohemian right down to its peach-colored paint, Miami Beach's Espanola Way is a slice of history served with a touch of culture. North of 14th Street between Washington and Pennsylvania Avenues, Espanola Way's kitschy European-inspired buildings stand seemingly untouched by the newfangled ways of the new millennium.
What started out in the early 1920s as a meeting place for the wealthy—a destination for dining and dancing in the streets—has come full circle, and along the way, Espanola Way has seen the sun rise and set over vastly different iterations of Miami Beach than the one that exists today. From legendary tales of gangsters running gambling organizations on the street to the '80s boom of the area as a popular backdrop for numerous films and TV shows like Miami Vice, the infamous stories of Espanola Way are as colorful as the area's Art Deco architecture.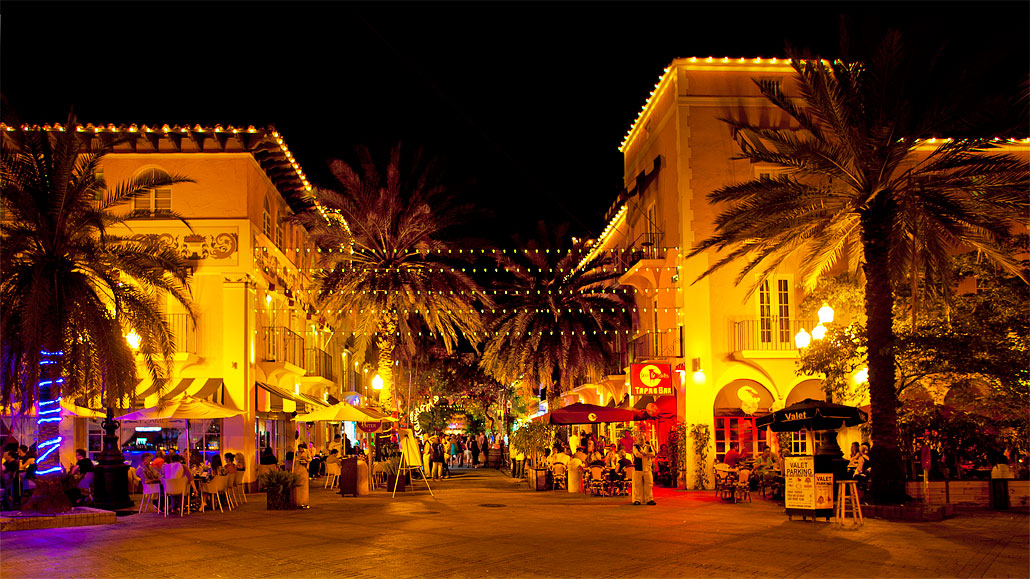 Conceived by N.B.T. Roney (of Roney Palace) and William Whitman (the father of Stanley, the owner of Bal Harbour Shops), The Historic Spanish Village, better known as Espanola Way, was modeled after artistic and romantic Mediterranean villages in Paris and Spain. While the area was originally intended for Miami Beach's high society, the 1920s brought about rough conditions as gangsters like the infamous Al Capone used the Clay Hotel for gambling.
In the 1930s, the scene moved more toward its original vision, and Espanola Way became known for its rumba beat. But the happy-go-lucky vibe of the street faded over the decades, and the 1970s ushered in a very different era. Instead of street parties and all-night affairs, Espanola Way became a dilapidated disaster, as did much of its Art Deco surroundings.
But in the early 1980s, efforts of pioneers like Linda Polansky helped shape Miami Beach as we know it today, particularly Espanola Way. "Miami Beach was absolutely at the bottom. I met a lady named Barbara Capitman and she had this vision of restoring all of these dilapidated buildings. We freaked out about the possibility and the potential of renovating and restoring this area," Polansky says.

During the process, Polansky bought the entire south side of Espanola Way, extending from Washington Avenue down to the end of Drexel Avenue. She set her sights on making the Clay Hotel the crown jewel of the area. As well, she transformed the hotel into a partial hostel. 'metaphorically, "I feel that I came in and turned on the light. The place was in absolute darkness. Nobody really understood the beauty," Polansky explains. "Everyone was painting their buildings beige or brown."
Polansky's radical idea to give the Clay Hotel a peach hue occurred at nearly the same time Mel Bourne happened to the area. As the production designer of the new show Miami Vice, Bourne showed an intense interest in Espanola Way. After scouting the area, Bourne returned with Michael Mann and Don Johnson. The team sat down with Polansky and told her about their idea. "They explained to me what Miami Vice was going to be. At the time I wanted to paint my building peach and since Bourne was the set designer, I asked if there were some peach colors he would like to recommend," Polansky exclaims. "He gave me a book with 1,000 different colors of peach!" Soon afterward, the group quickly became friends and Espanola Way became the site of the first and last episodes of the show, as well as 10 episodes in between.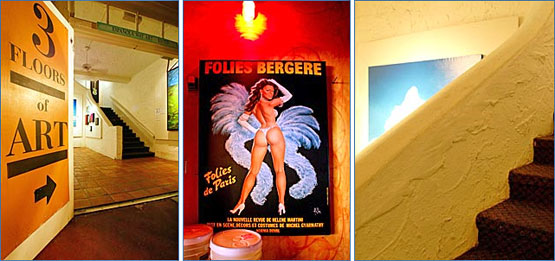 With the creatives behind Miami Vice showing such interest in the area, Espanola Way assumed an edge. The area had been discovered by Hollywood and would go on to appear in numerous films like Chains of Gold with John Travolta and The Birdcage. It would also serve as a background in product advertisements like Dunhill and music videos by Elton John and Miami Vice's Johnson. "Those were exciting moments," Polansky admits, "when other people were discovering the beauty we had already seen."
Today those who pass by the strip discover the charm of Espanola Way time and time again. On any given Saturday or Sunday, a leisurely stroll down Espanola Way lends to the sights and sounds of a marketplace. Vendors selling flowers, handmade semi-precious stone jewelry, sunglasses and light-weight dresses hawk their wares on the street.
Bohemian outdoor cafes like A La Folie are abuzz with patrons indulging in crepes and chatting at sidewalk tables. The restaurant's owner Olivier Corre, who opened the French cafe three and a half years ago, hails from Paris. He says he chose Espanola Way for its character and charm. "my place is more like a cafe than a restaurant, so people can go there and just sip coffee and read magazines. I'm also the only authentic French place and one of the most relaxing, also one of the most affordable," Corre explains.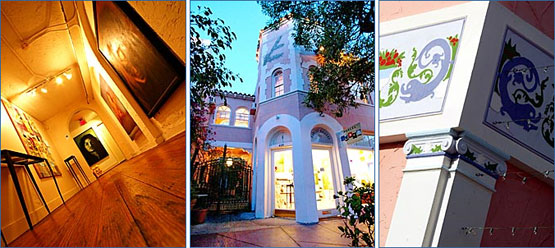 Authentic cuisine at restaurants like A La Folie adds to the sights, sounds and flavor of Espanola Way. Other eateries like the Italian Hosteria Romana, the Spanish flare of Tapas & Tintos and the authentic Mexican of Oh! Mexico add culture to the cuisine.
Art galleries like Espanola Way Art Center and Marcel Gallery expand on the subject of culture by bringing art to the street. After 19 years in the same location, Marcel Gallery has endured the many changes of Espanola Way. Artist Pierre Marcel came to Miami Beach in 1986 to paint murals for a cafe on Lincoln Road. After a successful stint in the renovation and faux finish business, Marcel transitioned into fine art. Since then, his gallery has existed solely on Espanola Way. Originally chosen for its character, color and charm, owner Howard Levine suggests the gallery is practically an historic landmark on the street because "every other retail venue, with the exception of the Clay Hotel, has passed through many incarnations, while the gallery has endured."
Those numerous incarnations lead to a rich past, and each space carries its own unique history. The shaded cozy nook on Espanola Way where Synergy Yoga Center stands was once the art studio of well-known artist Kenny Scharf. Seven decades before it was his studio, the secluded spot was a private residence. 'someone stopped by once wanting to see it. They had lived there in the 1930s and 1940s," explains October Rose, one of the owners of Synergy. Since 1996, Synergy has been a house of meditation, offering a variety of yoga classes like ashtanga, vinyasa and power yoga. October Rose and the center's founder, Gaia Budhai, confess the atmosphere of their location is what truly drew them in. "We love it, because it is the most charming street in Miami Beach, with its Mediterranean look and the fact that you can find anything here."
Considering the many businesses on Espanola Way, each location embodies the bohemian culture of its surroundings. At Contesta Rock Hair, you can view a one-of-a-kind piece of art and get a rock-n-roll-inspired doo.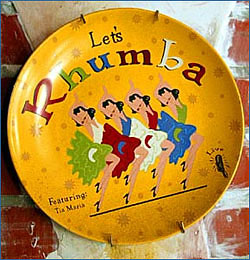 At Miami Beach Cinematheque and Gallery, guests can take in art films sponsored by the Miami Beach Film Society, which brings film festivals and independent features to the area. And while shoppers try on colorful, lightweight, free-flowing garments at Debbie Katz South Beach, they can find out just how the designer got started on Espanola Way. "Debbie Katz started making and selling her clothes in the outdoor market here six years ago," co-owner Judith Ozer says. As time progressed and the popularity of Debbie Katz's dresses grew, she decided to open her own space. "She chose Espanola Way as the place to open Debbie Katz because the clothes were born on Espanola Way in concept and production. They were originally manufactured upstairs on this street until the end if last year. It's the most historical and charming street in Miami Beach, and it's perfect for boutique-style outlets," Ozer says.
Like many of the shops on Espanola Way, the area's vibe is unique. "It's just a very relaxed funky, fun-filled atmosphere," Ozer states. "We get people from all walks of life and from all over the world." This broad span of visitors is something Linda Polansky attributes to the architecture. "Architecture is highly important because it is the foundation on which everything else is built. You can try to build a great vibe in a brand new shopping center and maybe you will succeed in some areas, but some people like to experience the history in a way that they can really feel it happened," Polansky says. "Espanola Way really embodies the history of Miami Beach. It was one of the first [group of] buildings built, and it's been lovingly restored over 25 years."
Remaining a draw for both tourist and locals is something Espanola Way's preservationists put their heart and soul into. Says Ozer, "We must keep our historical places sacred or they will disappear. So much of Florida's history has blown away in storms or been bulldozed. Whatever is special to our past should and must be preserved." Polansky agrees. "I knew that when I bought the building it was the architecture that was important to save and develop," she says.
And development is something the area will see a lot of. In addition to the recent $900,000 streetscape renovations Espanola Way underwent, there are plans to connect Espanola Way to Lincoln Road via Drexel Avenue by creating a 10-foot walkway for pedestrians. There are also plans to build a fountain in the Plaza de Espana. The fountain will come as a gift from the South of Spain, where Miami Beach has its sister city. These changes, as Ozer points out, are something the community is embracing. "There's a lot being done to promote and bring more people here so they know how special this little alcove is in Miami Beach."