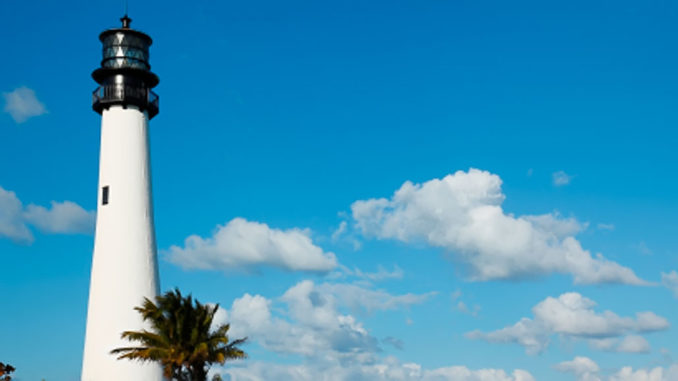 Hurricane Andrew did a number on this jewel a decade ago, but nature is remarkable for its self-healing powers. Located at the very end of Key Biscayne, this beach is once again a mostly shady favorite with families for its plentiful barbecue grills, picnic tables, play areas and restrooms. Also a favorite for those seeking relaxation. This is one quiet (read: non–pretentious) spot.
Aside from offering a great family beach, this state recreation area is home to the Cape Florida Lighthouse, originally built shortly after Florida became a U.S. territory in 1821. Located at the end of the Atlantic facing beach portion of the park, the lighthouse survived the Second Seminole War and the Civil War. Lighthouse tours are conducted Thursday—Monday at 10 a.m. and 1 p.m.. You won't want to miss the Lighthouse Cafe (open daily 9am-6 pm) offering traditional fare, such as chicken fingers and hamburgers, but also offers dolphin sandwiches, stone crab (in season), grilled shrimp and seafood pasta.
Currently ranked the #9 Best Beach in the nation by Dr. Beach, Bill Baggs Florida State Park is consistently ranked among the top ten beaches in the United States. Many like to rent bikes on the beach and explore the park. Look for skate and watercraft rentals as well. There's a $1 toll to access Key Biscayne and parking is in abundance at $4 per vehicle.
Find more info on Miami's best beaches here.