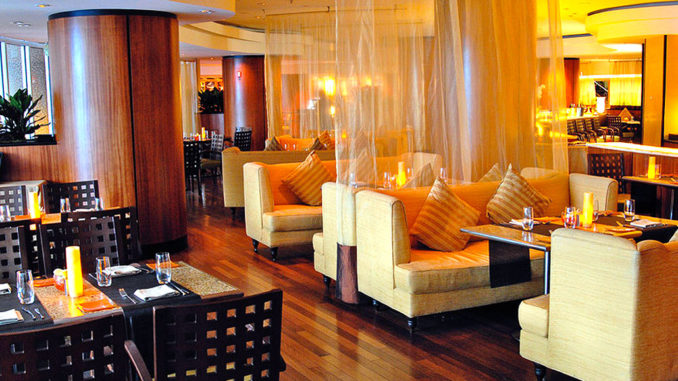 Miami Beach's Lincoln Road stretches from the Atlantic Ocean to Biscayne Bay and features some of the best and most popular restaurants and bars in town. Whether you're looking for a fine dining experience or a fast casual meal, the sidewalk cafes and sleek dining rooms that populate the shopping district offer something for every palate and budget. Here is an overview of the very best Lincoln Road restaurants you won't want to miss…
1 Lincoln Road, Miami Beach, FL
The Ritz Carlton South Beach sits at the intersection of Lincoln Road Mall and the sea offering guests an ideal location for a South Beach getaway.
The hotel offers a serene oceanfront escape and easy access to the heart of the action. While hotel restaurants can often feel stuffy and traditional, Bistro One works hard to dispel that notion with indoor and al fresco seating, a dazzling Sunday brunch buffet and friendly outgoing servers. The hotel's Di Lido Beach Club is popular for afternoon beachside service and Bistro One opens up to the spacious pool deck for all day dining.
Executive Chef Anthony Le Pape updates classic American fare with fresh local produce and an obvious respect for the essential flavors of quality ingredients. The kitchen and waitstaff work seamlessly to provide guests with a lively atmosphere by day and a romantic interlude in the evening when the dining room's sparkling accents and superb art collection serve as the perfect backdrop for dinner for two. Locals favor the champagne soaked Sunday brunch buffet which features fresh seafood, shrimp and oysters as well as sushi, a vodka and caviar bar, a carving station and an awesome variety of desserts.
600 Lincoln Road, Miami Beach, FL
A popular chain of Asian fusion eateries, the SushiSamba experience takes you from Japan to Brazil to Peru and back while you shop, dine and play on Lincoln Road Mall. Thousands of Japanese once traveled to South America to work in agriculture and that combined heritage informs the menu at SushiSamba.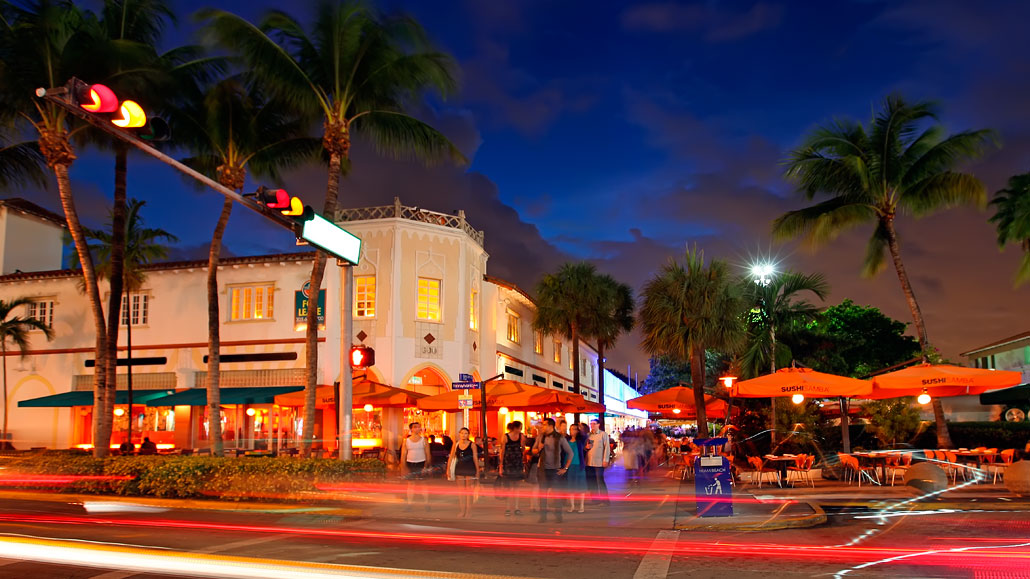 With a shared love of fresh seafood, bright spices and artful presentations the intersection of ceviche and sashimi is truly remarkable. Enjoy a small plate tapas meal, a few light bites with a tropical cocktail or a full dinner that starts with miso soup and ends with grilled steaks, a whole crispy snapper or churros and hot chocolate.
Originally opened in New York City, the unique combination of traditional dishes and innovative fare has inspired five locations throughout the country. The South Beach branch is popular for midday snacks for busy shoppers and late night parties with signature drinks and cosplay costumes. If you like Japanese Manga and Anime, stop by Tuesdays around midnight to meet some of the trickiest trendsetters in town. Sunday brunch is a sweet and savory compilation of fresh baked pastry, arepas and eggs, churrasco steak with garlicky chimichurri and raw bar selections spiked with cilantro, habanero peppers and tangy lemongrass. SushiSamba gives Asian fusion cuisine a unique South Beach beat!
700 Lincoln Road, Miami Beach, FL
Sidewalk dining on Lincoln Road is a many splendored thing. With such an interesting variety of shops and an equally enchanting cast of characters wandering around the promenade throughout the day, finding a ringside seat at a good restaurant to watch the world go by can be the highlight of the meal.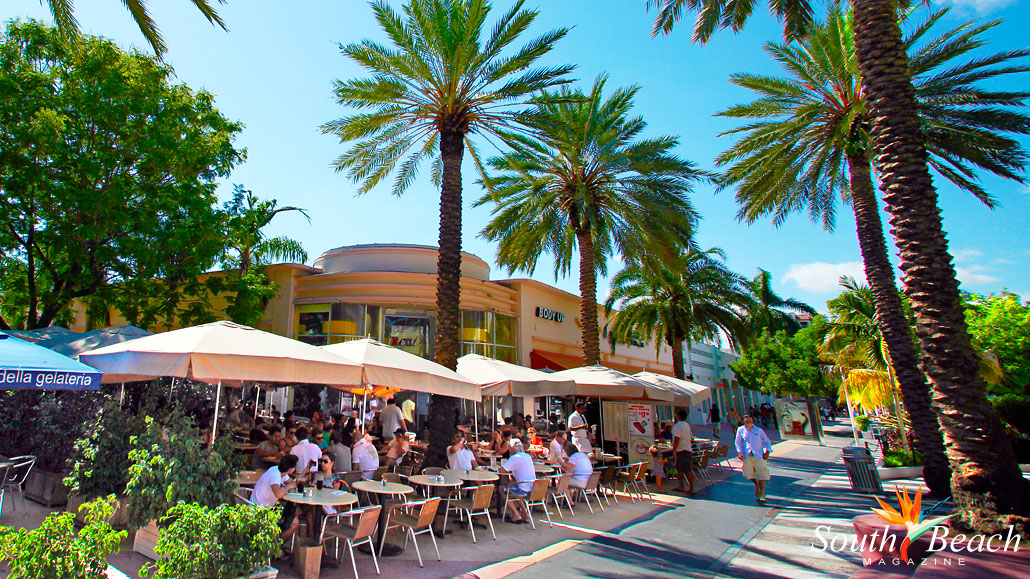 Nexxt Cafe achieves a loyal following by offering huge portions of American diner style comfort food and artfully prepared pastries overlooking busy Euclid Circle at the heart of the Mall.
Popular for brunch and easy meals with kids, Nexxt has been compared to Cheesecake Factory for it's impressive variety of overstuffed plates and appealing traditional offerings like pizza, burgers and towering piles of fries. A few tables inside the restaurant offer a cool respite on steamy South Beach days, but the majority of seats line the sidewalks on the mall under the shade of large market umbrellas. Frequently crowded, the overtaxed waitstaff do all they can to expedite service, but it is tough to sort out who wants a quick meal and who has landed for an afternoon respite of drinks and people watching. Smart diners should probably let their waiter know if time is of the essence. Otherwise, sit back, relax and enjoy.
915 Lincoln Road, Miami Beach, FL
Executive Chef Sean Brasel crafts a unique fusion of steak, seafood and sizzling atmosphere to make his Meat Market restaurant one of the most desired destinations on Lincoln Road Mall.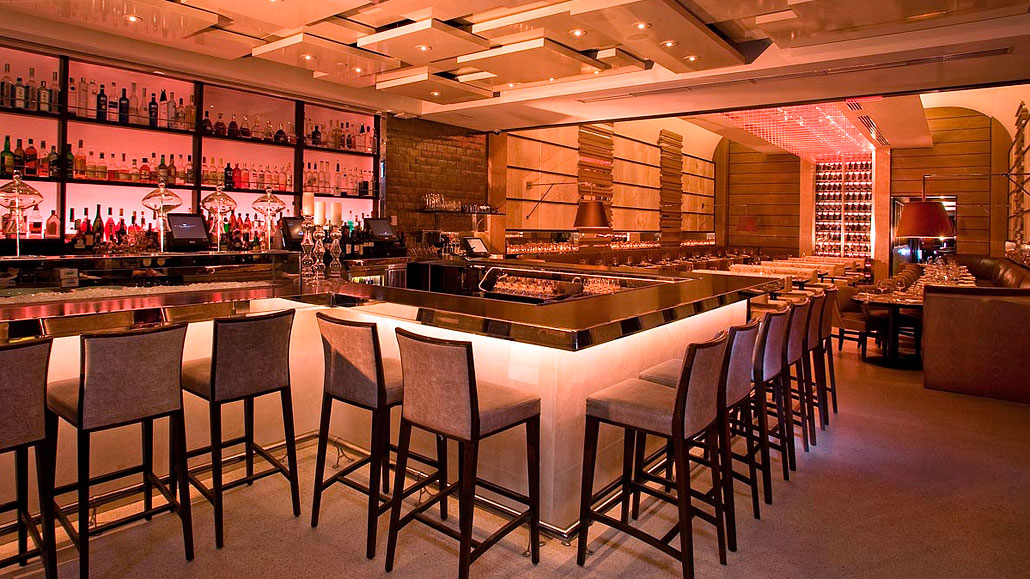 South Beach has so many expensive steakhouses it is tough to distinguish one from another. The management team behind Meat Market incorporates a Crudo Bar that serves the freshest seafood, an old fashioned cocktail bar with dedicated mixologists, and offers guests a choice of the sleek dining lounge or sidewalk tables to see and be seen.
Fine dining on South Beach requires a delicate balance of sophistication and casual elegance. To appeal to an international clientele, restaurants must maintain a sense of style, use high quality ingredients and create an atmosphere that is welcoming to locals and tourists. Meat Market achieves this difficult task with friendly service, a menu that includes local produce, Kobe beef, prime steaks, American buffalo and then pairs the upscale entrees with goofy gouda tater tots that are simply out of this world. Perhaps the chef's willingness to punctuate his menu with fun and familiar accents makes the overall dining experience such a genuine pleasure.
1014 Lincoln Road, Miami Beach, FL
Italian food at it's best is simple, rustic and redolent of garlic and good olive oil. Perhaps the highest compliment an Italian chef can receive is to be compared to someone's fond memories of family cooking.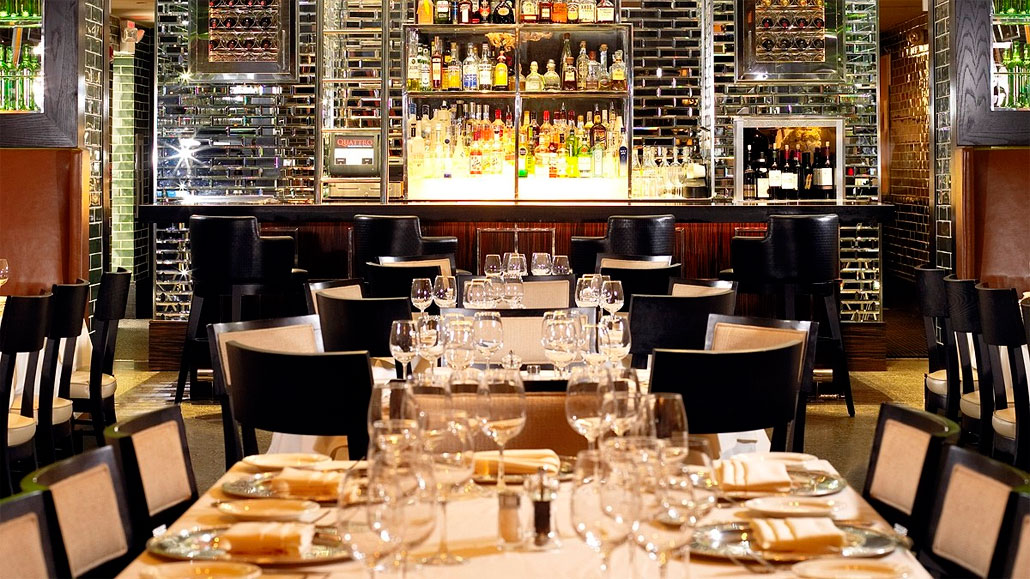 While Quattro Gastronomia Italiana offers elegant dining service and more casual sidewalk seating, the chefs still capture that home made essence that makes an Italian meal feel like the warm embrace of something longed for and familiar. The restaurant is sleek and sparkling with double-height ceilings, a towering wine bar and impeccable service.
Founded in 2006, Quattro  brings authentic northern Italian cuisine to South Beach by deftly fusing fresh local ingredients with the best imported products from Italy's fertile agricultural Piedmont region. Famous for fine wines, tender beef, and the arborio rice used in risotto, regional Italian cooking reaches bold new heights at this popular Lincoln Road restaurant. Northern Italian cuisine is lighter, brighter and celebrates the freshness of the ingredients rather than covering them with heavy tomato sauces that are more popular in the south. Fresh burrata cheese, tender veal and house-made pastas start the meal which might include scallops of chicken, veal or beef tenderloin with fresh herbs, imported cheese and fresh seasonal vegetables. Be sure to save room for the airy chestnut mousse or zabaglione for dessert.
1022 Lincoln Road, Miami Beach, FL
Since 1997, United Kingdom import Balans Cafe has enjoyed a special significance for locals and visitors who gather under the shaded sidewalk tables to enjoy a delicious variety of satisfying dishes served from early morning until well past midnight.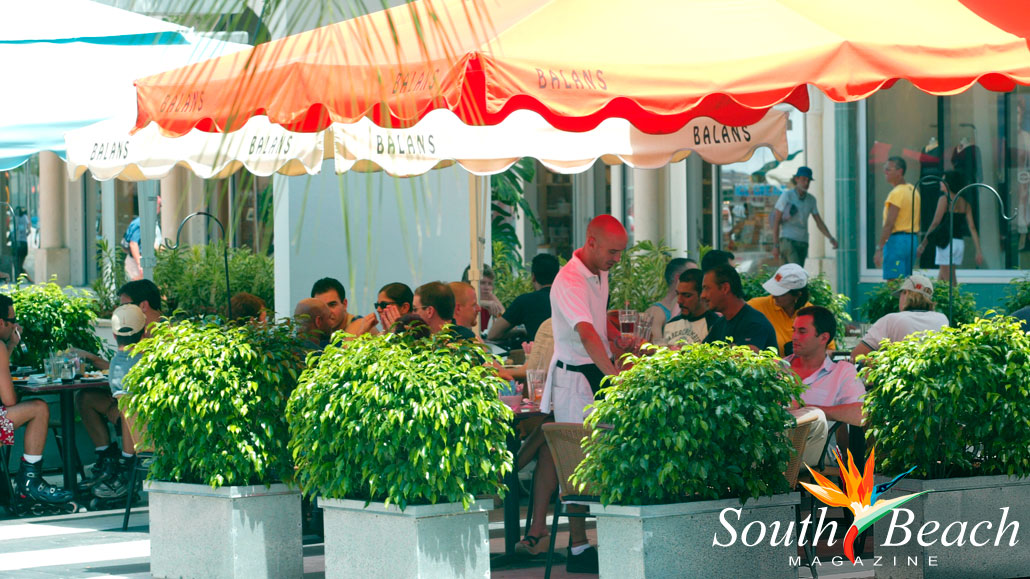 Early risers can enjoy a traditional "English Fry" breakfast, a spicy egg burrito with chorizo sausage, berry-topped pancakes or a perfect eggs benedict. As the day wears on, the menu shifts to light bites to pair with a cocktail, summer-fresh salads and pastas or a plate of curry and a steak. The kitchen may start with it's roots in England, but the local influences are a welcome addition to the menu.
House signature cocktails make the Lincoln Road bistro a popular spot at happy hour when pineapple spiked mojitos, electric lemonade and pear martinis share space on the bar with Pimm's Cup, Guinness Stout and Newcastle Brown Ale.  Guests can enjoy two-for-one pricing from 4-7pm weekdays though competition for a table in the afternoon can be daunting. New locations on Brickell Avenue and the Biscayne Corridor confirm that the unique mix of continental cuisine, friendly service and a thoughtfully presented wine and cocktail menu makes for a successful venture in a town with very aggressive competition. Balans offers something for everyone and serves it with a charming English accent.
1040 Lincoln Road, Miami Beach, FL
The coffee bar that launched a thousand South Beach stories got it's start on the west end of Lincoln Mall where exhausted shoppers and gorgeous locals meet and mingle all day long.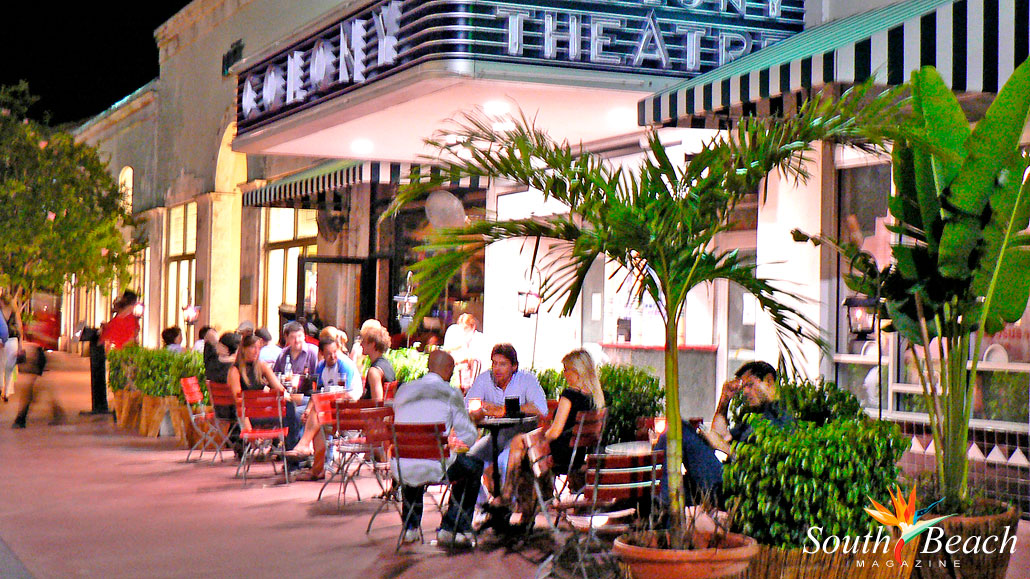 Ten years later, Segafredo is the most sought after meeting spot for theater-goers, movie dates, ladies who lunch and models between go-sees on South Beach. The layout is a rather deliberately haphazard mix of sofas, tables and easy chairs spread around a mosaic fountain in the center of the busy mall. By the time you have shopped, walked and people-watched your way from Collins Avenue to the far end of the action, this European style cafe is like a welcoming oasis of coffee, cocktails and interesting snacks.
Enjoy pizzas, bruschetta, seasonal salads and sandwiches in the company of tuckered out toddlers and pampered pets. Segafredo has a full liquor bar, an artful variety of signature tropical cocktails and champagne drinks to relax and revive you after a long work out at the shops. Service is friendly and familiar and the expectation that you might linger a while keeps the pace as unhurried as an afternoon in Rome. For a quick pick me up or an afternoon of la dolce vita, Segafredo is the coffee bar you'll wish you had back home.
Standby for more top Lincoln Road restaurants coming soon!