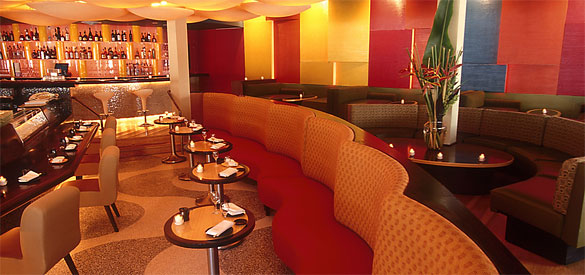 SushiSamba is inspired by the SAMBADROMO in Rio de Janiero, the city where Brazil's annual Carnaval convenes. At the center of SushiSamba Dromo is the sushi bar, where diners can order traditional sushi and sushi rolls, as well as Samba Rolls, signature Sashimi Seviche and Tiradito (a modern Peruvian-inspired sashimi dish similar to seviche, but without vegetables).
Try the Yellowtail Sashimi Seviche with ginger, garlic and soy, or a tiradito such as Tuna with lemon and fuji apple vinaigrette. Also from the sushi bar adventurous diners can try the Japanese delicacy, Sawagani, a small, bite-sized river crab flown in live from Japan, flash fried, shell and all. Oysters, clams and other raw bar specialties will also be available. Complementing the sushi bar is the samba kitchen, which offers a hybrid of Brazilian, Peruvian and Japanese dishes.
Appetizers such as Beef Tenderloin Tataki Salad, with daikon, carrot, habanero-tobiko and ponzu, as well as Tuna Cana, seared yellowfin marinated in sugarcane juice and soy sauce with tatsoi, palmito and fresh orange, range from $7 – $14.  Entrees ranging from $17 – $39 include Crispy Whole Red Snapper served with coconut rice, spicy red curry sauce and wakame and Moqueca Mista, a stew of bacalhau, shrimp, octopus and pitu in coconut milk, served with chimichurri rice.
A natural fit for the area's international diners and night-life aficionados, SushiSamba Dromo brings innovative food and a lively ambiance to Miami Beach.
600 Lincoln Road
Miami Beach, FL 33139
(305) 673-5337
Price: $$$
Attire: Casual