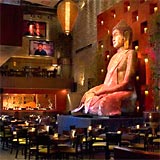 If you stand on the corner of Miami Beach's Lincoln Road and Drexel Avenue and look to the southeast, you can still see the structure that housed the screen of one of the finest movie theaters in the country, the Beach Theatre. It's been decades since this movie palace ran its last feature, but now a new vibe is coming to 420 Lincoln Road in the form of the ritzy TAO Restaurant & Lounge.
Miami Beach will be the third in a series of upscale TAO eateries that include East 58th Street in New York and another at the Venetian Resort Hotel & Casino in Las Vegas, all of which operate under the watchful eye of TAO's signature 20-foot tall golden Buddha statues.
With staff members that are often compared to runway models, TAO restaurants have been characterized as glamorous nightclubs with extensive appetizer menus. This highly targeted business plan has produced great success for their organization, as TAO Las Vegas is reported to be the highest grossing independent restaurant in the country, handily beating out number two Tavern on the Green in New York. TAO's high concept attitude combined with Miami Beach's penchant for nightlife would appear to be a match made in heaven. Design work for the new 200-seat TAO Restaurant & Lounge is being completed by one of Miami's premier firms, Kobi Karp Architecture & Interior Design, which commands an impressive roster of commercial mixed-use, residential multi-family and interior design projects including the W Hotel, The Strand, Starwood Diplomat West and Paramount Bay.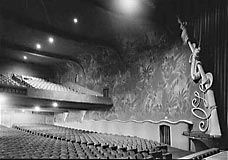 The Beach Theatre was built in 1941 for owner Moses Ginsberg by the firm of Pereira & Pereira. Famed Miami architect Robert Law Weed gave the multi-level, 1800-seat interior a breezy, tropical look that included aquariums built into the marble walls that lined the lobby. For a time the Beach Theatre was owned by the Brandt family which also owns the former Cinema Theater where Mansion is located today.
For a brief period in 1992 the Beach Theatre was a nightclub called "The Institute" operated by the Turchin brothers of Club Nu fame. The club fronted as an art gallery which charged admission to the gallery then gave out free beer inside, however, it was ultimately ruled a "dance club" and shut it down. In recent times the theater's former lobby was partitioned into a bank and various other uses.
Lincoln Road's landmark Beach Theatre may be gone forever, but TAO Restaurant's glamorous approach to fine dining promises to fill the void quite nicely.