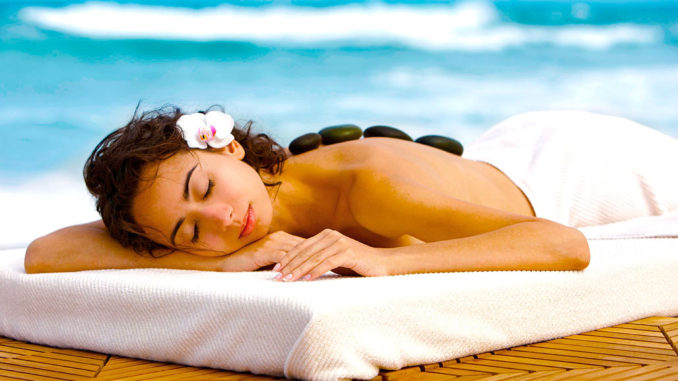 A visit to Miami can be an extra relaxing experience if you spend a little time in the pampering hands of a licensed therapist at one of Miami's fabulous spas where all of your stress can be melted away with massage, steam, aromatherapy and focused relaxation. As an added bonus, your winter weary body can get a vacation-ready glow in just a few blissful hours.
BLISS at the W South Beach Hotel / 2201 Collins Avenue, South Beach / 305-938-3000
A great addition to the South Beach spa scene is Bliss at the W South Beach where the remedy for whatever ails you is but a moment away. Registered guests find an array of Bliss products tucked away in their bathrooms so the healing can begin with the very first shower. For the rest of us there are Triple Oxygen Treatments, tension busting Blissage massages, soothing pedicures and skincare services designed to help remedy the damages of winter weather on hair and skin in a matter of minutes. If you would rather retreat to the privacy of your own bath and recharge on your own, all of the Bliss products are on sale at the spa desk.
South Beach Spa at the Ritz-Carlton South Beach Hotel /1 Lincoln Road, South Beach / 786-276-4090
Experience the luxury of a day at the South Beach Spa at the Ritz-Carlton where the European wellness and beauty products designed by La Maison de Beauté Carita help create a pampering escape. The spa has 14 treatment suites and two couples' lounges where you and someone special can get tandem massages and spend some quality time relaxing together. A great option for a girl's getaway, the beauty salon at the spa offers Bubbles & Blowouts, a champagne soaked night of hair styling, mani/pedis and bonding for you and your BFFs.
Club Essentia Wellness Retreat at the Delano /1685 Collins Avenue, South Beach / 305-674-6100
Tucked away in the penthouse level of the swank Delano Hotel, Club Essentia Wellness Retreat at the Delano is a 3,500 square foot oasis of relaxation including medically supervised preventative aging procedures like Viora laser treatments, Botox, dermal fillers and cellular therapy tailored to your personal needs. More than a traditional spa, Essentia augments the usual therapies like massage, body wraps and facials with state of the art medical procedures designed to improve your overall appearance.
Elemis Spa at the Loews Miami Beach Hotel /1601 Collins Avenue, Miami Beach / 305-695-3400
Bringing the best of London to South Beach, the Elemis Spa at the Loews Miami Beach offers hotel guests and day spa visitors an 18,000 square foot retreat where they can work out, chill out and even meditate overlooking the Atlantic Ocean. With 16 private treatment rooms, a calming lounge and an oceanfront terrace, the Elemis Spa offers hydrotherapy, hair and skin care treatments plus a full service beauty salon under one roof. Located in the St. Moritz Spa Tower, the Loews coordinates group spa outings, wedding day services and will craft a pampering spa weekend just for you.
Lapis Spa at the Fontainebleau Hotel /4441 Collins Avenue, Miami Beach / 305-674-4772
For hedonists who believe that bigger is always better, the Lapis Spa at the Fontainebleau stands ready to make all of your pampering dreams come true. 48,000 square feet of fitness and facials and massages and blowouts are all surrounded by nine swimming pools and the Atlantic surf which you are welcome to enjoy as part of your salon or spa purchase. Turns out it is easy to feel like a celebrity or VIP at the Fontainebleau starting with early morning yoga classes and weekday discounts on many treatments if you book before 3pm. Highlights of the Lapis experience include the Water Ritual Journey of mineral whirlpools, energy showers, relaxing rain tunnels, and a co-ed soaking pool. Retreat into the steamy reaches of the Hammam for a eucalyptus detox and then recharge with a fresh fruit juice in the lounge. Day passes start at just $35.