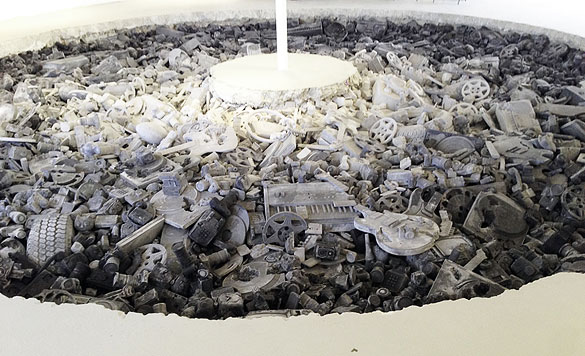 "Ashes to Ashes, Dust to Dust…" Anglican Book of Common Prayer
The Miami Design District is home to Locust Projects, a not-for-profit exhibition space where artists are encouraged to explore site-specific installations that break the bounds of our notion of art. As the cutting edge gallery readies for Art Basel 2014, the floor of the main room was excavated by artist Daniel Arsham (born 1980, Cleveland, OH) who cites his experiences as a survivor of Miami's Hurricane Andrew as a profound influence on the way he sees the world. Emerging from his family home to witness the storm's wreckage, the young artist became acutely aware of the fragile nature of all the objects we hold dear.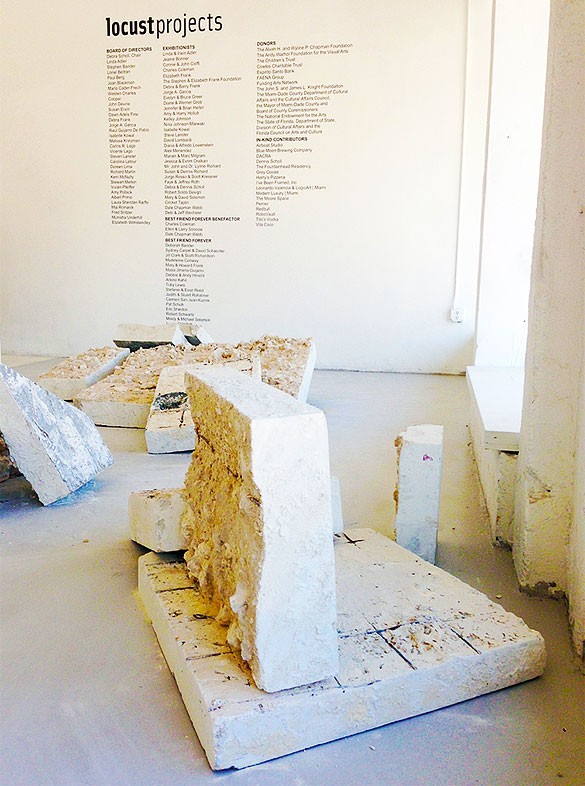 A massive circle in the floor of the central gallery was jackhammered to a depth of some 4 feet to reveal the infrastructure of the concrete and rebar below. Into this raw space, the artist has placed all manner of contemporary media devices like telephones, cameras and electric guitars fabricated out of volcanic ash to create a sense of modern archeology. Peering into the void, the observer can find VHS tapes, broken blackberries and boom boxes that speak to our fickle quest for the latest technology. Drawing visitors into the installation entitled, "Welcome to the Future," the Locust Projects lobby is filled with the jagged pieces of what was once the ground beneath our feet.
Recalling a trip he took to the Easter Islands, the artist stood at the edge of the excavation to discuss how he felt watching a team of archeolgists delicately unearthing ancient artifacts. Moved by a sense of the confluence of time, Arsham came back to Miami to craft a sculptural work that encompasses our own history rendered in ash, crystal and other minerals.
Locust Projects is located at 3852 North Miami Avenue on the western edge of Miami's Design District. The current exhibit, featuring works by Daniel Arsham, Ron Terada and Simon Vega, opens to the public Saturday, November 15 at 7:30pm.
photos: John Lacko