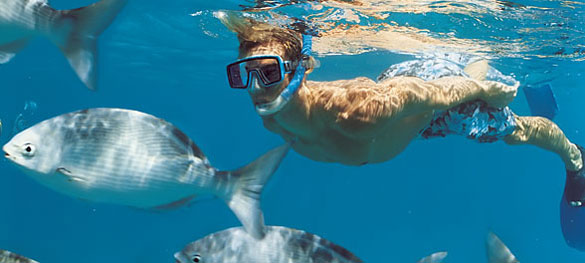 No matter who you are, no matter where you live – everyone needs a vacation. And if you're a New Yorker vacationing in Miami Beach (like me), you'll want to take in everything you can during your time in the South Florida sun.
So this summer when vacation time rolled around, I rang up all my Miami Beach gal-pals and we headed south to Key West. Sure, it was mid-summer and the temp was approximately 5,000 degrees in South Florida, but right about the time we dropped our bags in the sand and the wind rustled through the palm trees (cue the Jimmy Buffet soundtrack) we knew euphoric bliss was on its way. Here's a look at the trip and what you'll see.
To get going take U.S. 1 (South Dixie Highway) south from Miami to…
MileMarker 29 / FLORIDA CITY
The vast mangrove swamp that covers the entire southern Florida mainland begins just south of town. Notice the huge metal pipe that runs alongside the road. This is the lifeline of the keys where there's no fresh water except rainwater and the water that's brought in by this pipeline. When you cross the Jewfish Creek Bridge, you'll be out on the Keys to begin your 107-mile voyage out to sea on the longest ocean-going highway in the world. You'll also be on Key Largo and you'll reach…
MileMarker 51 / JOHN PENNEKAMP CORAL REEF STATE PARK
This is the first undersea park in the continental United States. The park includes a living coral reef offshore in the Atlantic, 21 miles long and 3 miles wide. Glass-bottom boat tours of the reef, lasting an hour and a half, give a fine view of the thousands of exotic tropical fish that frequent the reef. Old wrecks from the days of the Spanish Main may also be seen. Skin diving and underwater photography are encouraged but spear fishing and shooting or hunting on the mainland are forbidden. Pole-and-line fishing is allowed. A fine nature trail through the jungle is part of the shore installation. Admission per car is charged to the park, which is open every day from 8 a.m. to sunset.
Proceeding south, you'll be in territory that until 1912 could only be reached by boat. In that year Henry M. Flagler's railroad was opened to Key West across the islands. A severe hurricane and an accompanying massive tidal wave washed the railroad out to sea in September, 1935. The federal government took over the right-of-way for the Overseas Highway, which was opened in 1938. Drive south on the highway (still U.S. 1) to…
MileMarker 70 / TREASURE HARBOR
This was pirate country a few centuries ago, with Plantation Key and the south portion of Key Largo as favorite pirate haunts. At McKee's Museum here, mementos such as doubloons, jewelry and 75-lb. silver ingots are on exhibit, dating from the days when the pirates were raiding and sinking Spanish galleons. Other relics on exhibit include the remains of ships sunk either by pirates or by hurricanes. The museum is open every day from 8:00 to 6; admission is charged. Continue southwest over numerous bridges to…
MileMarker 74 / ISLAMORADA
A bone-fishing center, this town on Upper Matecumbe Key has several restaurants where the unique Keys cuisine may be sampled. Green turtle chowder and steaks and a wide variety of dishes prepared from the shellfish known as conch (pronounced "conk" on these Keys) make unusual meals. During the 1935 hurricane, more than 600 highway construction workers were killed. A monument to their memory is adjacent to the highway to the left just south of town. The Theater of the Sea is 21/2 miles north. Here trained dolphins and sea lions perform. It is open 8 to 5; admission is charged. Drive south across several keys noted for their fine fishing to…
MileMarker 110 / MARATHON
A busy sports fishing and shrimp boat port is here. From the south end of town, the longest bridge on the Overseas Highway extends seven miles across open water to the next key. Then on to…
MileMarker 118 / BAHIA HONDA STATE PARK
It offers tent and trailer camping on 74 acres with a beach, and a small charge for electricity. The campgrounds afford a view of one of the world's most unusual bridges. The original railroad bridge had a high, arched superstructure which was wide enough for a single-track railroad but too narrow to permit a road to go through. So the highway zooms up and over the curved top of the 75 ft. high superstructures. It affords striking views of the changing color of the waters of the ocean to the left and the gulf to the right as you cross Bahia Honda ("Deep Bay"). Continue south to…
MileMarker 127 / BIG PINE KEY
This is the haunt of the tiny Key deer beautiful animals about the size of an Airedale dog. Dawn or dusk is the best time to see them, especially on the side roads of Big Pine Key. The keys cluster closely, with numerous short bridges between them, from here to the next stop…
MileMarker 158 / KEY WEST
This quaint old island city is just 90 miles across the Florida Straits from Havana, Cuba. Over three centuries old, it has never known frost. In the 1840's, it was the wealthiest city per capita in the United States, but in 1933, it was among the poorest. The big Naval Air Station north of town, the submarine base on its southern end, commercial fishing, and tourism are the principal industries of this isolated island town. A "Conch Tour Train" affords a convenient way of seeing the city. (Admission is charged). It starts at Mallory Square and makes four trips daily (9 a.m. and 11 a.m. and 1:30 and 3:30 p.m.) It covers some 14 miles, with a lecturing guide in charge. The city's buildings and old forts are visited, as well as such unusual sights as the turtle kraals, where the big green monsters are kept after their capture. There's only one road across the keys; so you return the way you came.
Let's start with the traditional tourist stuff first…
HOG'S BREATH SALOON
400 Front St.
800.826.6969
HogsBreath.com
This is a well-known tourist hangout that deserves at least a walk-through and a shot at the bar. How could you possibly pass up a place with a tagline like "Hog's Breath is better than no breath at all!" Check out their website for upcoming events – they host everything from homemade bikini contests to a song writers' festival.
GREEN PARROT BAR
601 Whitehead St
305.294.6133
GreenParrot.com
A landmark since 1890, the Parrot prides itself on being is the first and last bar on US 1. Expect great drinks, bad art, a working jukebox, pool, darts and pinball. There's always live music on the weekends and many weeknights as well. Happy hour: 4 – 7pm, 365 days a year.
BULL & WHISTLE COMPLEX
427 Caroline St.
305.296.4565
TheBullandWhistle.com
This joint is reminiscent of the Key West old folks are still talking about. One of the last open-air bars on just off Duval Street at the corner of Duval and Caroline. Enjoy it while you can because you won't find this kinda place back home.
GARDEN OF EDEN
224 Duval St.
305.294.4565
Definitely the most unique bar in the heart of Old Town Key West. Located directly above the Bull & Whistle complex on the rooftop. Be sure and take a peek because it's the only clothing optional bar in Key West. Take part in Naked Sunset, enjoy live music, dancing and body painting.
MANGOES
700 Duval St.
305.292.4606
MangoesKeyWest.com
Right in the heart of the Duval strip, Mangoes Restaurant is within walking distance of all downtown bars, clubs and shopping spots. Upstairs at Mangoes is a spacious second floor dining room with a balcony overlooking a tropical outdoor patio dining area and Duval Street. "It's not just a fruit…It's a lifestyle." A little cheesy but a lot of fun.
SLOPPY JOE'S
201 Duval St.
305.294.5717
SloppyJoes.com
No stop in Key West is complete without a visit to Sloppy Joe's. Open daily from 9am-4am it's the perfect place to get your drink on early. Open since 1933, this place really is a Key West staple. They offer lots of fried comfort food, huge drinks and a cute souvenir shop with enough stuff to pick up something for everyone back home.
SQUARE ONE RESTAURANT
1075 Duval St.
305.296.4300
SquareOneRestaurant.com
A bit more upscale, Square One offers American cuisine, fresh local seafood and a superb wine list. This is a great place for a romantic night out complete with live piano and soft lighting. Perfect for sporting that new Tommy Bahama button-down you just picked up. Locals love this place too.
THE LAZY GECKO
203 Duval St.
305.292.1903
TheLazyGecko.com
Situated right next door to Sloppy Joes, this air-conditioned(!) bar offers 12 frozen daiquiris, lots of deli-style sandwiches and fresh pizza (perfect for staving off hangovers). Check them out online for all their great happy hour specials.
MARGARITAVILLE
500 Duval St.
305.292.1435
Margariaville.com
Admittedly, this one seems a little over-the-top – a Jimmy Buffet hangout in Key West? Surprisingly the food was amazing and the margaritas, that just happen to be the size of your head, can't be beat. Parrotheads and Coral Reefers run amuck in this hangout.
Then the local hotspots…
LA TRATTORIA
524 Duval St.
305.296-1075
LaTrattoria.us
Voted in 1996, 1997 and 1998 as the People's Choice Award for one of Key West's favorite Italian restaurants and favorite place for a romantic dinner, this restaurant ranks very high in many locals' books. No bar crawlers or drunken spring breakers here.
VIRGILIO'S COCKTAIL LOUNGE
Appelrouth Ln.
305.296.8118
LaTrattoria.us/virgilios.html
Located adjacent La Trattoria, Virgilio's is a quaint cocktail lounge
serving up live jazz until 2am. This little hotspot offers a great selection of chilled martinis, single malt scotches and fine wines. Dinners also available from La Trattoria.
SCHOONER WHARF BAR
202 William St.
305.292.9520
SchoonerWharf.com
Located on the historic seaport on the site of the old Singleton Shrimp factory, this funky open-air bar features live, nightly entertainment traditional Kew West fair and a slew of special events. Visit them online for a complete listing.
TURTLE KRAALS BAR & RESTAURANT
1 Lands End Village
305.294.2640
TurtleKraals.com
Situated in Key West's historic Land's End Marina, Turtle Kraals is one of the coolest places on the island. Enjoy waterfront dinning, a fusion of Southwestern and Key West fare, a full bar with a host of microbrews and imports and the finest in local and national touring blues acts. Be sure not to miss the turtle races that take place twice a week
TWO FRIENDS PATIO RESTAURANT
512 Front Street
305.296.3124
TwoFriendsKeyWest.com
Two Friends has been offering casual open-air dining in the heart of Old Town for over three decades. They serve breakfast, lunch and dinner, but known for their chargrilled steaks and ribs. The prices are reasonable and the frozen drinks still come with those little paper umbrellas.
CAFE MARQUESA
600 Fleming St.
305.292.1919
Marquesa.com/cafe.htm
Every local will agree that no visit to Key West is complete without a trip to Cafe Marquesa. The 50-seat restaurant has an open kitchen where you can watch the chefs prepare succulent grilled meats, fresh, local seafood, inventive appetizers and salads, as well as fresh baked breads and incredible desserts that are all made fresh daily. The Goat Cheese and Pistachio Crusted Rack of Lamb is to die for.
CAFE MED AT EDEN HOUSE
1015 Fleming St.
305.296.6868
Cafe Med at the Eden House offers your standard island cuisine but with an added Mediterranean twist. There really isn't anything else like it on the island. Right now it's only open for dinner Wednesday through Monday, from 6 to 10pm, but they will soon be offering breakfast, lunch and brunch.
CONCH REPUBLIC SEAFOOD COMPANY
631 Greene Street
305.294.4403
ConchRepublicseafood.com
Located in the historic Key West Bight locale overlooking the seaport, this open-air restaurant offers spectacular, upscale waterfront dining. The eclectic menu definitely has something for everyone and the huge bar area is the perfect place to catch an infamous Key West sunset. Just ask any local.
and Gay Key West…
What is Key West if not gay? Situated not-so-discreetly between tourist-infested bars and souvenir shops there many gay friendly hangouts. Here are a few of the highlights:
For Cabaret…
801 Bourbon
801 Duval St.
305.294.4737
801Bourbon.com
For Drag Shows…
Aqua
11 Duval St.
305.294.0555
AquaKeyWest.com
For Dancing…
Bourbon Street Pub
724 Duval St.
305.296.1992
BourbonStreetPub.com
For Male Go-Go dancers…
Kwest Men
705 Duval St.
305.292.8500
For au naturale Sunbathing and cocktails by the pool…
Atlantic Shores Pool Bar& Grille
510 South St.
800-526-3559
AtlanicShoresResort.com
And the Special Treat…
Fantasy Fest
305.296.1817
FantasyFest.net
At Key West's annual be-as-outrageous-as-possible costume festival anything goes – and usually it does. Many of the costumes are picture-worthy and there is considerable public nudity (always a plus). Taking place in October, this wild event attracts thousands of revelers to the island to take part in the esteemed yacht race, the Mardi Gras Massacre, Pet Masquerade and a Royal Coronation Ball. Some of the events have admission or entry fees, so be sure and call for details. Hotel reservations should be made well in advance and don't forget your camera.