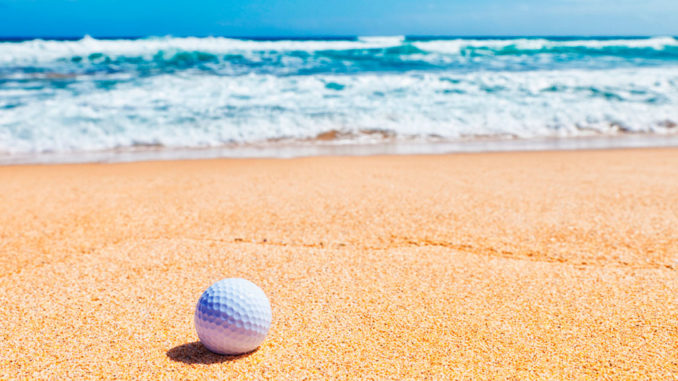 Planning a Miami getaway that includes a few rounds of golf is easier than you might imagine with so many public and private courses lining the Atlantic Coast. Whether your entire visit is dedicated to improving your stroke or you just want the option of slipping away from the kids for a quick round, there are legendary courses and tiny par threes just waiting to be conquered. Our most famous golf destination is Doral Golf Resort where the Blue Monster beckons bold players, but there are also quiet stretches of manicured fairways from South Beach to Sunny Isles that are always ready for tee time.
MIAMI BEACH GOLF CLUB / 2301 Alton Road / 305-532-3350
One of the most exciting discoveries for golfers planning a Miami Vacation is the Miami Beach Golf Club located moments away from the dazzling nightclub district of South Beach. Originally developed in 1923 as part of Carl Fisher's bold residential enclave meant to tempt snowbirds away from the frigid northeast, the course is open to the public 365 days a year. This entire course was recently updated by Arthur Hills and Steve Forrest who pulled out all the grass and most of the trees, drained the lakes replaced the irrigation system and newly sculpted the hills and bunkers. The result is a brand new playing surface and clubhouse that are state of the art.
BAYSHORE MUNICIPAL GOLF COURSE / 2795 Prairie Avenue, Miami Beach / 305-674-0305
If you find yourself on South Beach and need a quick practice round, visit Bayshore Municipal Golf Course Par 3. This 9 hole hidden treasure has been charming holiday golfers since 1940 when its 1300 yards of Bermuda grass first opened to the public. Designed by Bruce Devlin and greatly overshadowed by the nearby Miami Beach Golf Club, the Bayshore is a duffer's paradise of quiet repose in the middle of the busy tourist playground that surrounds it.
NORMANDY SHORES GOLF CLUB / 2401 Biarritz Drive, Miami Beach / 305-868-6502
This local's favorite golf course is truly a hidden gem tucked away on an island that connects Miami to Miami Beach. Normandy Shores Golf Club was originally established in 1941 with a course designed by Arthur Hills. Planted with Supreme Seashore Paspalum, the club offers three sets of tees ranging from 5,900 to 6,800 yards. No matter your skill level, the fairways will challenge your mind and your swing with deftly leveled fairways, cleverly placed bunkers and water features at 12 of the 18 holes. Normandy Shores also offers a driving range and putting green plus the Jose Hernandez School of Golf available for private, group and playing lessons.
HAULOVER BEACH GOLF & TENNIS / 10800 Collins Avenue, Miami Beach / 305-948-2802
One of the highlights of the expansive public park that runs along the coast of Miami Beach from Bal Harbour to Sunny Isles, the Haulover Beach Golf & Tennis facilities make it possible for everyone to play in the balmy ocean breeze. This 9-hole bayside golf course stretches over 810 yards for a par of 27. Great for family outings or a quick vacation practice run, the public course has been operational since 1964. Haulover Park comprises over 99 acres of prime beachfront property that is maintained by the city for public use. The course is open from 7am-7pm on the western edge of the park facing the Intracoastal Waterway and the Bill Bird Marina. Six lighted tennis courts are available nearby.
TURNBERRY ISLE GOLF RESORT / 19999 West Country Club Drive / 305-932-6200
Perhaps the ideal destination for a sporting Miami Vacation, the Turnberry Isle Golf Resort offers a full service country club atmosphere with golf, tennis, fine dining and easy access to Sunny Isles Beach. With two courses originally designed by Robert Trent Jones Sr. the Soffer and Miller Courses were recently updated by Raymond Floyd to provide a challenging series of contours, doglegs and strategically placed water hazards. Guests interested in improving their game can book lessons with two resident pros at the resort; Hiro Suzuki PGA of America's Teacher of the Year and Gary Knapp PGA honored teacher in both Florida and Nevada.
DORAL GOLF RESORT / 4400 SW 87 Avenue, Miami / 305-592-2000
In South Florida, the courses that truly inspire legends can only be found at Doral Golf Resort. Choose from five different championship quality courses spanning over 48,000 yards of pristine turf or sign up to improve your game at the Jim McLean Golf School. The TPC Blue Monster was originally designed by Dick Wilson and features a notorious par-4 18th hole that is ranked by pros as one of the best in the world. The Great White is a par-72 course conceived by Greg Norman that gets it's name from the crushed coquina shells utilized in the design. The Gold Course was recently redesigned by Raymond Floyd to give it a traditional Florida feel with narrow fairways, strategic bunkers and water surrounding 15 holes. The Red Course has 14 water holes that challenge a golfer to more strategic shot placement. The Jim McLean Signature Course has 3 particularly tough starting holes and the dreaded "Bermuda Triangle" at the 13th through 15th holes. Doral Golf Resort is the ideal golfer's getaway.