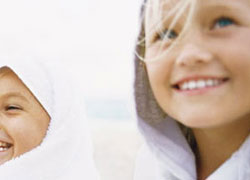 MIAMI PIRATE DUCK TOUR / 421 Lincoln Lane, South Beach / 305-623-2637
Parents often worry about kids getting bored and fidgety on lengthy sightseeing tours so the 90-minute Miami Pirate Duck Tour helps take the worry out of getting to know Miami. Families board the open-air pirate coach just outside South Beach's New World Symphony on Lincoln Road Mall and as soon as the tour begins, so does the fun. The coach travels throughout the streets of Miami Beach and then down a designated boat ramp where the vehicle transforms into a motor boat to provide an incredible view of the star's homes, the most popular local landmarks and even the locations of some of your favorite movies and TV shows. Learn about local history, culture, wildlife and architecture while the kids get to travel on an impromptu pirate ship.
MONKEY JUNGLE / 14805 SW 216 Street, Miami / 305-235-1611
Forget the ordinary trip to the zoo and take your kids to Monkey Jungle where humans are caged and the monkeys run wild! For an unforgettable "Only in Miami " experience, check out this wild animal park started in 1933 when Joseph DuMond released six monkeys into a South Florida hammock and established a large thriving troop of hundreds of monkeys that still live and play here. There are over 30 different species of primates at the park including gibbons, guenons and spider monkeys. Roam through enclosures that wind around a tropical rain forest setting where monkeys fill the trees and sometimes reach through the wire fence to take treats right out of your hand. Four scheduled feedings bring out wild monkeys to a central swimming pool starting at 10am.


No matter where you travel on Miami Beach, you'll find clean safe places for kids to play such as South Pointe Park, Ocean Drive at 2nd or 13th Streets, Collins Avenue at 46th and 53rd Streets, 44th & Chase Avenue, and 51st and 64th Streets on Alton Road.
FLAMINGO PARK PLAY POOL / 1100 Jefferson Avenue, South Beach / 305-673-7766
Rated tops in town for kids new to swimming, the interactive Flamingo Park Play Pool is right next door to the adult's aquatic center but specifically designed for supervised toddlers. Water temperatures are maintained at 82 degrees all year long for little dippers who can safely wade in the zero to 15 inch deep play zone and climb aboard brightly colored water toys and slides. While parents must participate in any sort of child's play near water, the pool deck makes family fun a breeze with five 20-foot umbrellas, a concession stand, vending machines, locker facilities and so much more!
FLAMINGO PARK TOT LOT / 1200 Michigan Avenue, South Beach
South Beach may enjoy a reputation as an adult playground, but kids on holiday have discovered the Flamingo Park Tot Lot and declared it a best bet! Join in on the fun at a free standing rock wall, a bouncy spring pod and an upper body fitness center that's scaled down just for kids. Climb aboard a historic 1950's wooden train car and explore a myriad of colorful chutes, slides and ladders. The City of Miami Beach maintains this free facility for kids aged 5-12 years of age who can utilize the swings, the water fountain and nearby restrooms in the tennis center.
GRAPELAND WATER PARK / 1550 NW 37 Avenue, Miami / 305-960-2950
Just outside the grounds of Miami International Airport, parents have thrilled to discover Grapeland Water Park, an ideal way to spend the day after disembarking from a cruise at the Port of Miami in the morning and then heading back home. Clean, safe and well maintained, this colorful splash zone is fun for the entire family with life jackets on hand for smaller kids, certified lifeguards supervising all pool areas and separate play zones for older and younger guests. Shipwreck Island is a toddler's dream with safe shallow waters, a giant water bucket that fills and spills and lots of room to play. Pirate's Plunge is for older kids who can climb the stairs to the very top and slide down the chutes to splashdown into the pool below. Open weekends before Memorial Day and 7 days a week all summer long.
OTHER FAMILY ACTIVITIES
Miami Seaquarium
Miami Children's Museum
Gator Park
Miami Science Museum
HistoryMiami
Venetian Pool
Gold Coast Railroad Museum
IMAX Theaters in Miami